Up late at 8.30 due to there being no light in our rooms to tell us the day had come. A good breakfast, especially the delicious honey again. Then we signed out and headed off to the Kaymakamlar Müze Evi (The Lieutenant Colonel House Museum), which used to be the house of Hacı Mehmet Efendi and his family. He held a position as a Lieutenant Colonel, hence the museum's name, and the house was laid out as historians imagined it might have been, with joint family quarters, as well as female and male reception quarters for when guests came to the home.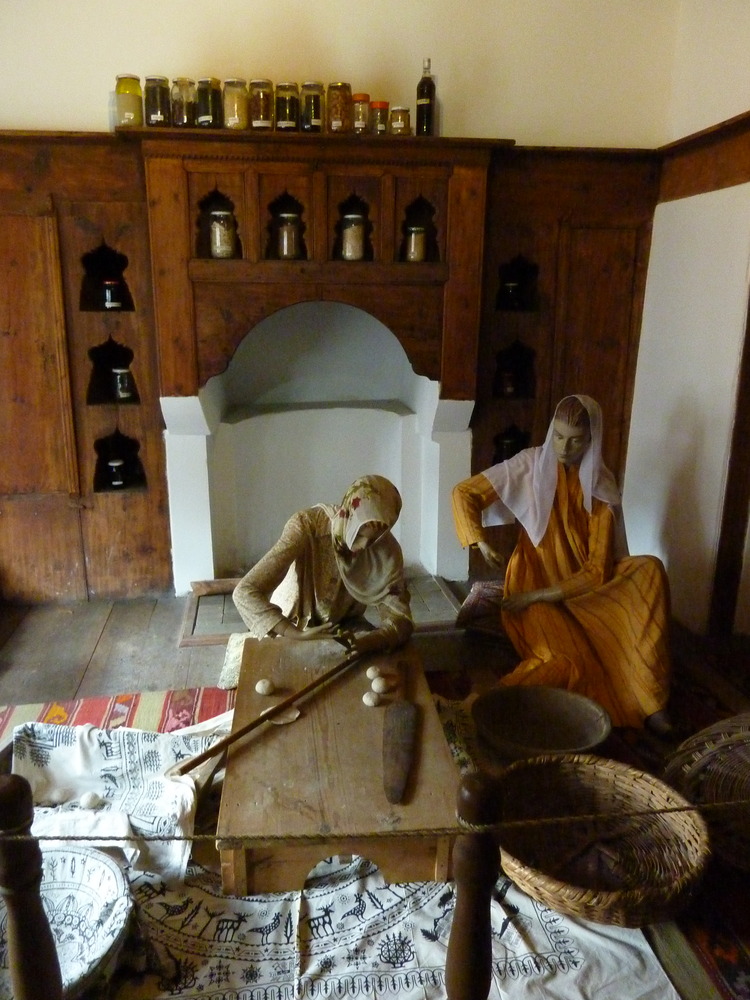 The kitchen area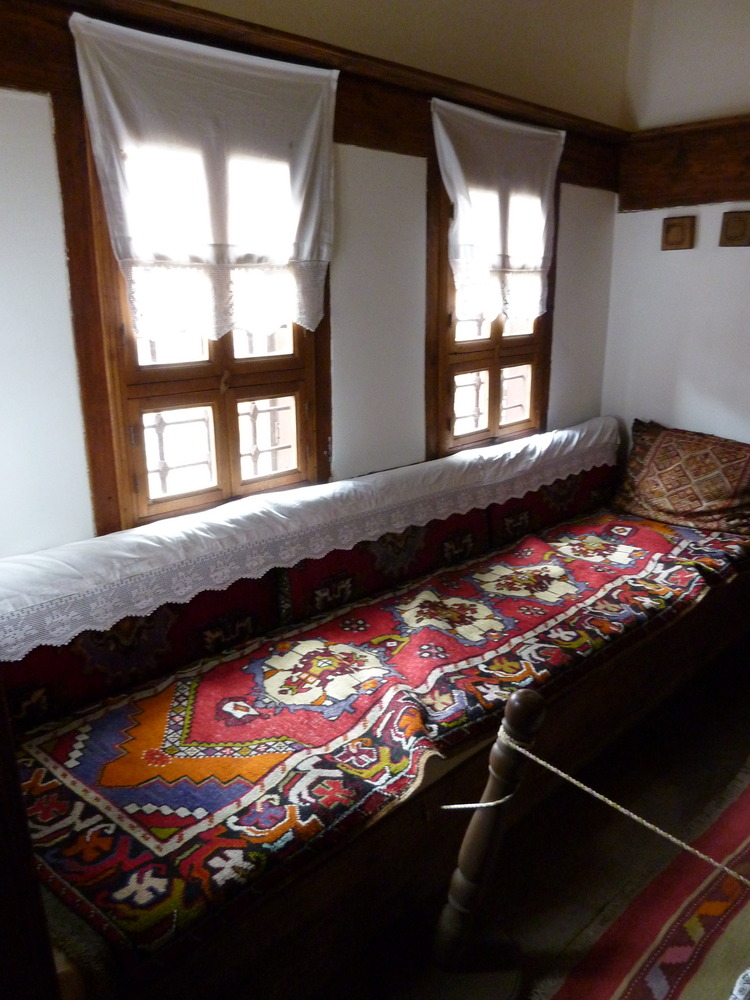 Sedir – Turkish traditional cushion seating that also doubles as a daybed
Dönme dolap – lit. 'turning cupboard', used so that servants could serve food without being seen. The cupboard opens in two rooms and revolves so food can be put into it by the servants in their room, and then taken out of the other side in the dining room!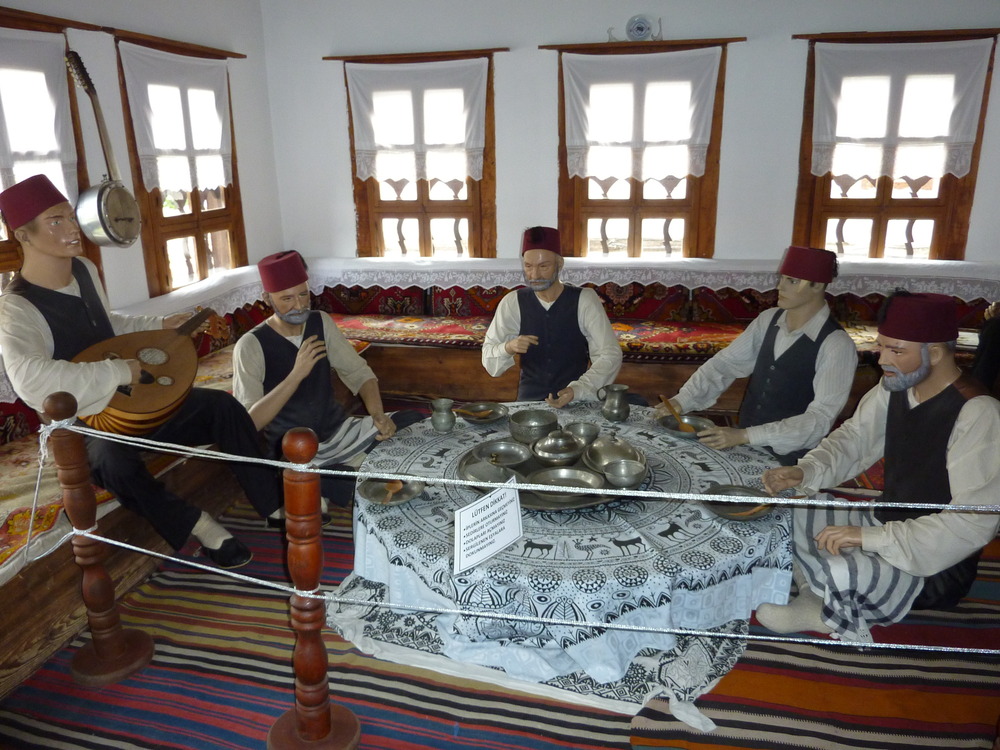 The mens' quarters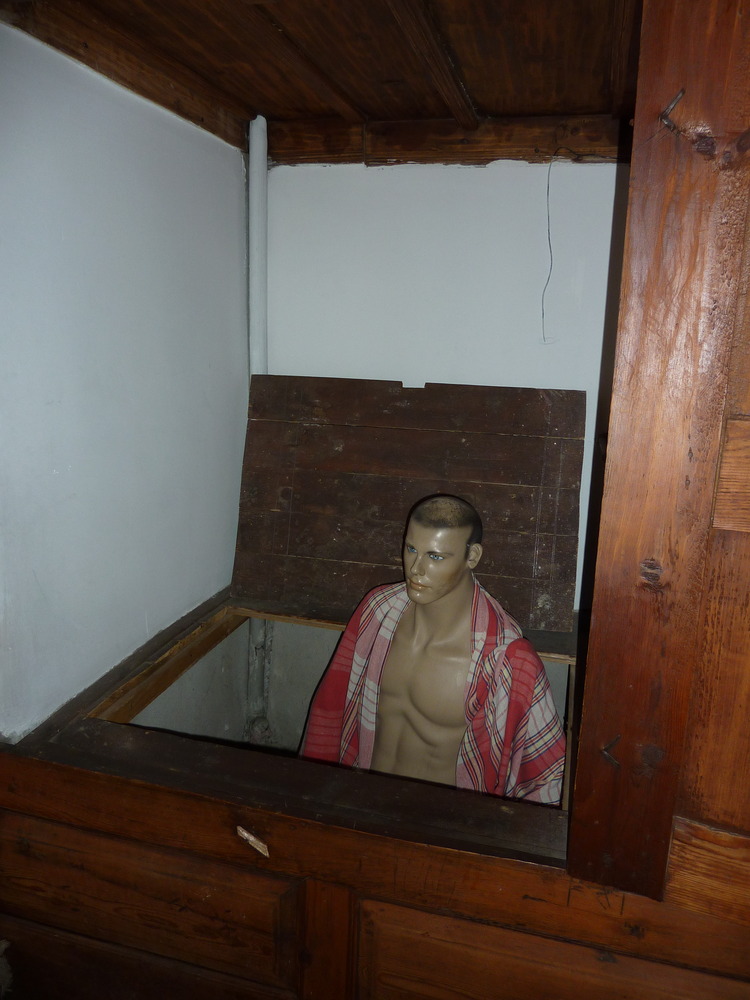 The hilariously ingenious banyo dolabı or 'bath cupboard'. As shown by lifesize 'Ken', it contained an area with drainage that could be used as a washing area (like a bath) and then closed off (with the hatch you can see) to form a shelf-like area for bedding (from the sedir) to be kept during the day. Now there's a storage and space solution for IKEA to think about…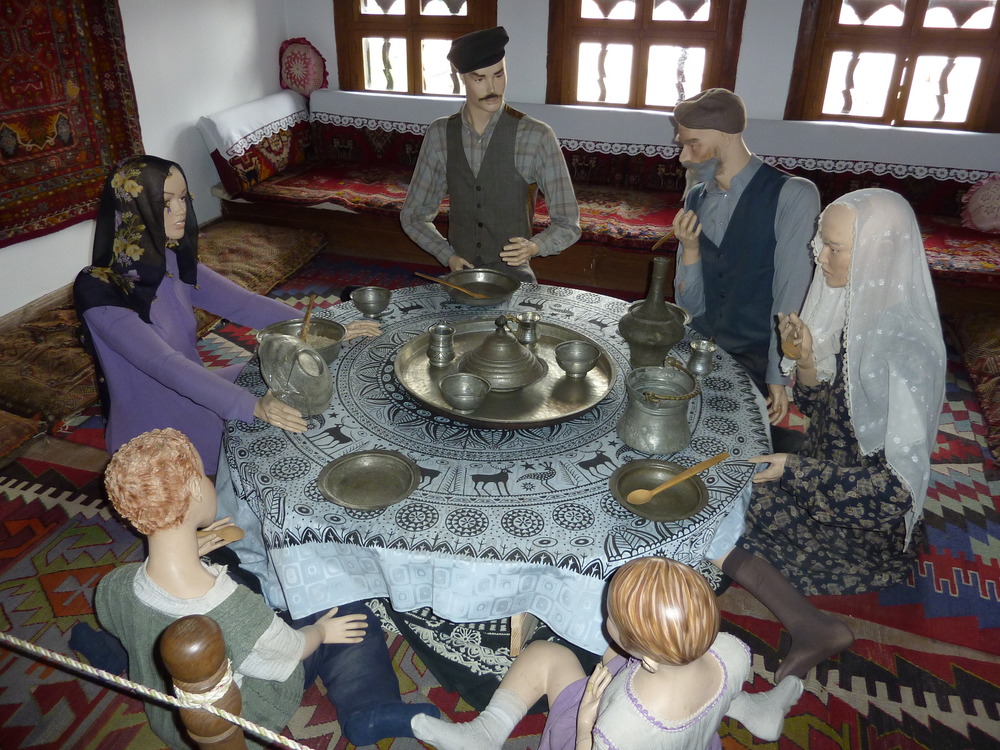 Family dining area (when there weren't guests and they ate together).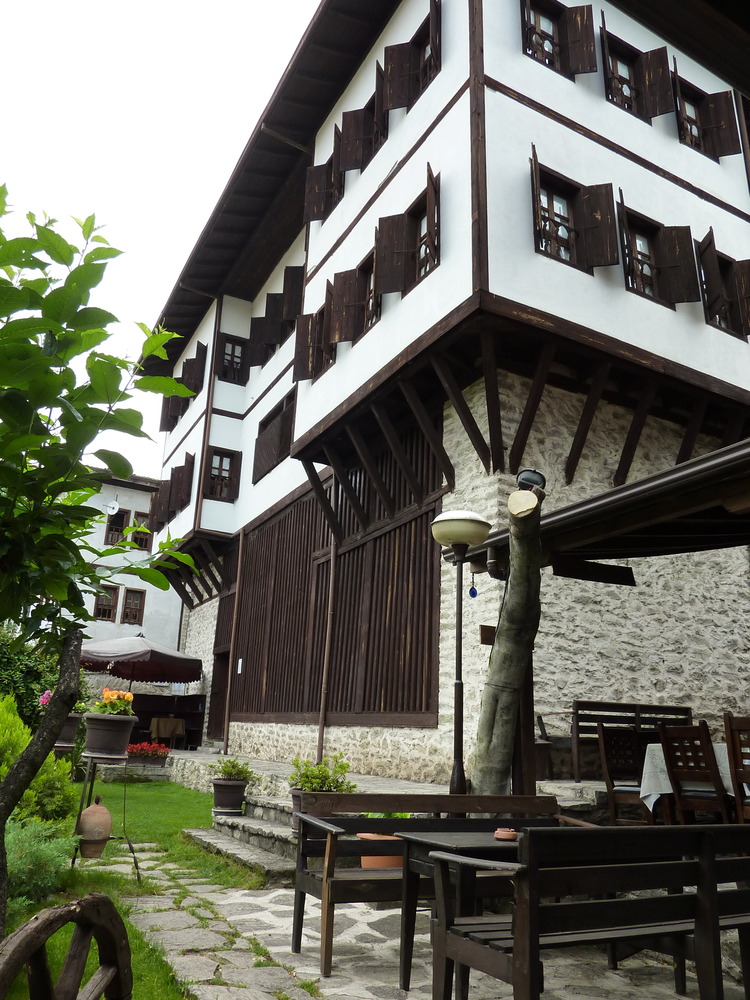 The Museum building
We had saffron tea, which has a honey-like flavour, in the museum tea garden (Safranbolu getting its name from it's trading in this precious spice), and then went off to get a few local souvenirs. We visited famous sweet shop Safrantat and enjoyed a good many tasters before buying helva and some of the famous saffron flavoured Turkish delight from the friendly shop assistant. We also bought two tablecloths from a friendly man called Mr Şenol (lit. Mr 'Be Merry') that seemed to be traditional but who knows…? They'll be good for the balcony table!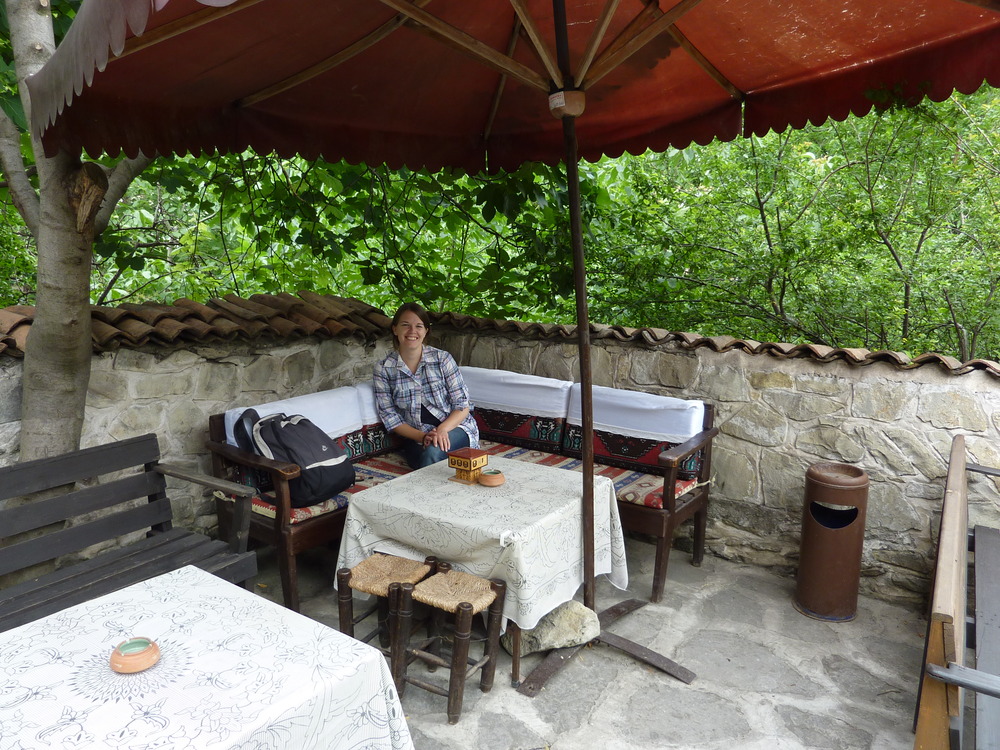 We left Safranbolu via some superb caves just to the north west of the town. The friendly ticket seller gave us a huge LED torch so we could see more than just the lantern lit route, and we entered the cave series that is 6km long(!), although only 400m are open to the public. Having said this, the walkway through the caves seemed to go on forever, past formations resembling jellyfish, a coral reef, a giant church organ and the insides of a giant monster! Here's an example.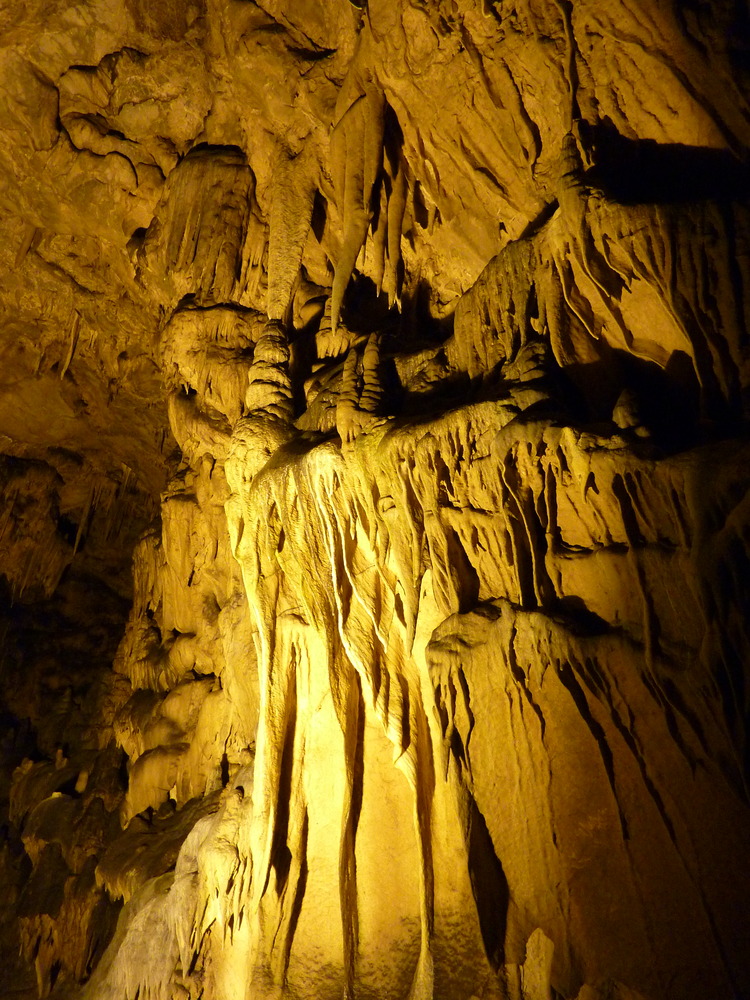 Superb! We emerged cold nosed before giving our torch to an apprehensive looking woman and her husband about to enter the caves, and then heading off to Bartın.
Not MORE roadworks!
Unbelievably, this road was also being resurfaces, and we bounced and bobbled along the stripped surface for several miles before hitting a better surface again. The countryside here seemed to look even more homely and English than anything else we had seen before, and was a soother of the soul after so much travel. Amasra was past Bartın and on the coast, so we had to climb over yet another hill before descending into the cove where the town sits. The road down from the hill gives a great view of Amasra (but unfortunately we didn't get a shot of it due to the masses of signs and hotel adverts along the road!)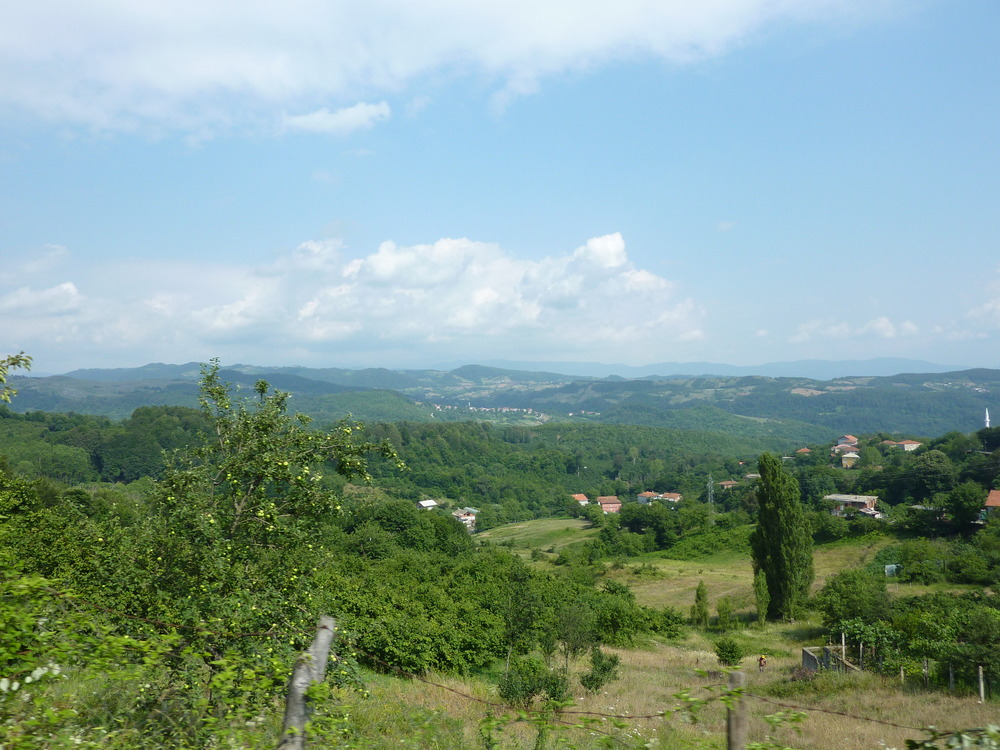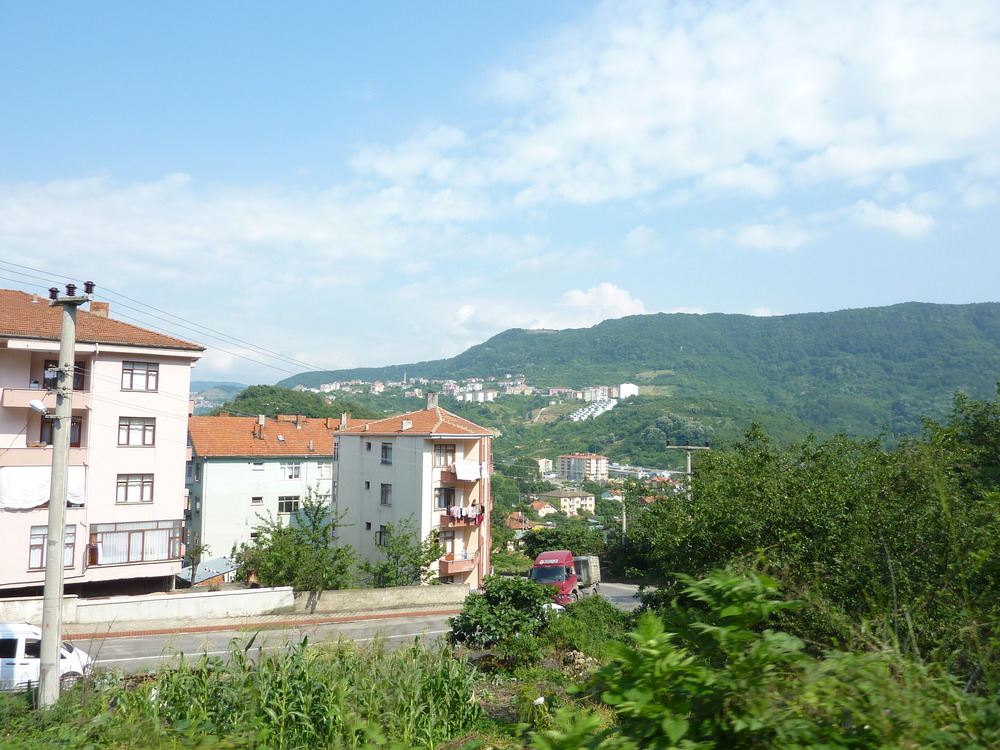 The town looked lovely, but as we got into the centre it seemed tremendously crowded. We realised that this was not only a tourist destination for Turks, but that there was also something going on this weekend. On our second circle around the centre, we were stopped by police as a brass band parade started off through the streets! Eventually we parked a little out of town and walked back in to find our guest house; the cheapest we could find, but clean and very well located. Actually, amazingly our room looked over an excavation site. Apparently a local construction firm had wanted to build something on the land but during their digging they had found some old graves which professionals want to fully excavate and then make into a museum. Not good for the construction company, but great for us and even better for the guest house owners!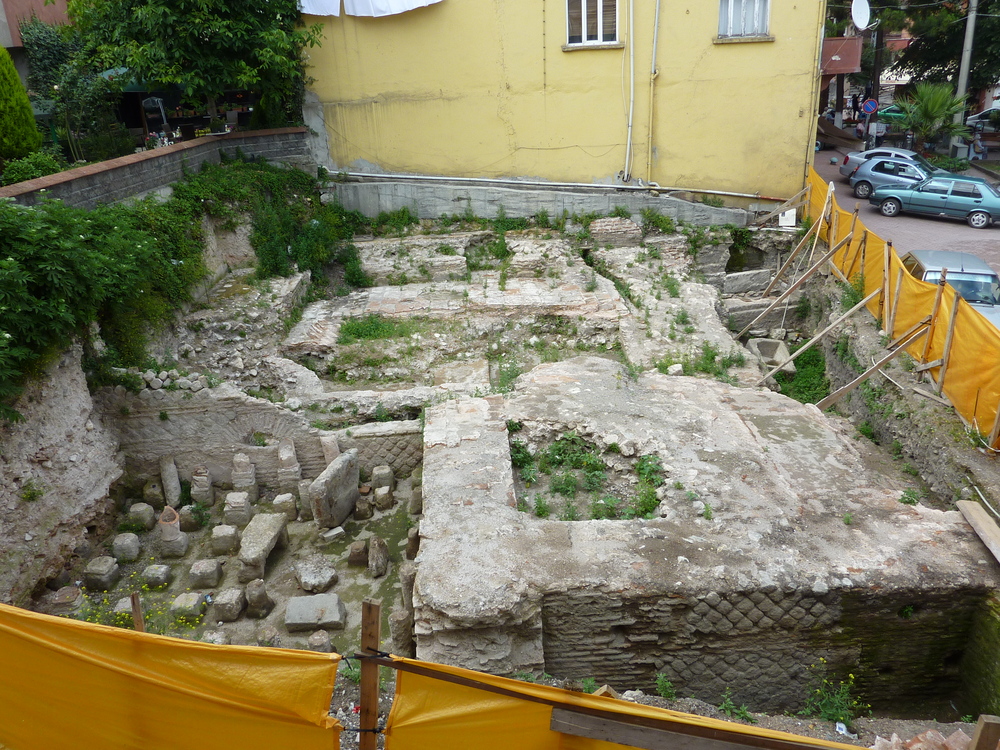 We bought ice cream from the guest house (which also has its own cake shop) and meandered down to the sea front and pier. Before we had walked far we found ourself on a boat tour of the headland that was due to set off any minute! (It had seemed a good thing to go for so we jumped on!) The trip was great fun, although Ruth had to practise some deep breathing exercises to cancel the motion sickness coming from waves that were larger than anticipated!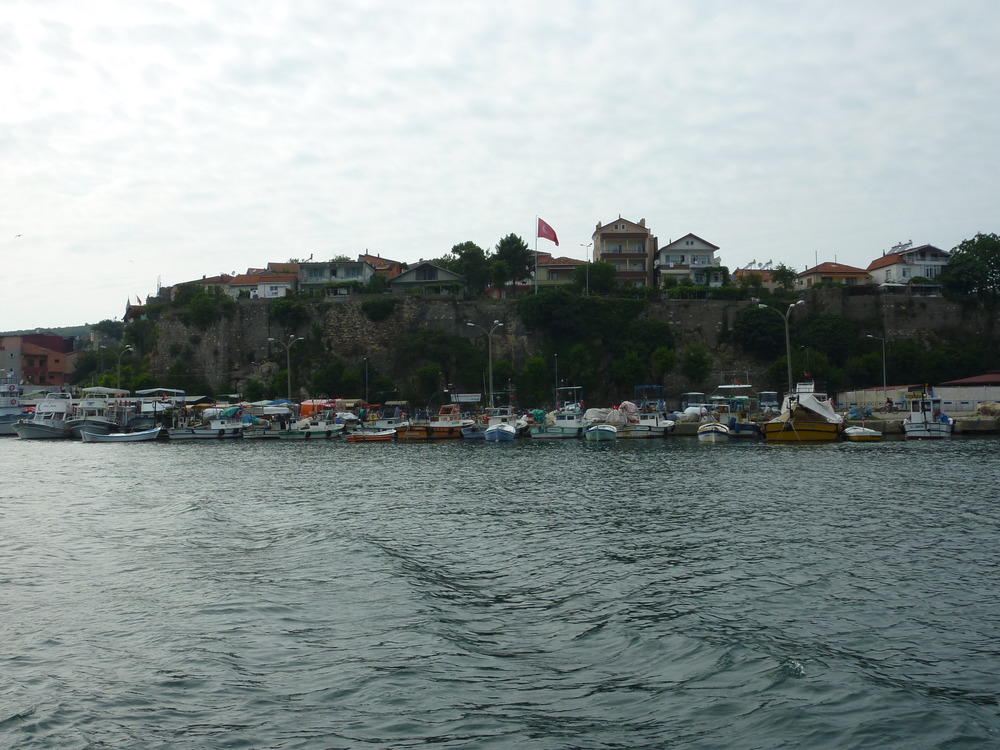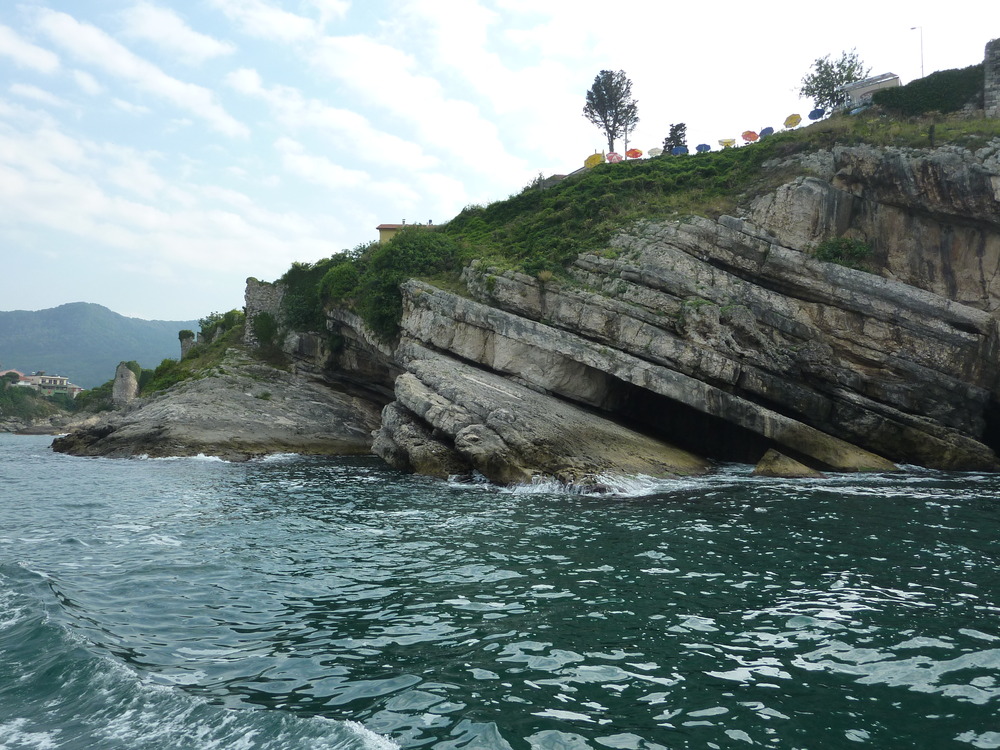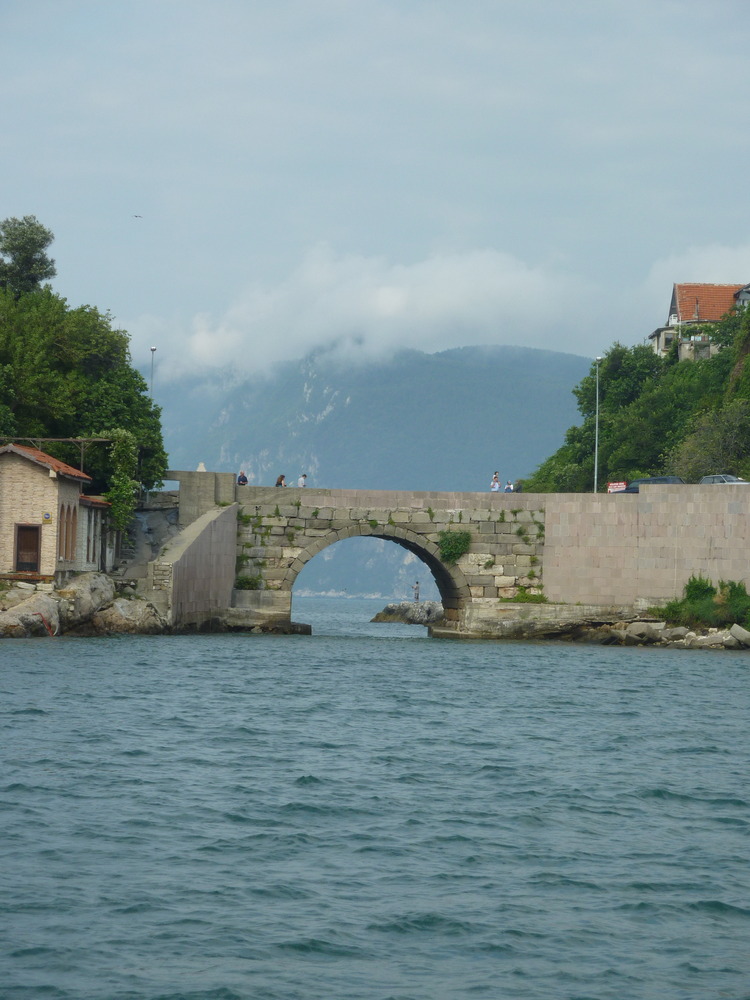 It seemed that we had picked the party boat, as the whole time heavy beats and dance music blared out of the speakers at a volume only rivalled by Loughborough fair! Having said this, around the town we had seen posters of a young Turkish pop/rock star in all of the shop windows, and on the boat trip we saw a statue of this man on the shore too. Before getting off the boat, we noticed a large poster advertising the Barış Akarsu memorial concerts this weekend, and we hazarded a guess that this young man must have been something of a local hero being celebrated the very days we were there.
We later looked online and found that, indeed, he had been a promising young star from Amasra who had also campaigned for various charities. But he had tragically died after complications following a serious car crash on the way to his birthday party with friends, after singing at a charity concert. A really horrid tale, but one that a whole town comes together to commemorate each year.
Crying Trees and Uncle Mehmet
After the boat trip Mark went to get the car and Ruth annoyed a few drivers by standing and holding the only free space (luckily just coming available at the right time) in the coastal road car park. We took our stuff to the guest house and then trekked up to the castle. To get there we walked via the first fortified part of the headland and two old churches, before walking across an ancient Roman bridge and through a heavy set archway to the second, island like part of the headland at the tip of the town. At the top of this piece of land was the Ağlayan ağacı (Crying Tree) tea garden, and we passed through this and hiked right to the top of the hill, next to the tiny lighthouse, for a brilliant view of 'Rabbit Island' and Amasra.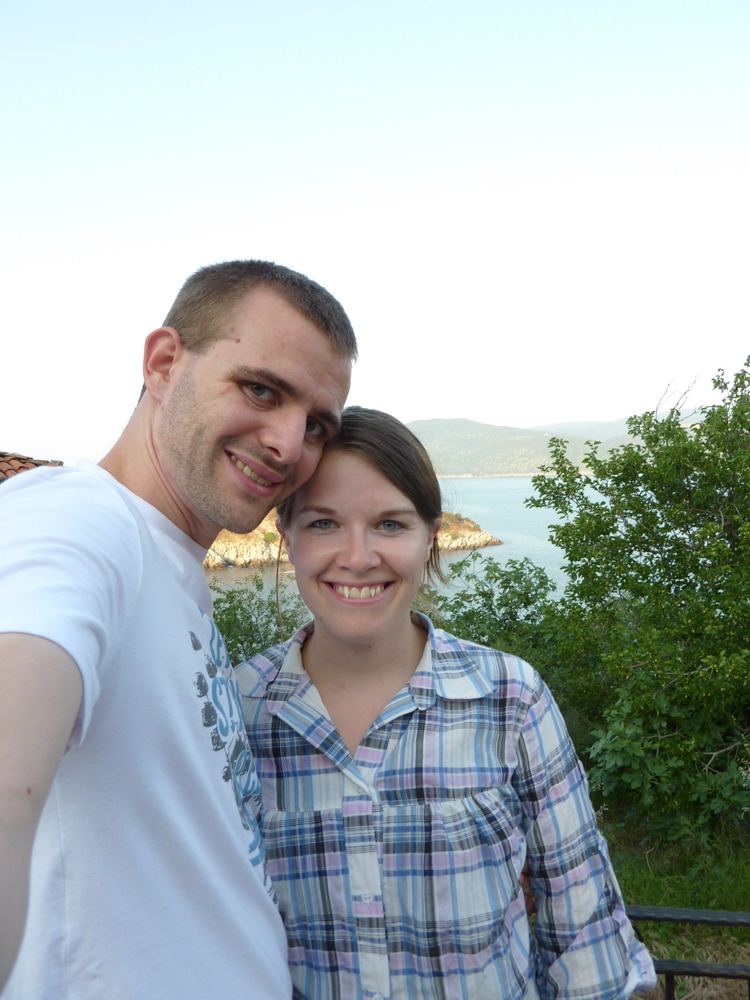 We then walked back down to Mehmet Amcanın Yeri (Uncle Mehmet's Place) for dinner. This was obviously an up market place (we felt quite underdressed) and they served us a truly posh salad, before buttered prawns and small battered fish (mezgit and barbunya). Yum! We were really stuffed and weren't going to eat pudding, but the waiter brought us a yoghurt and honey dessert, topped with little nut pieces which we seemed to polish off without too much trouble!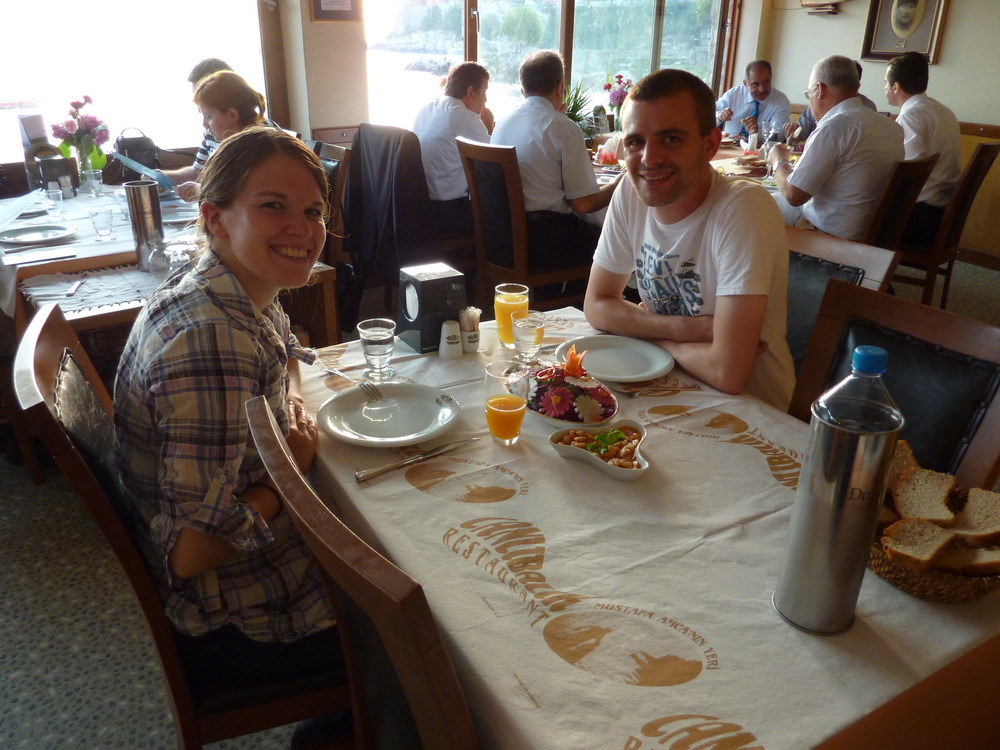 Feeling stuffed we wandered home before heading out to one of the memorial concerts. The security was tight and everyone had to pass through a police check to enter the concert zone. But it was a free event, so it was worth the trouble. That night it was a singer called Ali Altay, and it was good fun to be a part of the crowd, even though we didn't know any of the songs! He sang one called 'Islak Islak' (lit. 'Wet Wet' – but probably with greater metaphorical significance..) that we believe was Barış Akarsu's first single, and then got us all shouting 'çok çok' and 'yok yok' (equivalent to 'a lot, a lot' and 'not, not' in English) at the appropriate moments in the chorus of the next song. In fact, this evening led to one of the most hilarious moments of the holiday…
All evening Ali Altay had been shouting "Are you ready?" Of course, everyone yells back, "EVET!" ('YES!') However, once, and only once, he changed this to have more political significance. In the next town, the government want to build a big power station, and the Amasya population is campaigning against it being built. So, Ali, without warning, and in exactly the same tone as before shouted, "Do you want the power station in the next town?" And, suffice to say that Mark was the only person to shout "EVET!"
After a few songs we came back and watched some Ghana and Uruguay before bed.