An ad hoc brekkie from bread and jams in the car, then packed up and started out. We went via an old church-like building, but we have no idea what it was/is..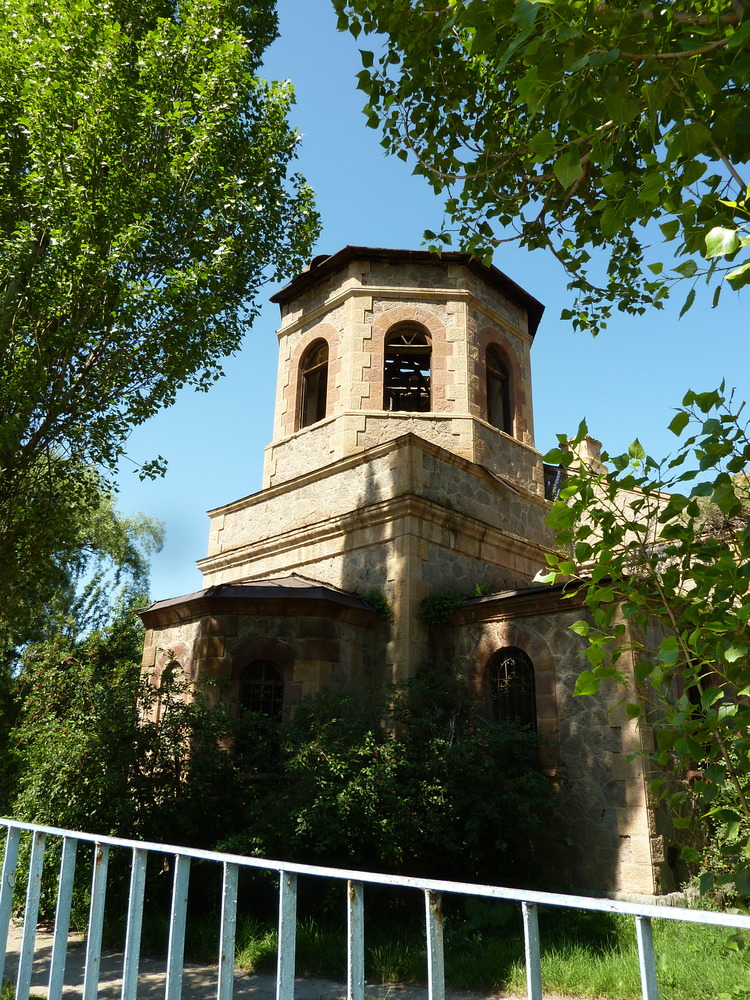 Then back through Oltu and out on what we thought was the right road but soon turned out to be wrong. Turned back and drove around Oltu, eventually asking where the road to Narman was. Eventually off on the road and winding through some more spectacular scenery. Turned left into Marman and drove along through poplar lined villages. Really stunning scenery but in a more 'homely', cultivated and welcoming way (not arid, bare and hostile like before).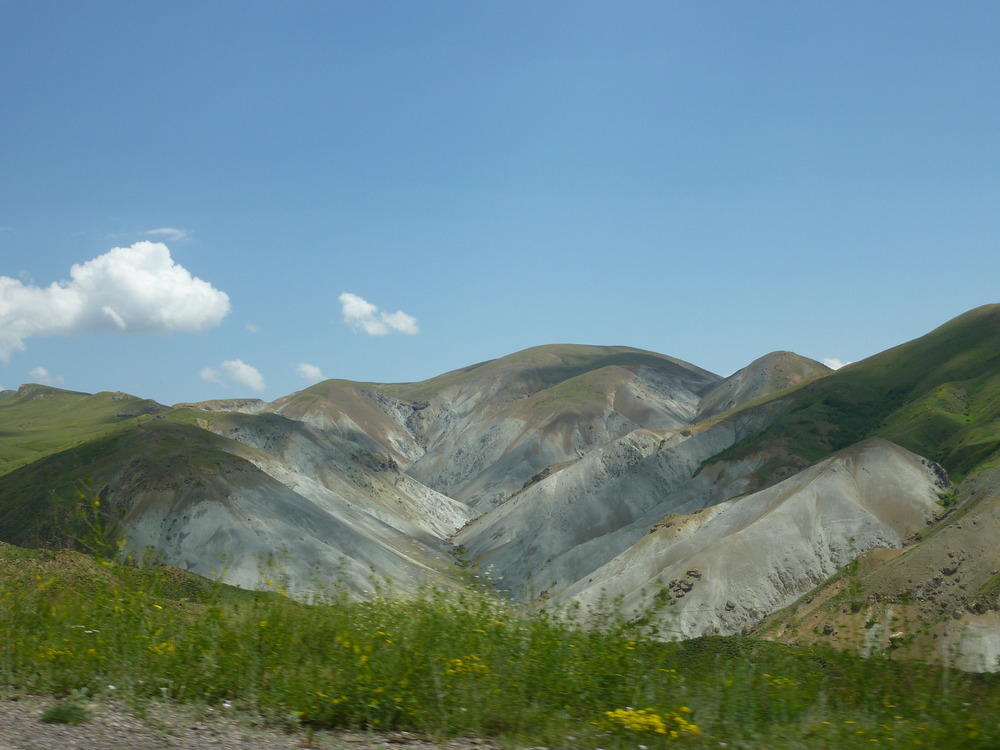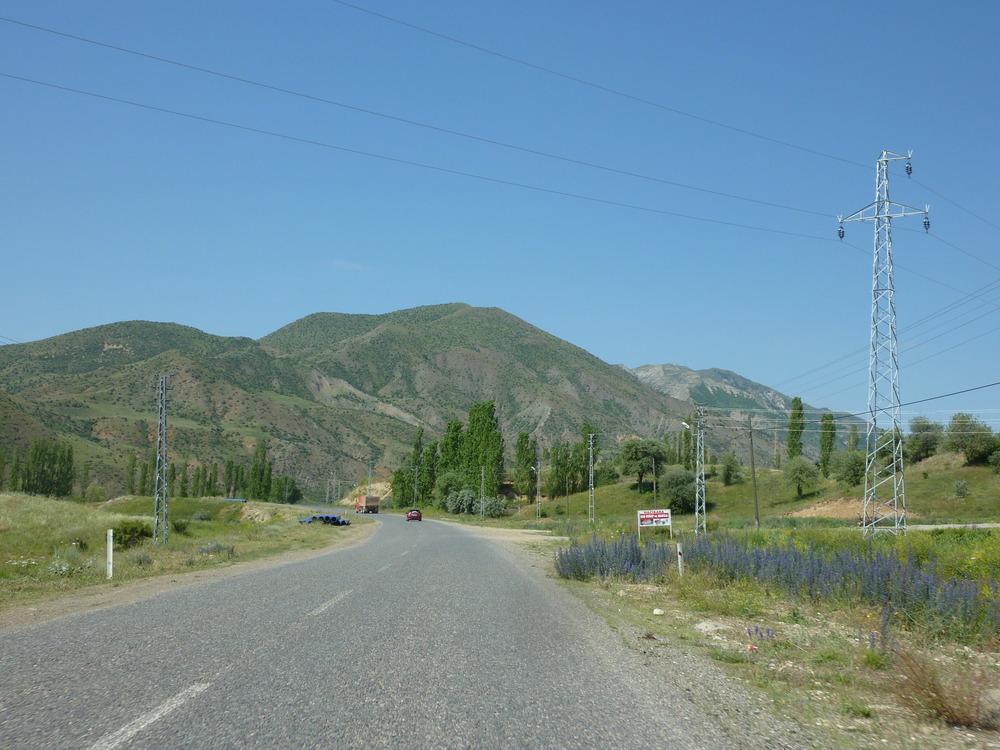 The wayside flowers were purple, pink and yellow with red poppies in the mix too. Beautiful. Behind them streams and poplars marked the edges of fields that stretched to the mountains behind. Although the road was mostly flat, we eventually came to another mountain pass, and our hearts sank as we began the familiar climb up and up. We tried to keep the car at a steady pace, and thankfully made it to the top where an incredible view awaited. (Kireçli Geçidi = Chalky Pass, Rakim = Height)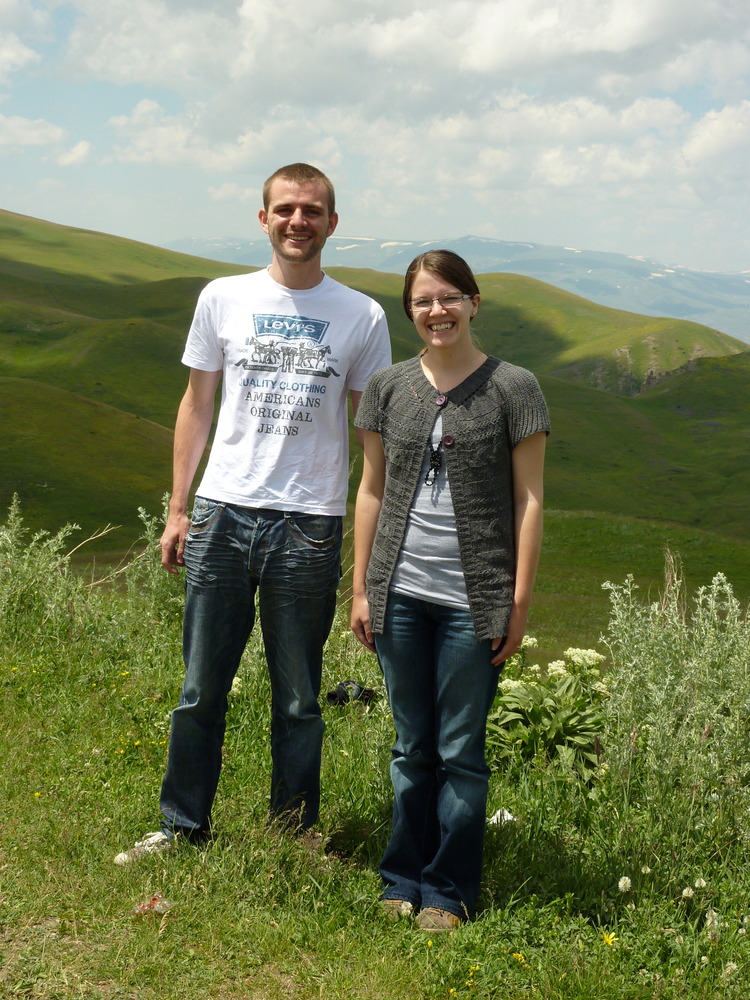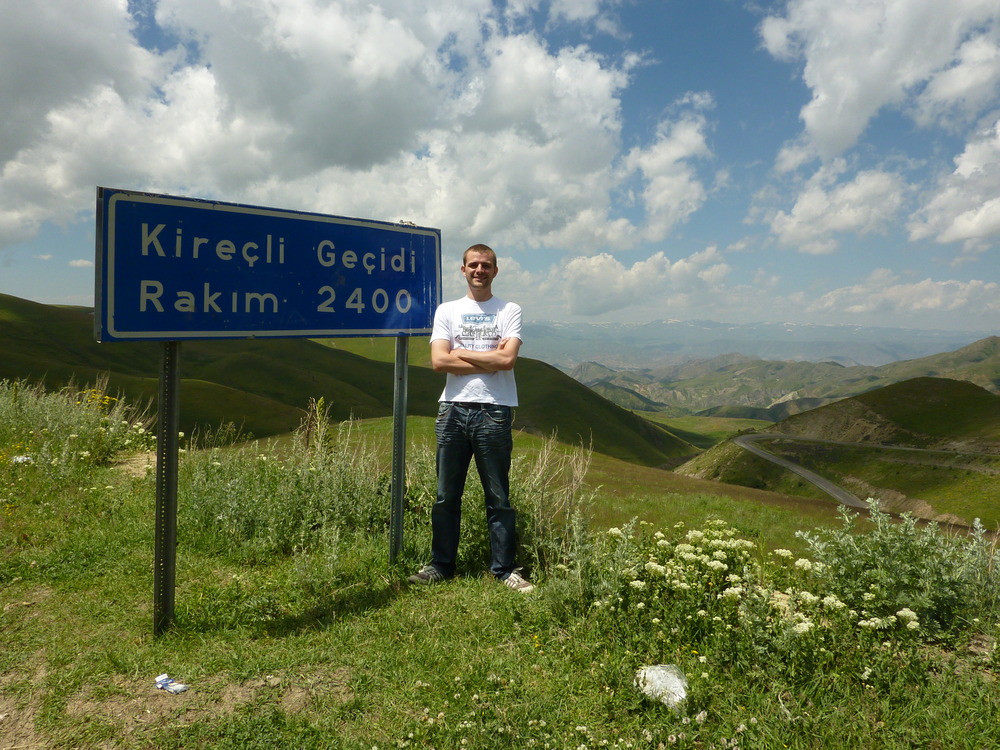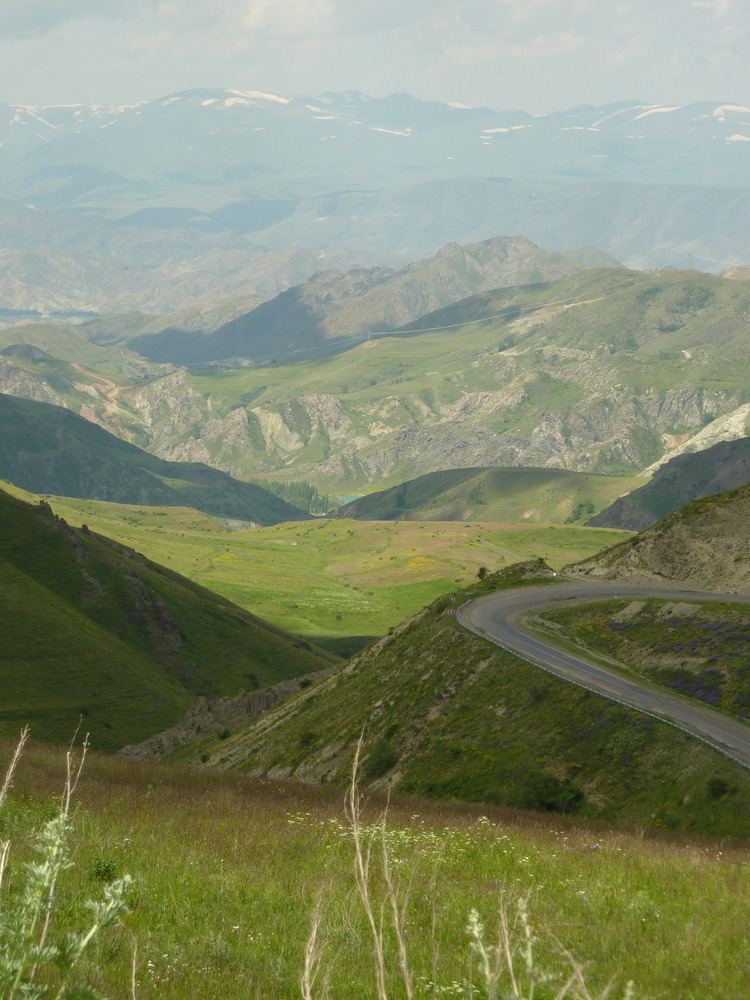 After a joyous sail down the other side of the pass we picked up another passenger and dropped him in Tortum before bearing back towards Uzundere. On the way we found the turning off to Bağbaşı where the old Meryemana Manastırı (Mother Mary Monastery) or Taş Cami (Stone Mosque), as it is now called, can be found. We drove along the road through some gorgeous villages until we reached Bağbaşı, and drove past lovely houses, shady orchards and playing children on the way to the church itself.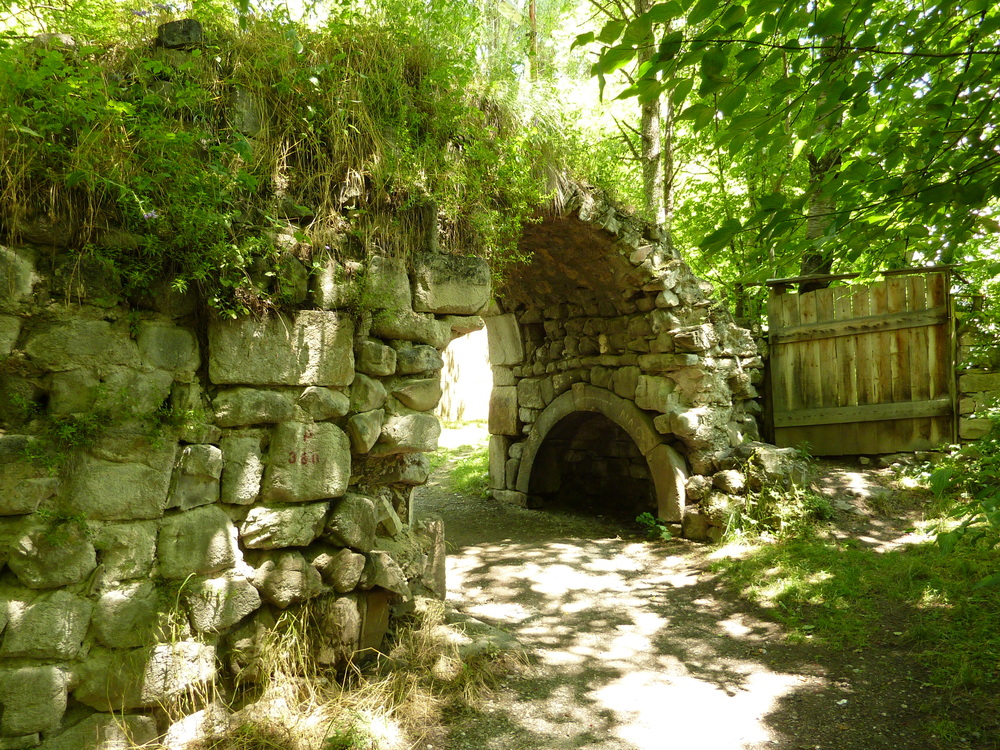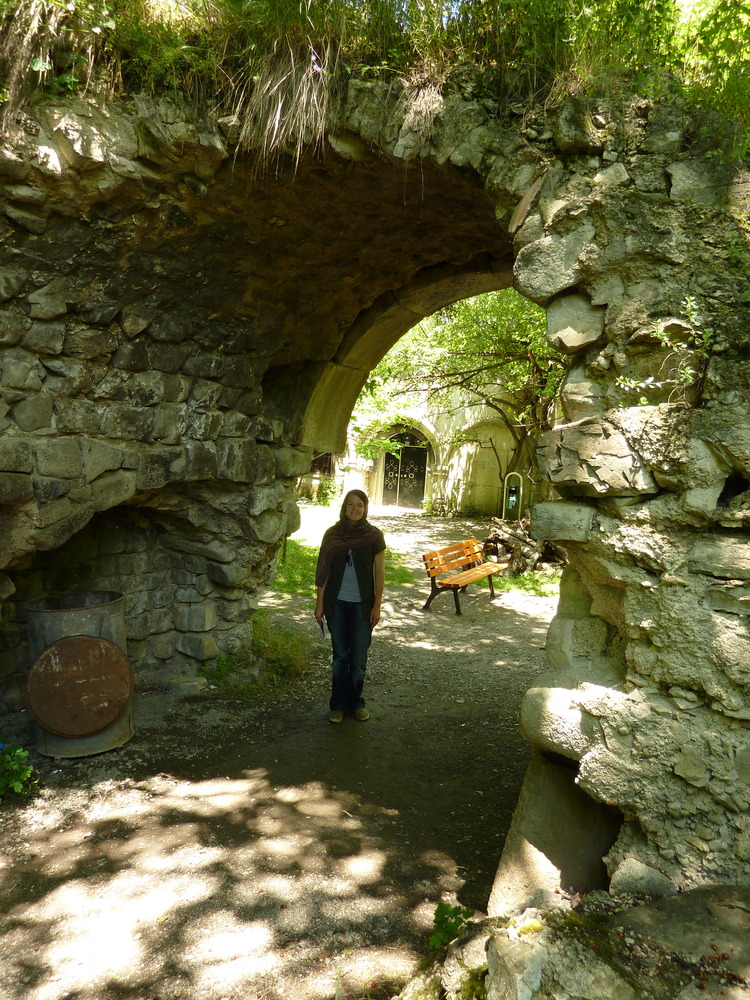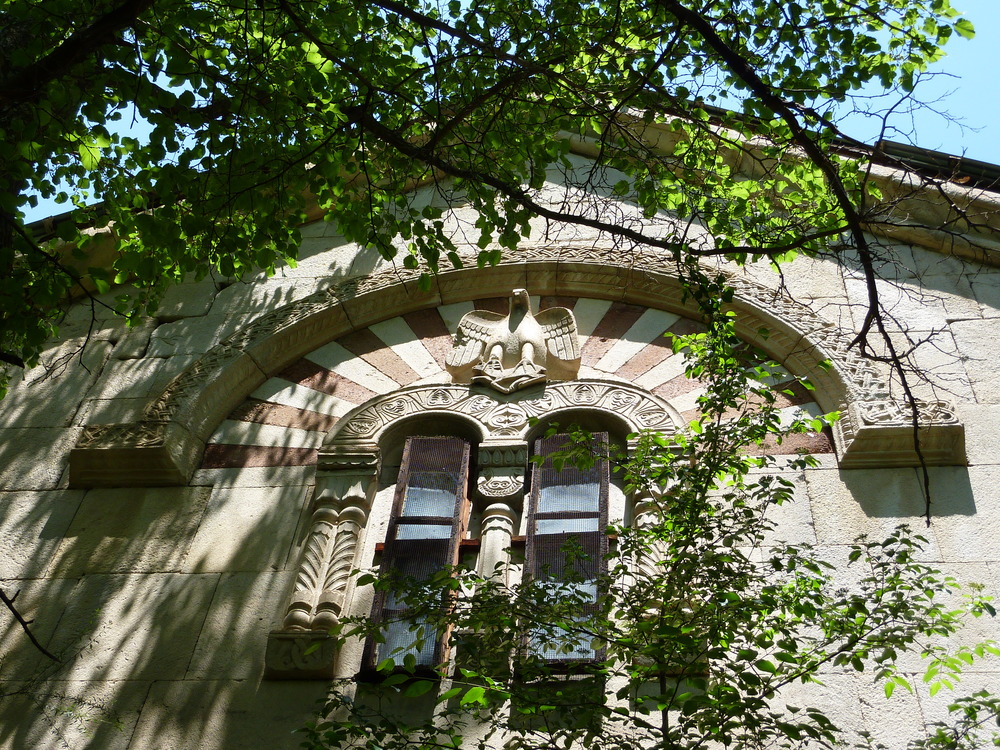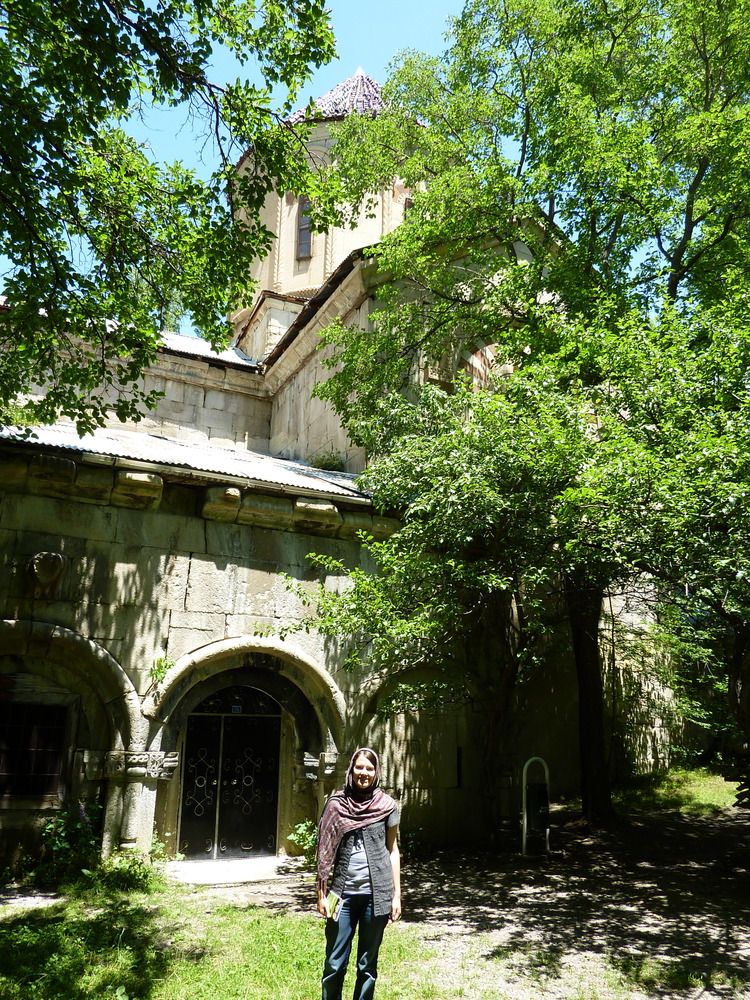 We entered the monastery on foot through a crumbling, plant covered stone archway, and wandered around the outside of the church. As it is now used as a mosque, we waited for the Hoca religious leader to come for prayers so that we could look inside, but unfortunately he didn't come that time. We did see two lovely woodpeckers playing and drumming in the trees while we were waiting though. A mother, daughter and grandmother came by while we were there, and we found that the grandmother has previously lived in this area, but now the family lived in Istanbul. What a massive relocation!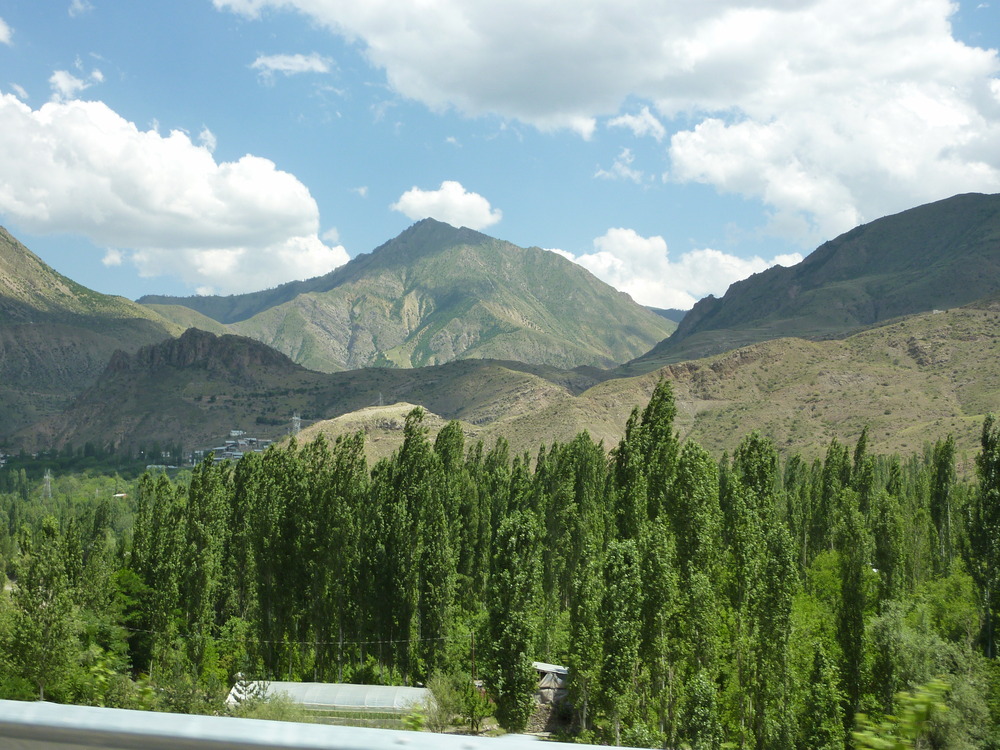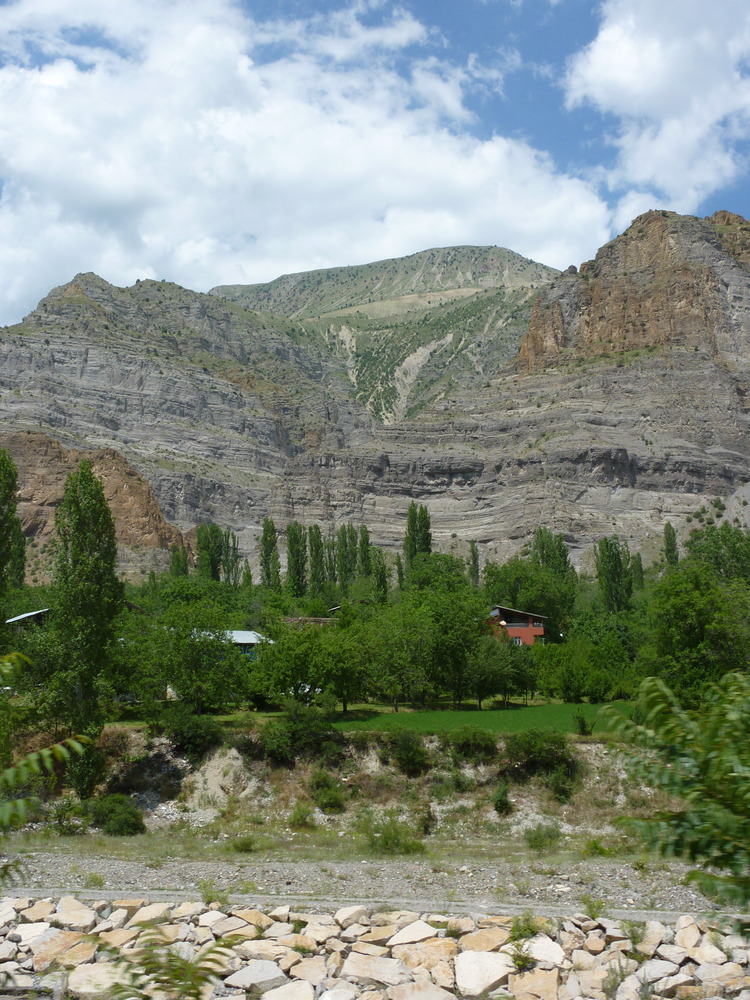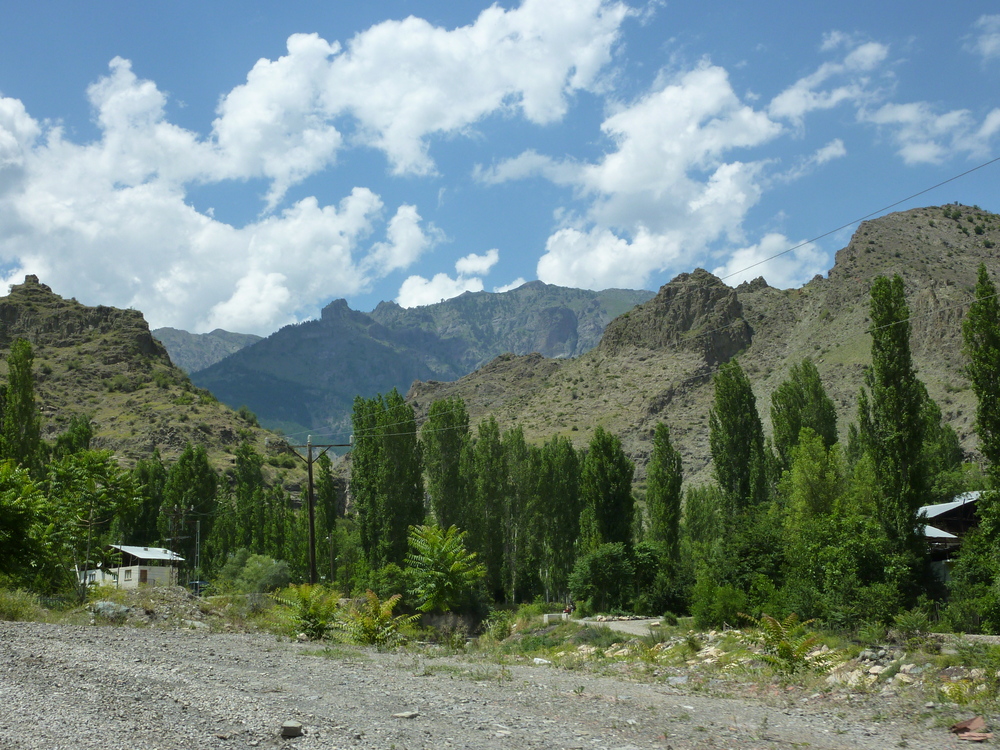 We wandered through the village to try to find the remains of a castle the info board had mentioned, but after no luck and truly withering heat we drove back to the main road. Then we travelled on to Öşvank. The scenery (above) taking us along the valley and to the village was stunning in itself, with villages leading donkeys, little boys walking arm in arm, and mountains framing every side. But the church itself was MAGNIFICENT. Now, of course, it was falling to pieces, with no Christians to keep it in order, and only pigeons and puppies using it as a home. But this once central place of religious learning, famed for its craftsmanship in calligraphy, was still captivating and it was emotional to walk within its walls and cloisters.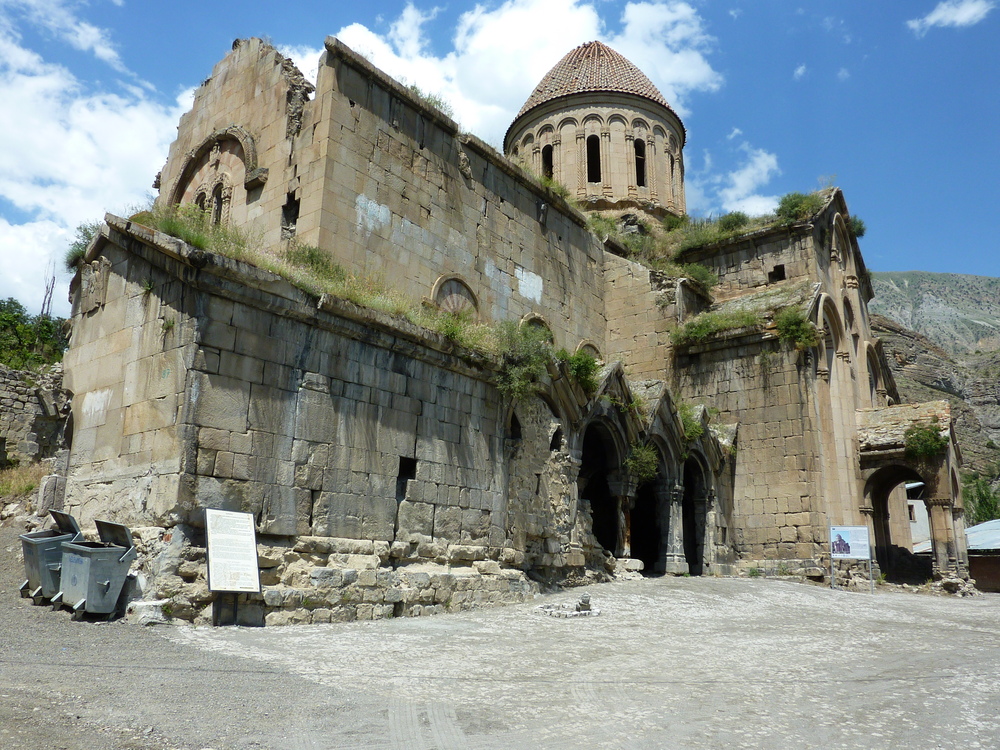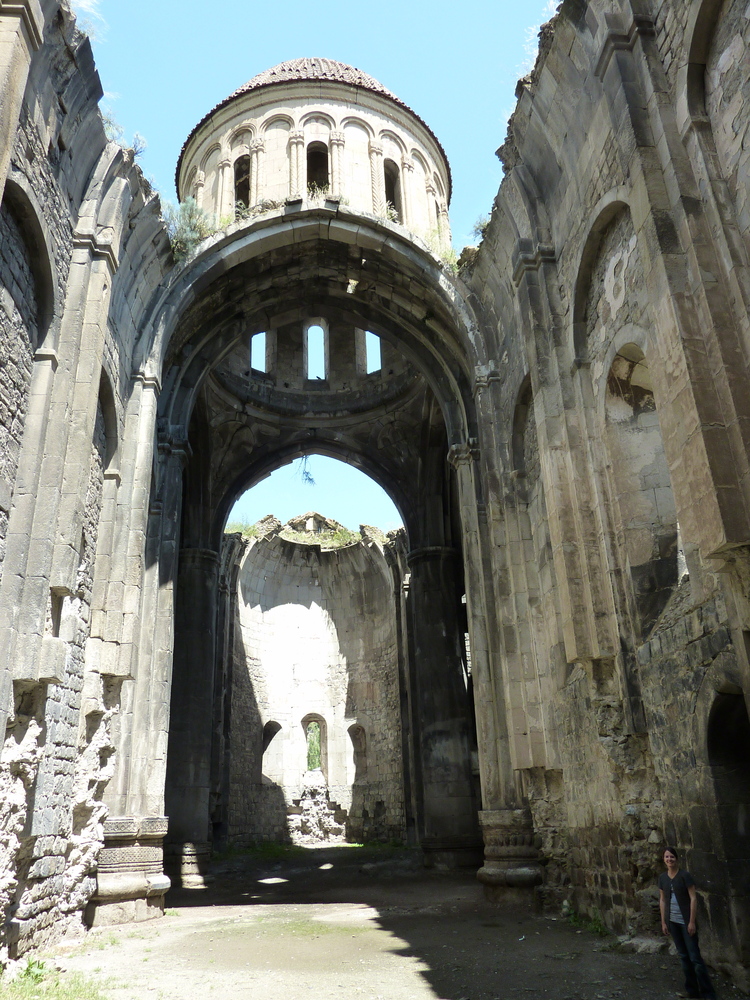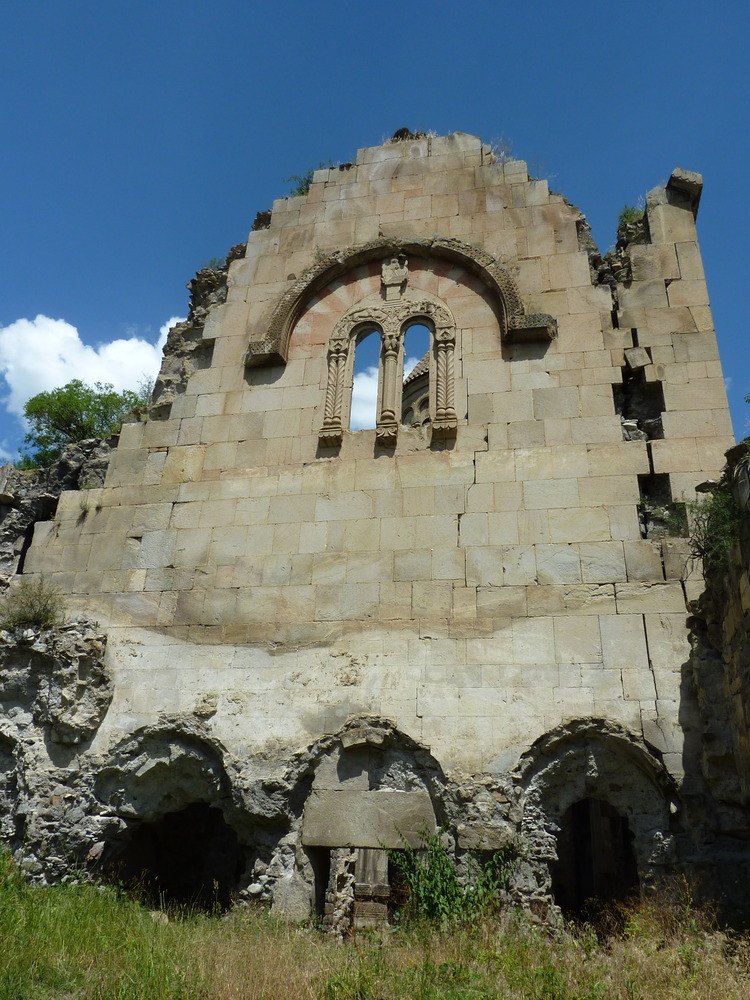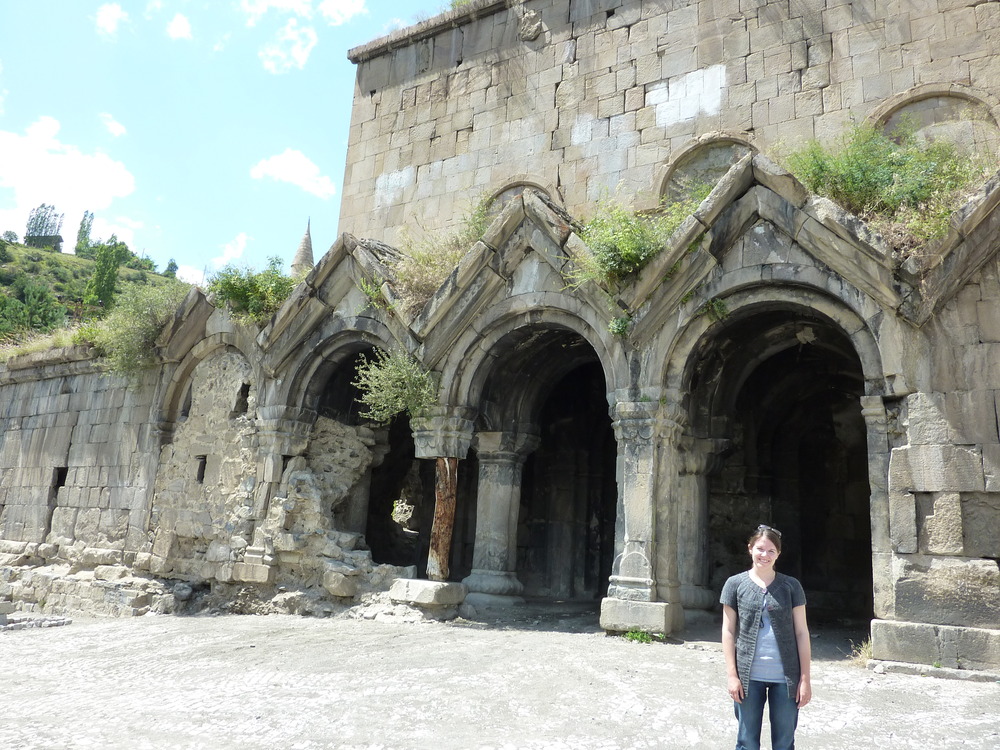 The heat of the day was now unbearable and we were also hungry, so we drove on to Tortum Lake (below) to find a fish restaurant recommended by our book. The lake was a startlingly grey and green, steep sided place, and although we found the restaurant on a little jetty sticking into the water, it was closed, and locals were using the land as a place to swim from and have their own barbeques. We drove on via various villages that had nothing on offer foodwise. We reached the Tortum şelalesi (waterfall – below) and hoped to find an eatery there, but although the waterfall was lovely, the only eatery was overpriced and had a fee for using the car park… We decided to drive on to Yusufeli as by now we needed food and petrol.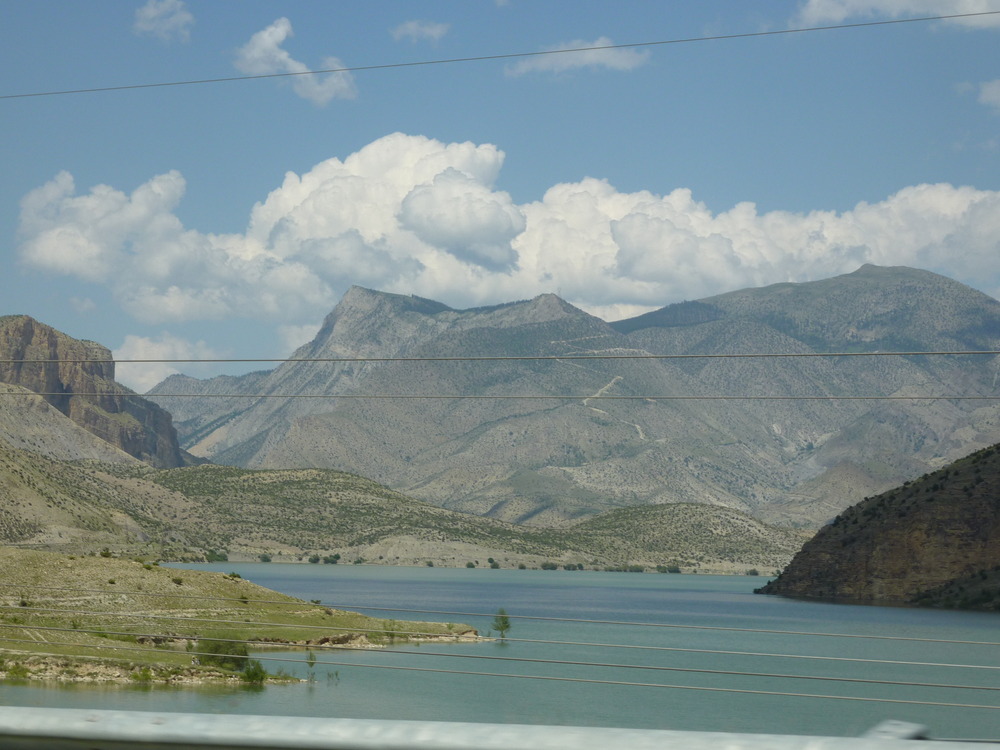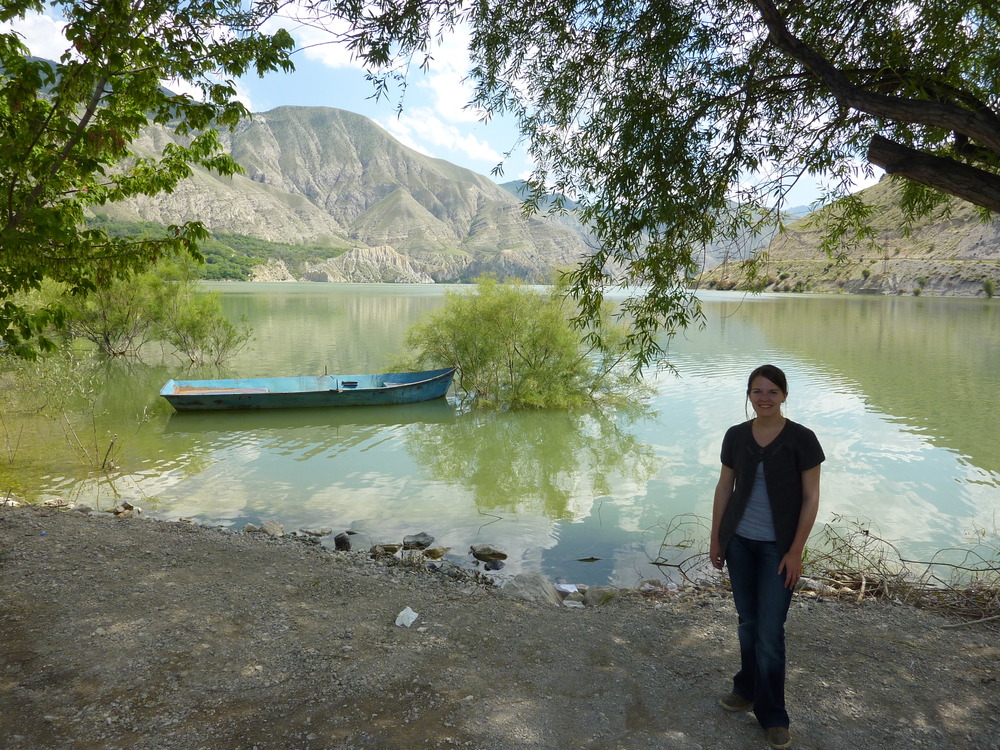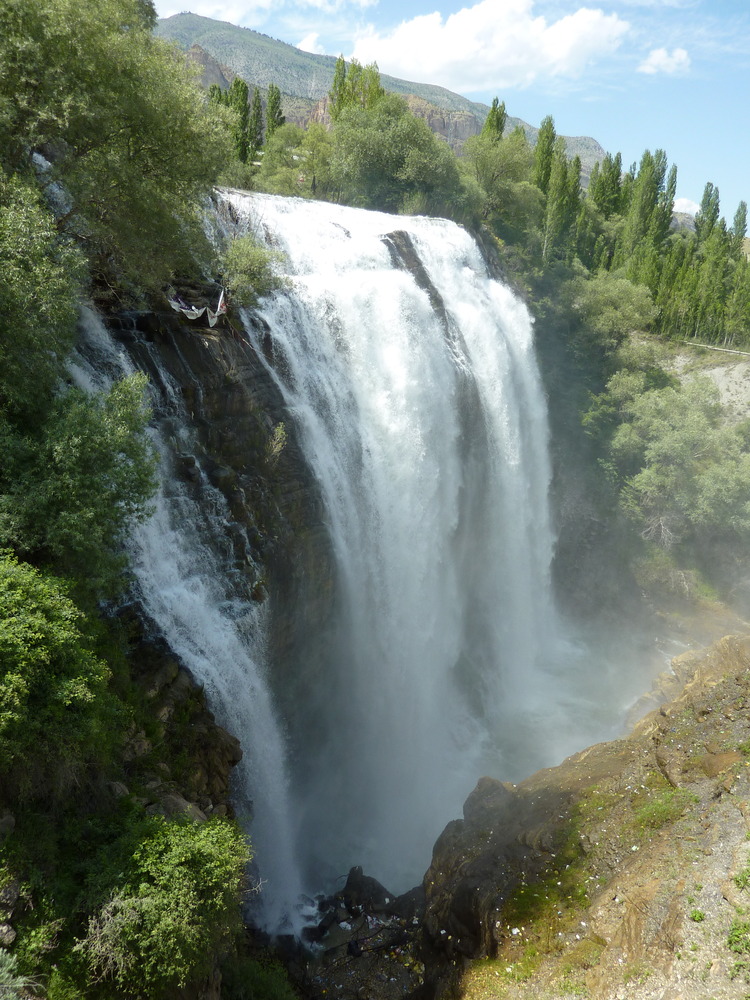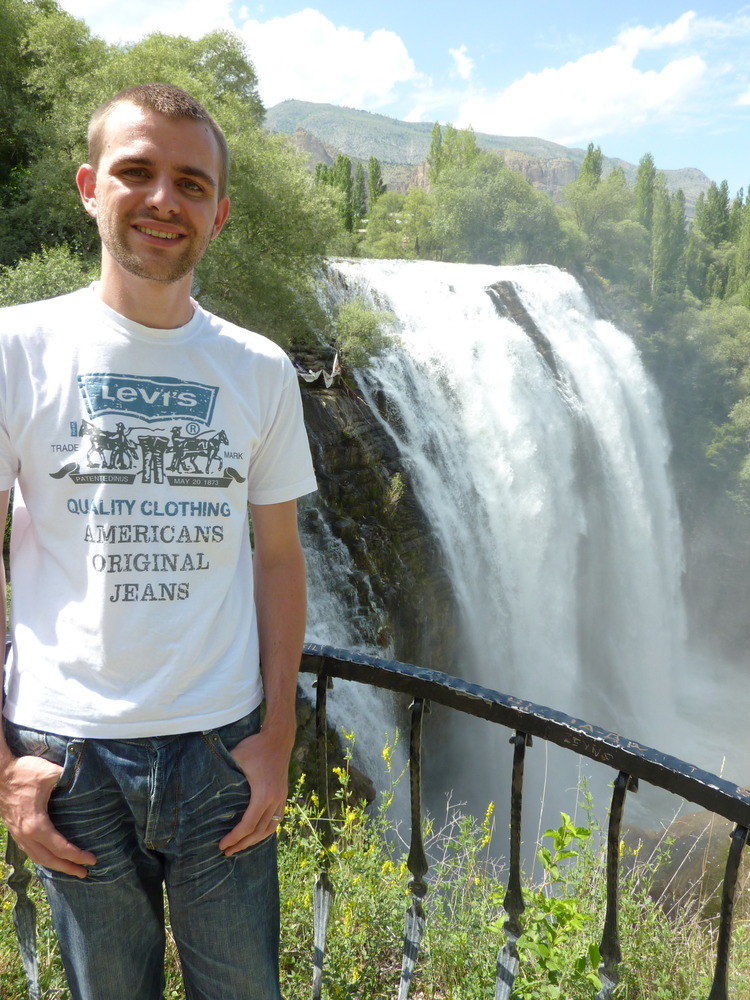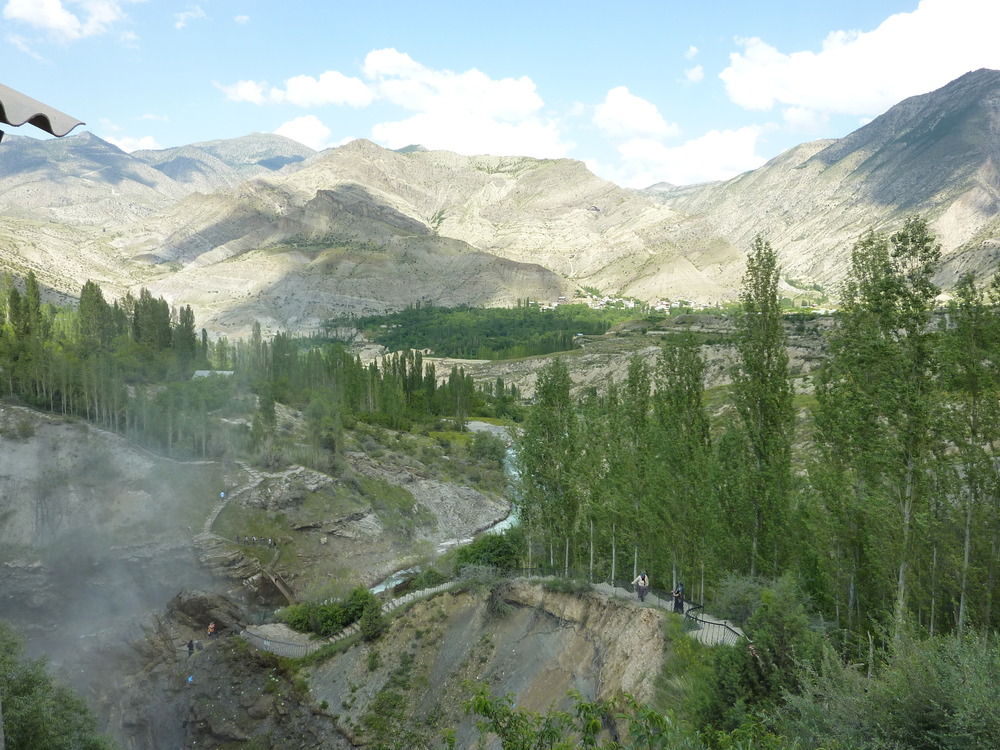 After finding a petrol station, we then picked up another passenger who came with us to Yusufeli. Yusufeli is a strange isolated little town which has been condemned to be flooded when a new dam project is finished. We parked up and wandered through a few industrial looking places before crossing a rope bridge across the surging river (Yusufeli is one of the best rafting spots in Turkey) and sitting on a wall for a picnic. Bread and jam again, as we hadn't found anything else, but it was good to eat nevertheless. We sauntered back to the car in headachingly hot sun, and bought two ice lollies which started melting before we'd even unwrapped them!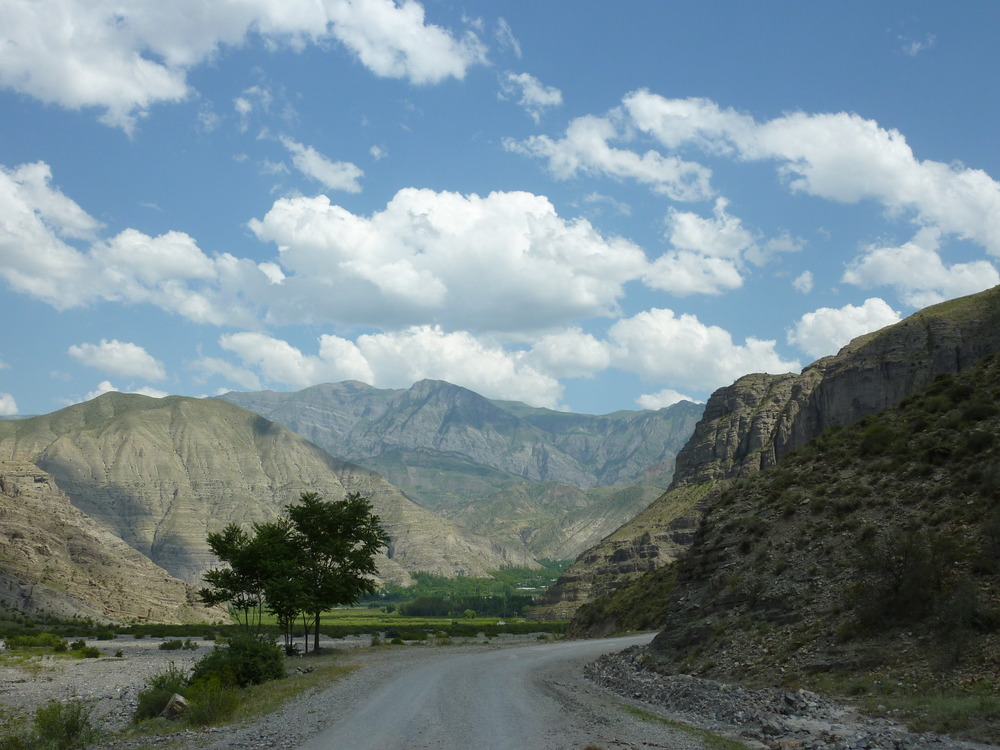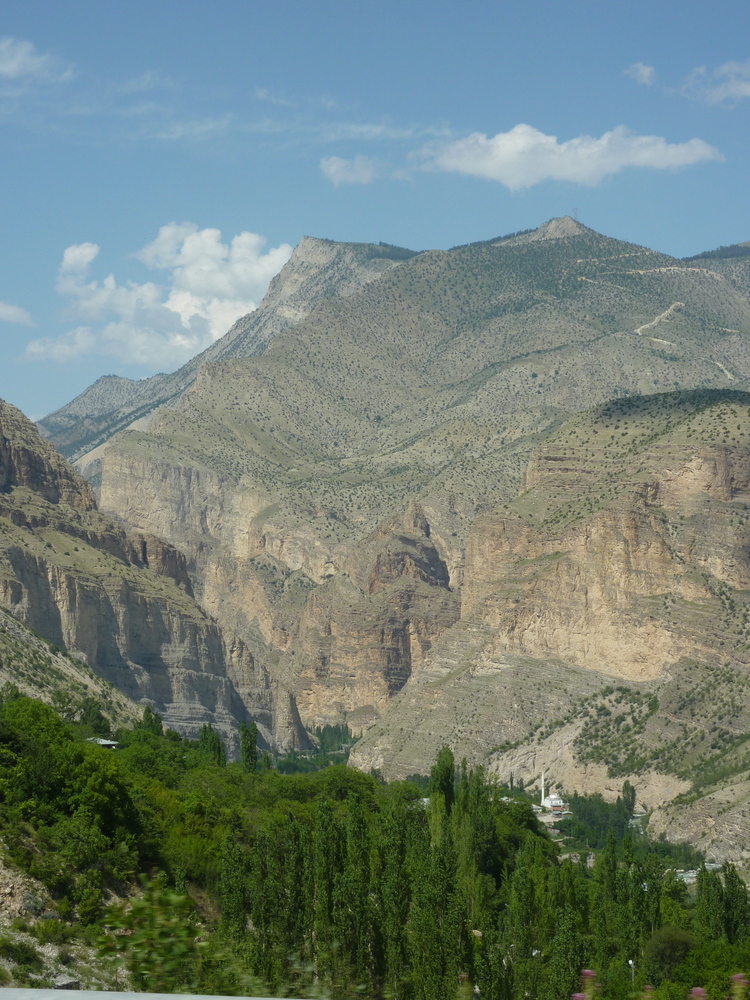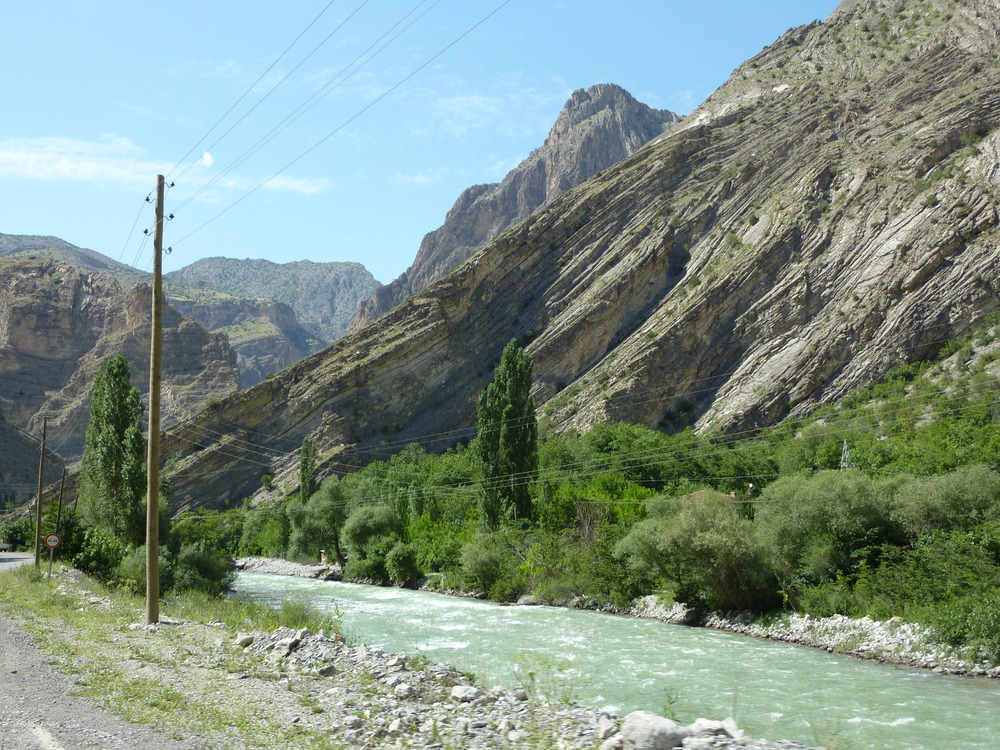 Along the road to Yusufeli
We then began the 34km to our pansiyon for the night in Barhal. Oh my goodness! Little did we know what the road would have in store! 34km of bending and winding on mountain edges and blind corners above a fast flowing river! Some was even as bad as the road from the previous day, which was all the more terrible as we were both tired, frustrated and worried about the car. The scenery, as ever, was wonderful, even if Ruth didn't dare to look at times because of the drop down into the valley. Eventually the river had risen to meet us and we were again on flatter land, although still at a good altitude. Barhal proved to be a tiny village at the foot of steep mountains, and after getting lost once (due to driving too far along the village road) we eventually found Karahan Pansiyon high on the side of a steep-sided leafy hill. We hiked up a pretty vertical-feeling track lead us from the parking spot to the house, and there we were welcomed by the owner's son, who gave us juice on the house balcony terrace, where we sat with Peter, an Englishman and the only other guest. (We had actually honked the horn at him on the road earlier!)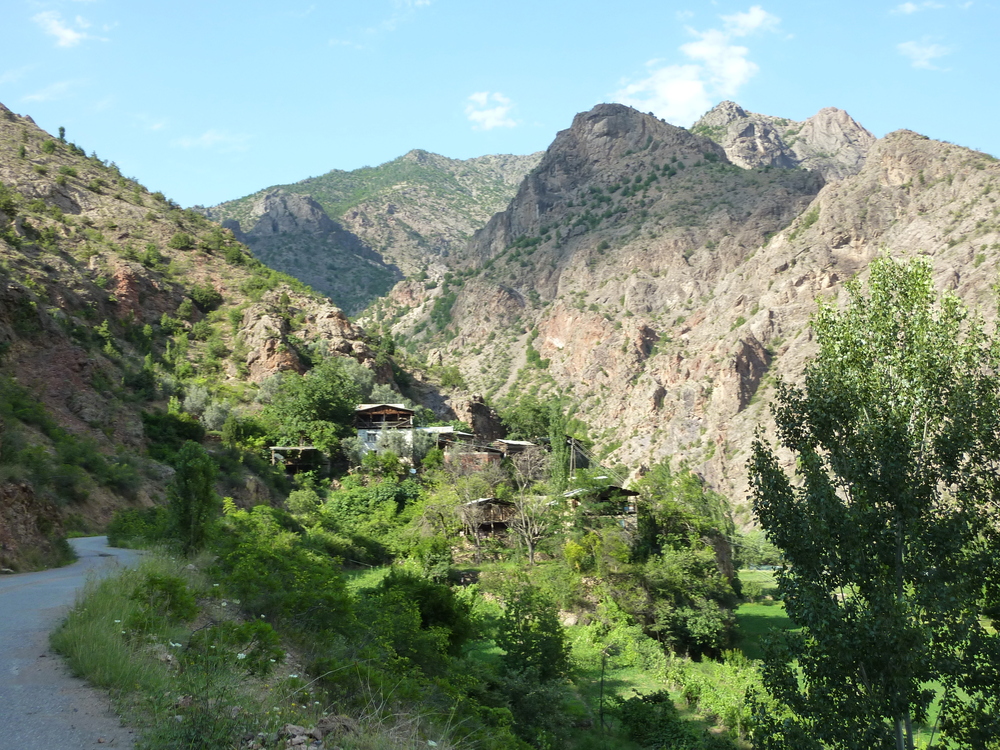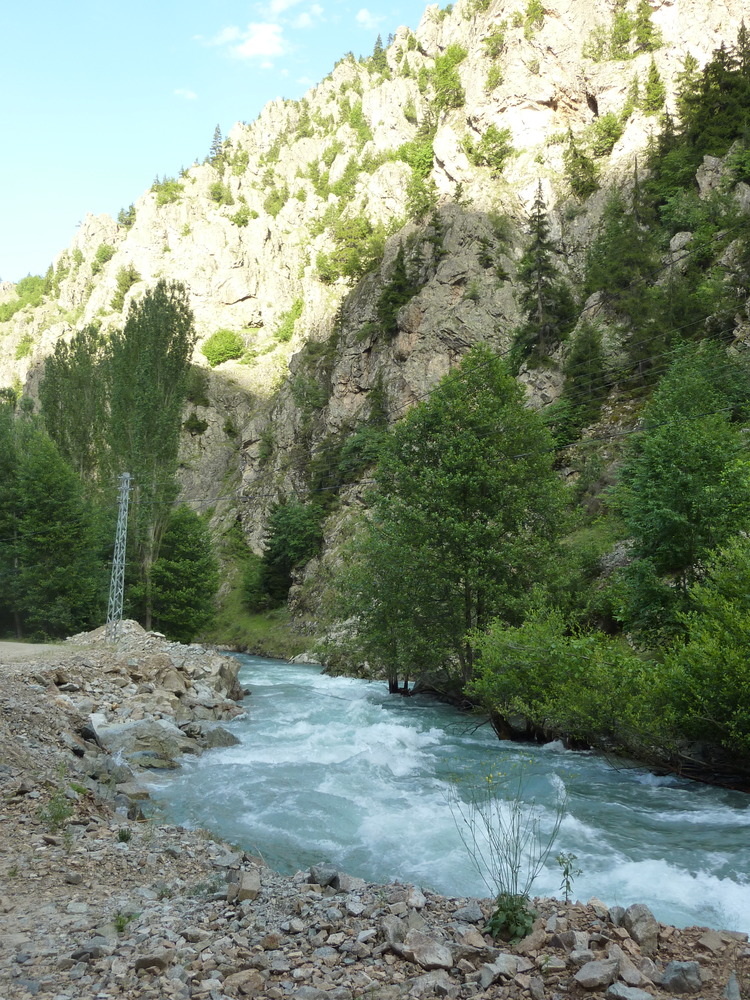 The winding journey to Barhal
With Peter we were then showed to our simple yet stylish chalet rooms, and soon were enjoying a rest before we were treated to a lovely home cooked evening meal in the conservatory style room: soup, battered trout with rice, salad, homemade chips, deepfried aubergine, yoghurt, with fresh watermelon for pudding! Gorgeous. Halfway through the meal the owner's son came and asked if everything were ok, and confessed that he cooked this evening, whereas it was usually his father. We (including Peter who ate with us) assured him that the meal was delicious so he didn't need to worry! Then we asked if they have bears near the house and he told us that they have every type of bear except polar bear! Maybe we should lock our door well tonight…
Watched some F1 action on the laptop before bed.