Up early after a difficult night of concern as Mark seemed to have contracted a bad fever. In the morning it seemed to have disappeared though, much to our relief. Headed to breakfast (after moving our still wet washing to the sunlit window sill) which was in the hotel restaurant. The restaurant balcony terrace was filled with sun, so we sat out there, despite the fact that none of the tablecloths were clean…
Back to room, packed, prayed for a good day and bought water before heading off towards Ardanuç with the damp washing laid out on the parcel shelf! Going east from Artvin, the road was far more windy and steep, as though the construction guys had given up on tunnels and decided to go around and over the mountains instead. We were amazed at the speed that some of the Turkish drivers used on this road, although after being overtaken by one van, we later passed it pulled up on the verge with one passenger outside, bent over after being ill… Oh dear. The high roads also gave us a full view of the new dam project this side of Artvin, and a sudden understanding of what a 'scarred landscape' really looks like. Everywhere lines in the hillsides and electric wires zigged zagged infront of us, and it actually felt quite devastatingly shocking after passing through so much untouched countryside before.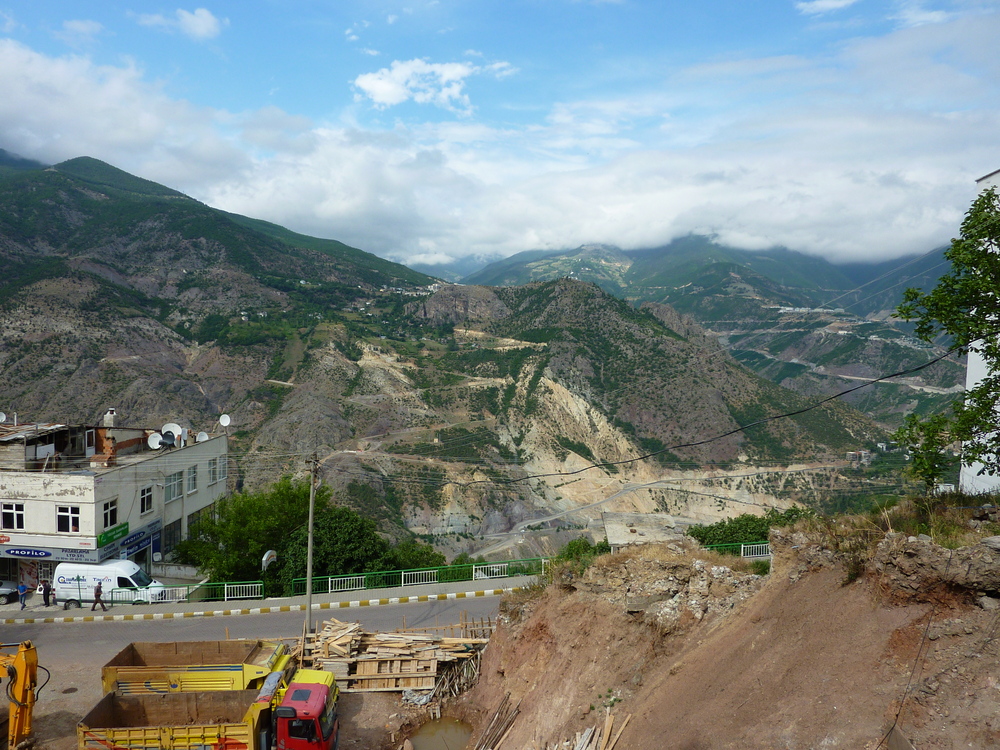 As we passed through the mountains and further from the verdant, rainy coast, the landscape changed to be more arid and scrubby. Again, this came as a surprise after the tree-covered slopes before. Entering into a dusty, dry gorge, we soon came across Ardanuç Ferhatlı kalesı (Ferhatlı castle) which was mounted on a rocky outcrop overlooking the steep sided valley.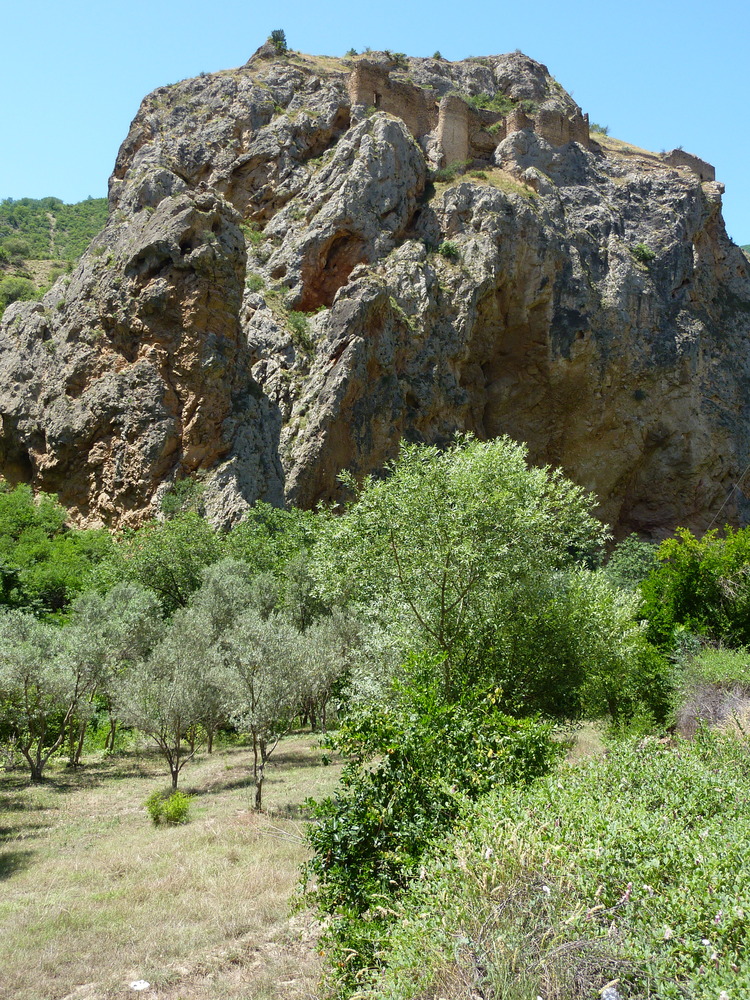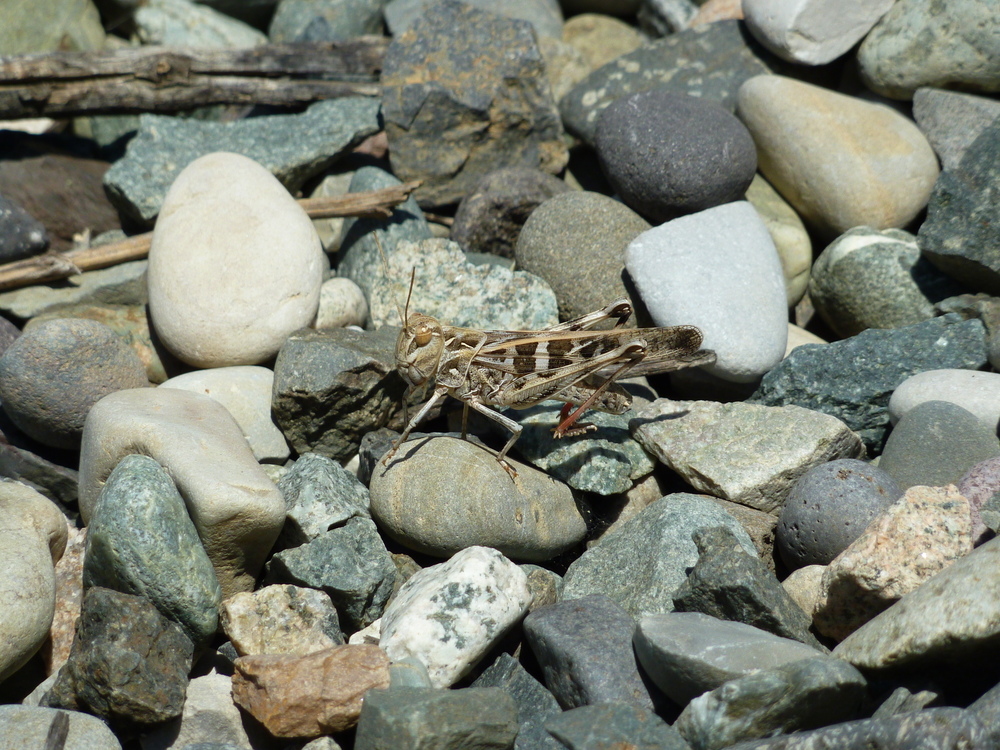 As we stepped out to take pictures, the heat and the sound of the crickets hit us with force, and although the olive lined valley floor provided a quite intriguing contrast to the bare rock beneath the castle, we were glad to get back to the air-conditioned car! It seemed as though we had just slipped through a door into a totally different country. At the other end of the gorge was Ardanuç castle, which, although less impressive in itself, showed off an incredible location on top of an unnaturally flat plateau of rock.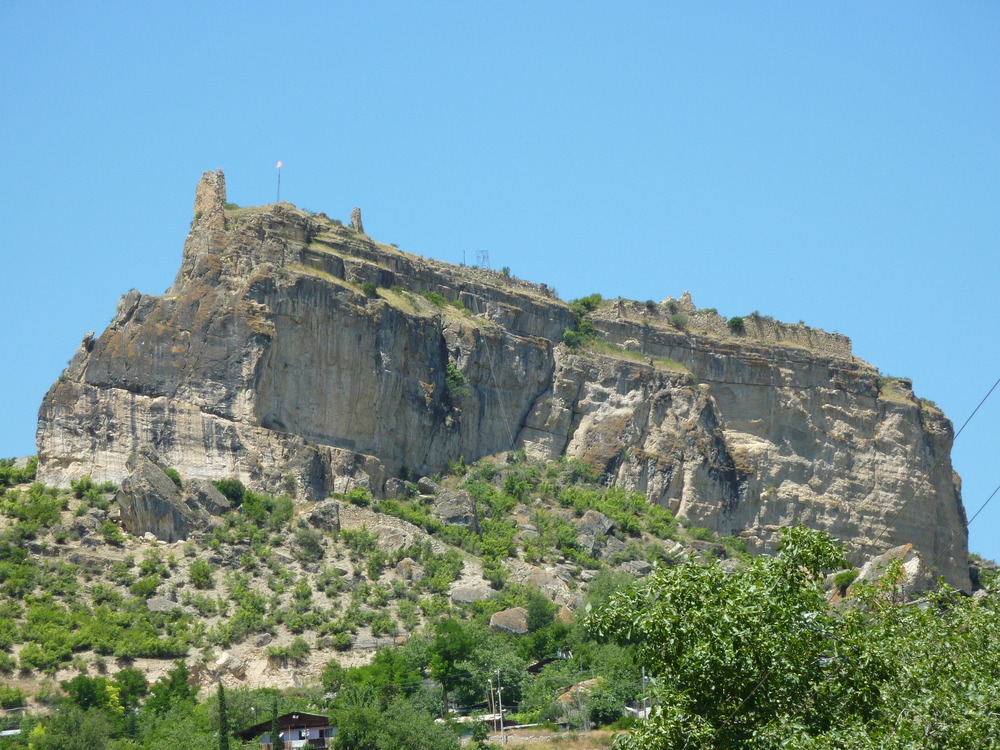 We then continued along what we thought was the main road marked clearly on our new map. However, the road just seemed to get worse and worse… What was more, this road was following the river on the valley floor, whereas our desired road seemed to be much higher and staying above the valley. The gorge was amazing, but the road had no surface and was severely pot-holed. Halfway along we found a building site, where work was going on to take rock from the cliff, presumably to widen the track. But still no good road. We then emerged from the gorge into a new valley where the track was equally small, but the surrounding hills were far more alpine in look. After another few km we admitted that the roads we were seeing differed so much from the map in hand that we really were lost. We stopped to ask directions from 4 ladies (actually the only 4 people we had seen wandering along the track) who confirmed that we were a way from our intended route and directed us up a track that apparently took us to a village where we could (according to the map) meet the main road at a later point. So, we headed off, only to realise that the track was just as bumpy and pot-holed, yet now also steep as it was starting to climb the valley side. There were also a few vehicles coming down the track which meant progress was slow and cautious.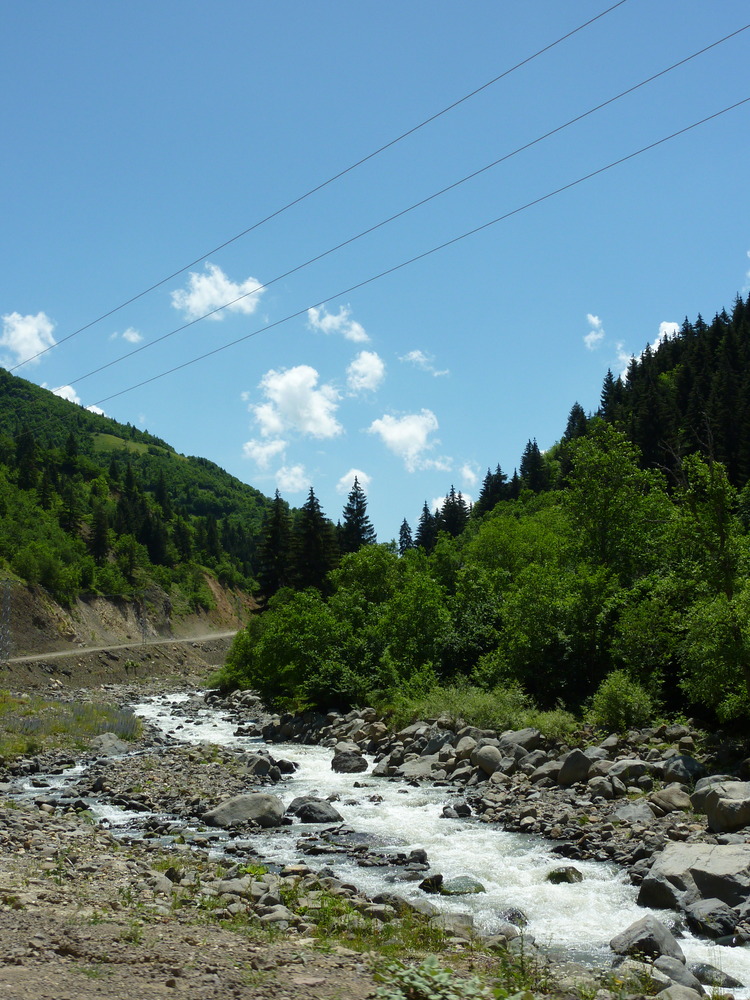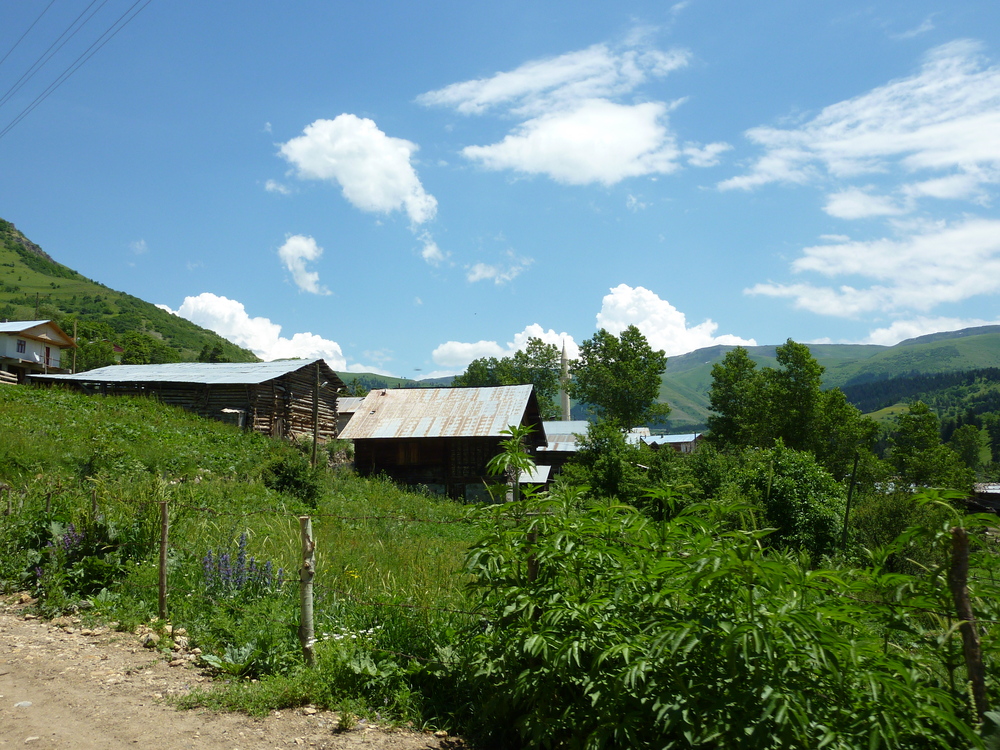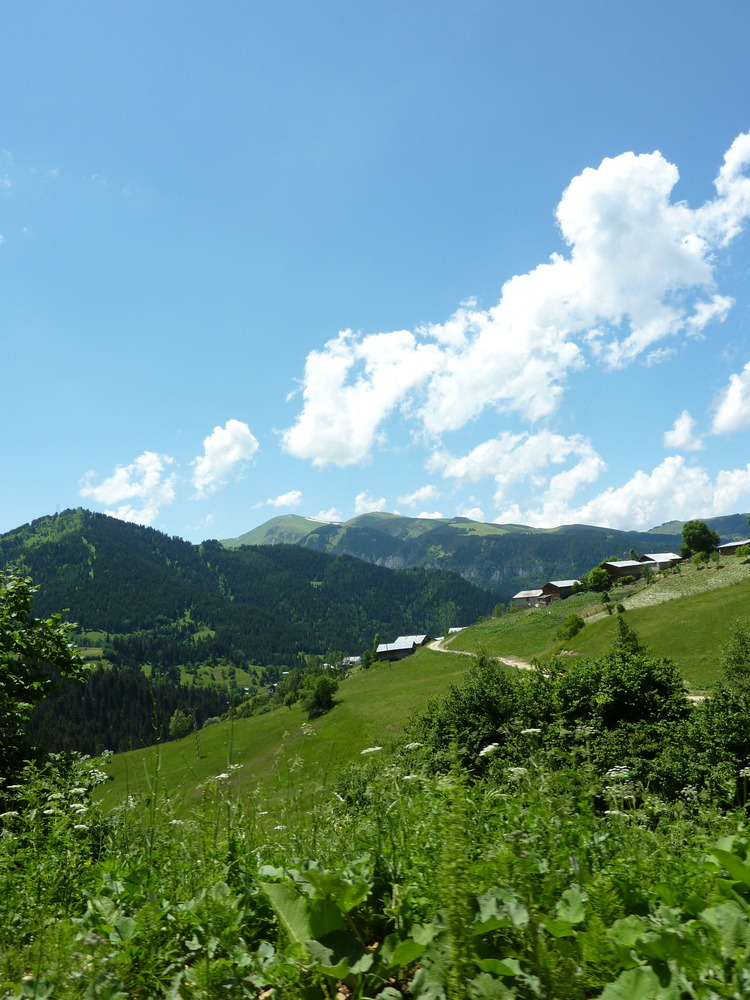 After a while we had climbed along and up far enough to have a view over the whole wide spreading valley. It was absolutely stunning and very Heidi-esque. By now though we were feeling rather desperate to find a good road. Surely it was only a matter of time before the car decided to give up on such poor, bumpy and steep roads? We drove on into another village where Mark jumped out and asked directions from some villagers chatting and drinking tea by the village mosque. They pointed onwards to a village of wooden chalets that we hoped would be Geçitli, the village where we could meet the main road. Upon arrival there, with no sign of any main road (or any road at all, for that matter), Mark jumped out again and spoke with two elderly men. At this point Ruth suddenly became aware that the flies flying into the car through Mark's open door were HUGE; about the length of the top part of your thumb. Euuugh! Disgusting.
The men directed us up a road that actually seemed better paved than we had hoped, but, after driving for a minute or so, we saw that the road was continuing onwards to the valley side, with no mountain pass to drive through, just up, up, up on a steep winding curve. At this point we felt quite trapped. We couldn't go back along the awful track, but the only way onwards was to scale the mountain in front of us. We had to go on, so pushed the poor car into a first gear crawl up the hill. What a hill! We wound around and up for a good few km without any sign of it stopping. And then, as we reached a long straight uphill stretch with views across the whole valley floor, the car made some distressed squealing noises, and we knew it had had enough.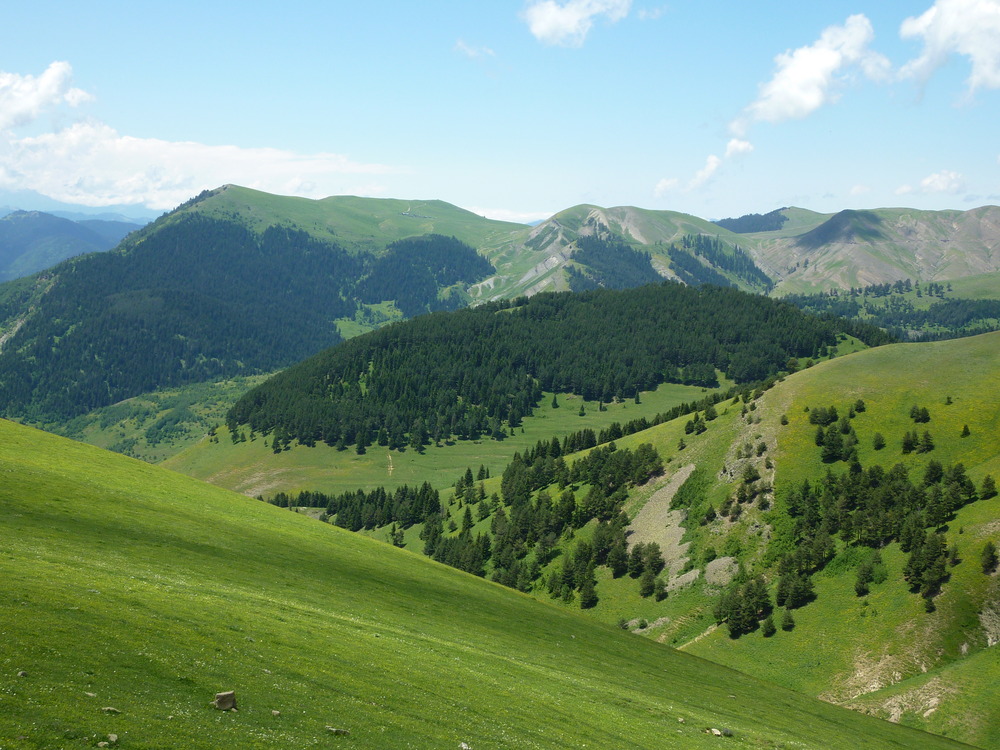 Part of the view from where we broke down… not bad!
We halted halfway up the straight and turned the car off. Quite honestly, we really didn't know what we were going to do. The village below had nowhere official to stay, we had no signal on our mobile phone and there was no shade on the road we were on because we were so high that only grass was able to grow. Even if we had managed to contact the car people in Istanbul, it was unlikely any breakdown cover (if they had any) would be able to find us here. Our only hope was that the car just needed a rest…! Mark opened the bonnet and immediately we could hear that the water in the car was boiling (which it should apparently never do). Of course, we were now so high up (around 2500m) that we could see areas of snow on the hills across the valley, so with high altitude and scorching weather, the water could boil much quicker than normal. We decided to pray and then wait an hour to see if we could continue. Wrapping his hand with an old T-shirt for protection, Mark managed to take off the water lid, much against Ruth's will (everyone knows that's very dangerous!), but in the best interest of cooling the car down. We then thought about ourselves. With no shade and thin air, we knew we needed shelter, water and sun protection. We got our hats and sunglasses, doused ourselves in sun cream and drank from our water reserves in the car.
We were rather stuck for shelter though, and the massive black flies seemed everywhere, intrigued by the white car. We knew sitting in the car was dangerous as passing traffic could hit it (being as we didn't have time to pull right over to the side). However, in the end we decided it was our only option, so we took our mosquito net and draped it over two open doors on the right and keeping the left doors (road side) closed, we climbed in to wait. We had some cherries with us, so snacked on those. After a while a passing lorry and stopped, asking what was wrong. They poured some cooler water into the water tank (great!), and informed us that the flies could bite (not great!)…
One hour and lots of prayer later we tried the engine again – hurrah! It started! However, the guys had told us there was still 5km to go to the top… We slowly crawled along the track and eventually over the brow of the hill, expecting to see the main road awaiting us. However, all we could see was the dirt track winding off for miles, and road builders' settlements along the roadsides. We realised that we were driving along a road that hadn't been built yet! Eventually after another hour of crawling into and out of potholes, beside sheer drops to the valley below, and passing only the occasion JCB and one ruined castle, we reached the floor of the next valley, and found that the road, although still potholed, had at least had tarmac on it at one stage!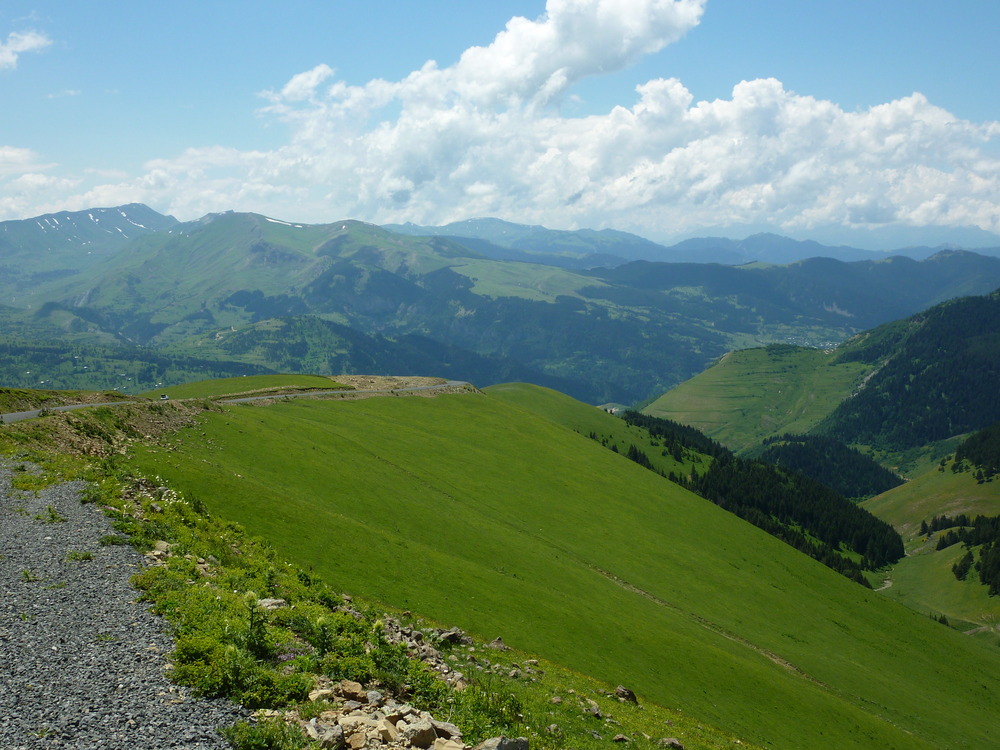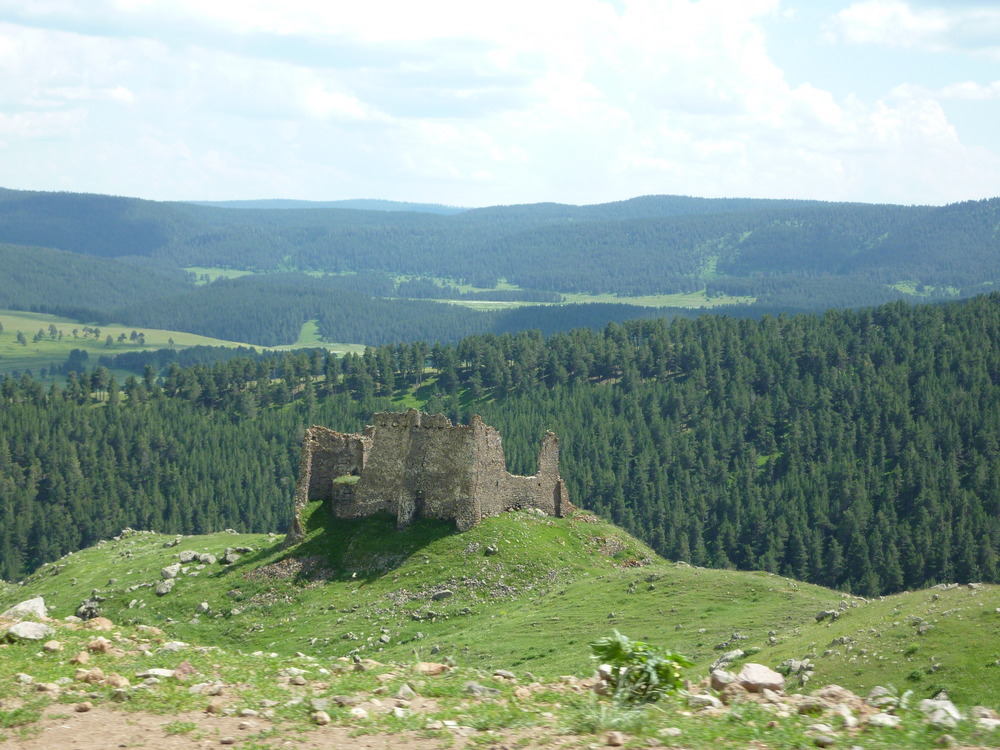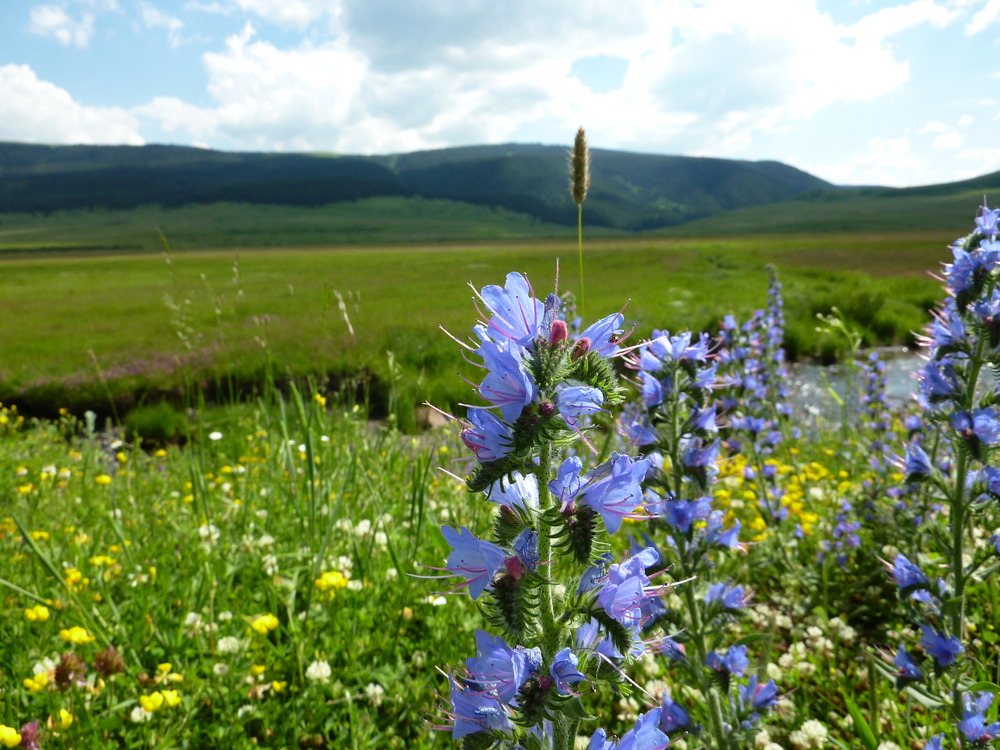 This place, and the next few hours of views, can only be explained as alpine plain. The valley floors stretched for miles on either side of the road, but as we were still very high up, no trees were growing here, so the grassland was full of wildflowers (above) whose scent floated on the breeze. Here and there we saw herds of cattle, grazing with their cowherd looking on, and elsewhere geese and ducks enjoyed an occasional puddle. It seemed that the local villages had this whole expanse of nature to themselves.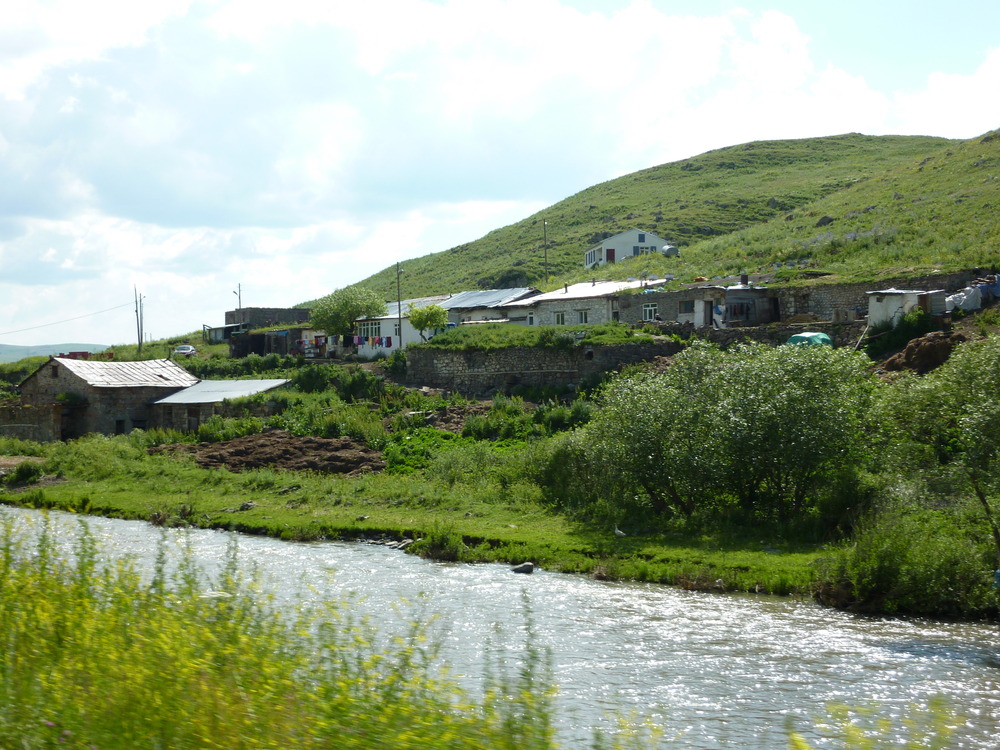 Eventually, far out of our schedule and unable to get to the hotel we had booked into for that night, we pulled into Göle. We hoped to find a hotel here, and soon saw a sign for Hotel Damla (Waterdrop Hotel). Unfortunately, it turned out to be rather ironically named, as their whole water system was broken and the manager had no idea when the repairman would come…
We continued along the empty road. Unfortunately our map marked towns of vastly varying populations with the same size 'blob', so we took a gamble on one that we hoped would be large enough to have a hotel. Some steep roads and a rather worryingly hot car later and we were in Şenkaya, but, to our dismay, our gamble hadn't paid off and it was too small for a hotel.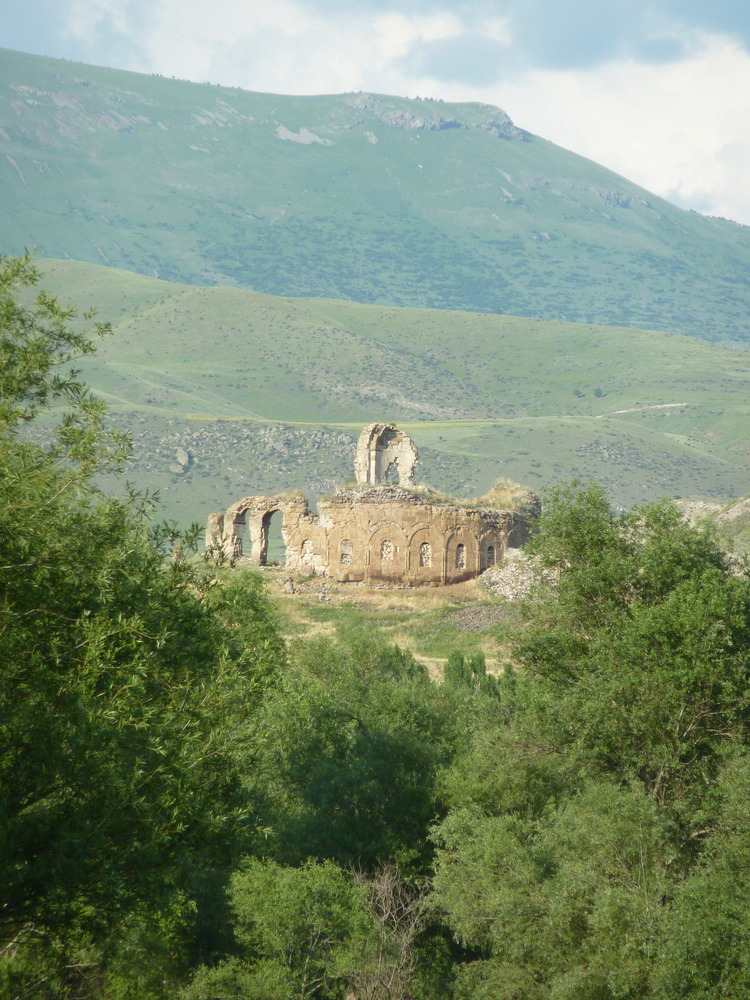 Feeling rather like Mary and Joseph (even a stable would do!), we had no choice but to carry on for another hour or two until we could find another place that might be large enough. Along the way we passed Penek Church (one of the sights we had planned to see today before everything went wrong – above), so we took a photo from the road (sad not to be able to stop) and continued. The rock here changed colour again and we saw red outcrops of bare rock emerging from the ground. One massive example looked like Ayers Rock! Magnificent.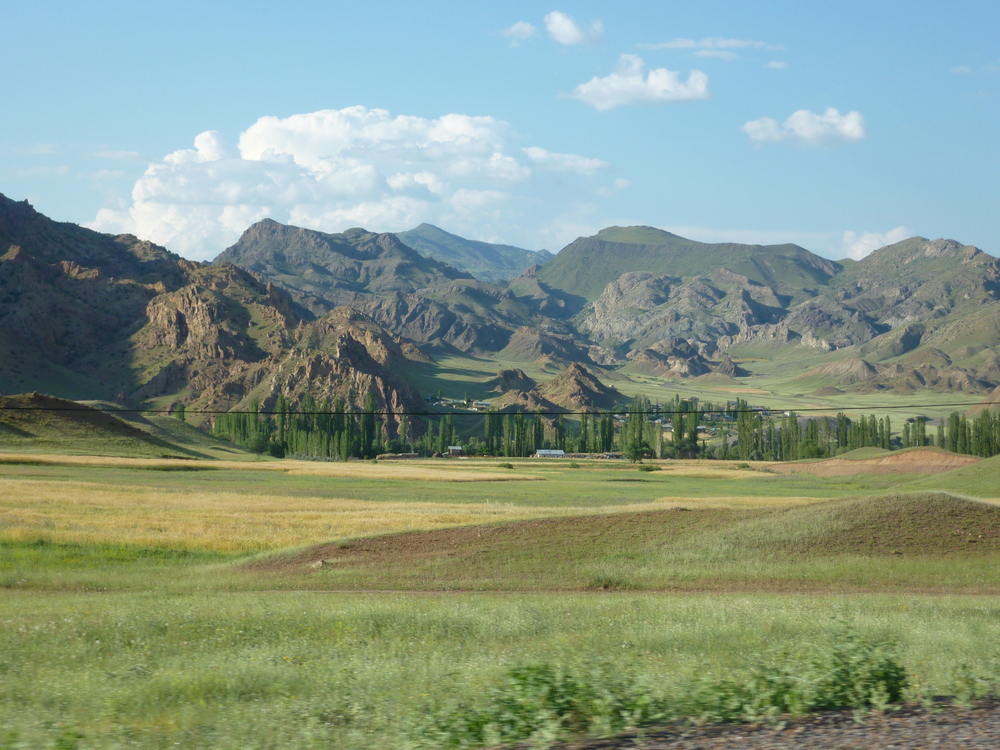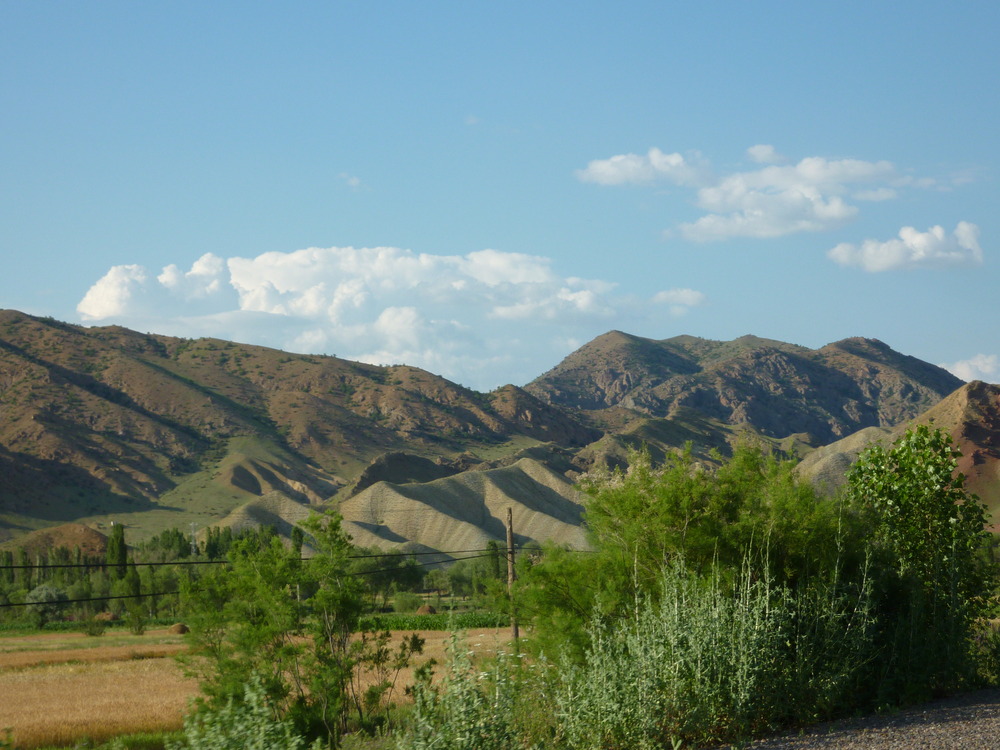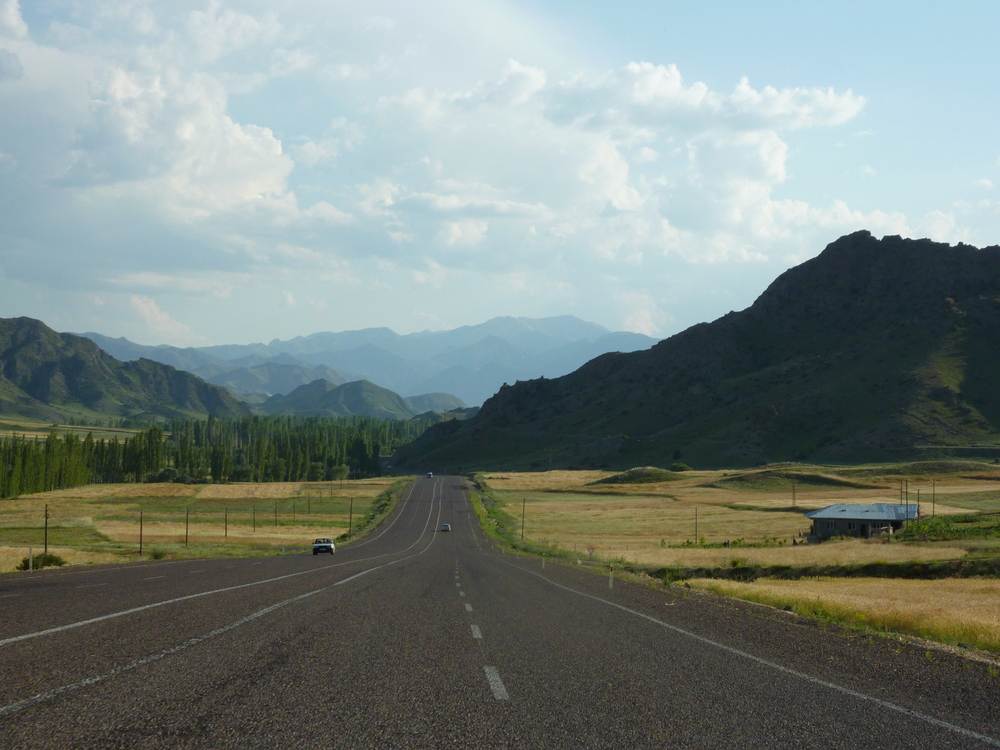 A man on the roadside signalled for a lift, so we picked him up and continued to Oltu, which – hurrah – was a good sized place and had at least 3 hotels. Our passenger had said he would find one for us (we had said we wanted to find a hotel) and so he soon found the manager for one place on the main town road. The room was decent and had a very basic shower room. The toilet was a squatty one, shared with other guests, but the manager said we would have this floor (there were 4 rooms to a floor) to ourselves this evening anyway, so we didn't need to worry. We went out for a walk and found a sparse but welcome park along the riverside. It was also at the foot of an impressive citadel that sits right in the middle of Oltu. Opposite the citadel was an intriguing statue of a hand holding a string of Islamic prayer beads, and we later found that Oltu taşı (Oltu stone) is famously used for making these beads.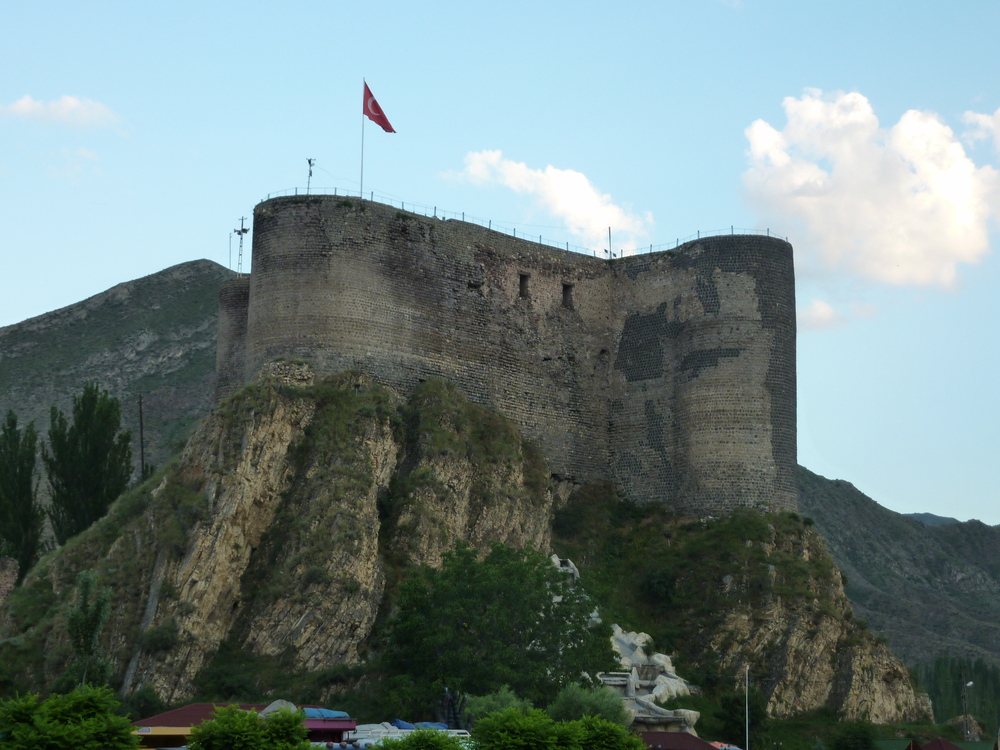 The citadel
The view from our hotel
Then we found a little lokanta and ate well before watching Old Dogs in our hotel room. This would ordinarily have been a terrible film, but it was quite a relief to watch light-hearted slapstick after a rather long, tense day. Mark went to bed and Ruth went to brush teeth in the corridor sink. Weirdly the hotel receptionist (a guy) chose this moment (10.30pm) to come and ask for our passports and payment! After our long day we both enjoyed a good night's sleep.