Woke up to the sound of cow bells and mooing after a restless night due to our neighbour's mobile phone alarm going off continuously (ironically until Mark banged our wall and they woke up…). We had heard rumours that at the top of the hills we were on was another yayla town with a better view of the mountains. At breakfast we spoke with the owners and they called a local service minibus for us to take us to the top (we didn't fancy trying it in our car!). As soon as we had loaded our car with our stuff, the minibus had arrived and we hopped in with some other people making the journey (some hoping to hike over Mt Kaçkar in the following days).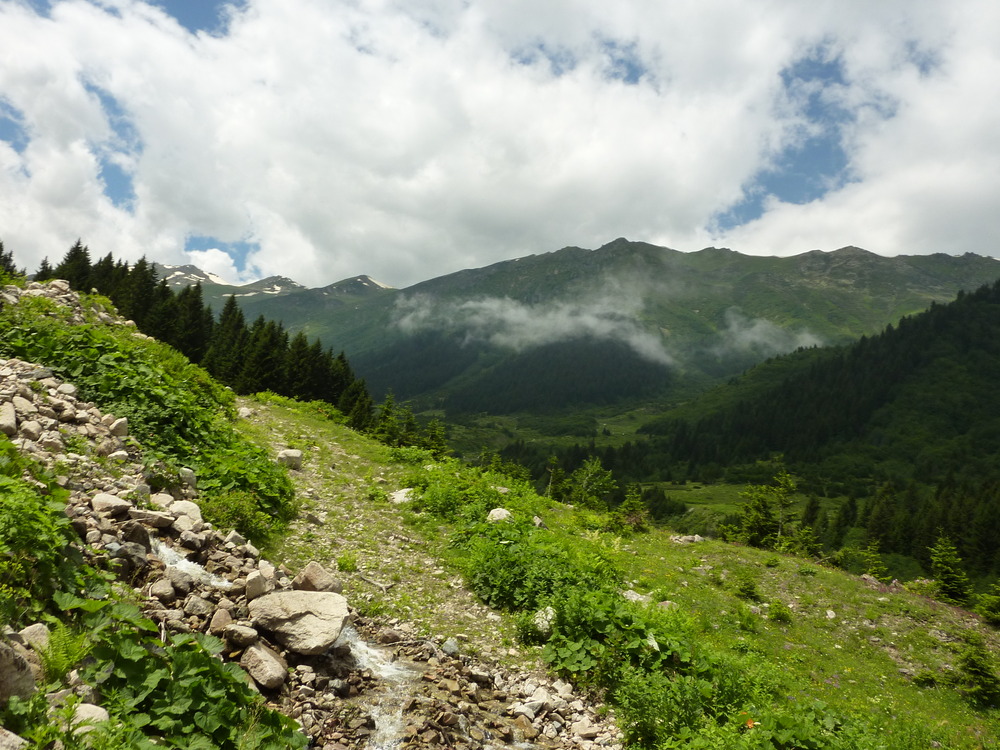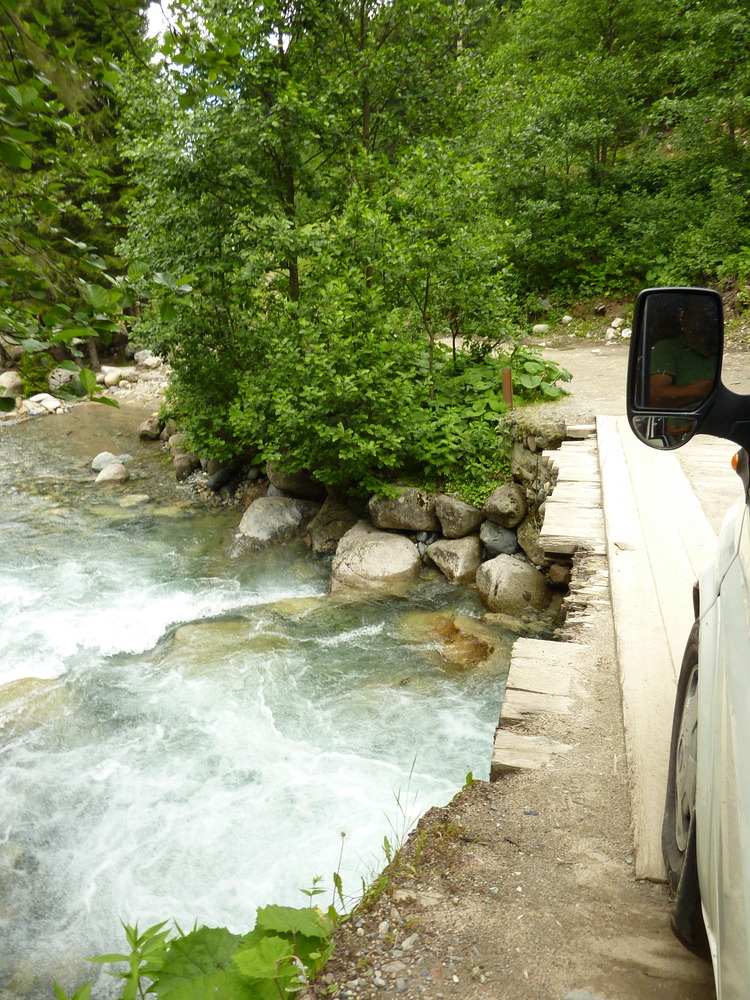 We began the journey up the road we had previous begun to walk up. It began well, but before long turned into a horrendously bumpy track with sheer drops to our left, but incredible views along the valley, the low lying clouds and waterfalls tumbling down the mountainsides. We even saw a couple of (glacial?) ice masses on the mountainsides as we neared the top.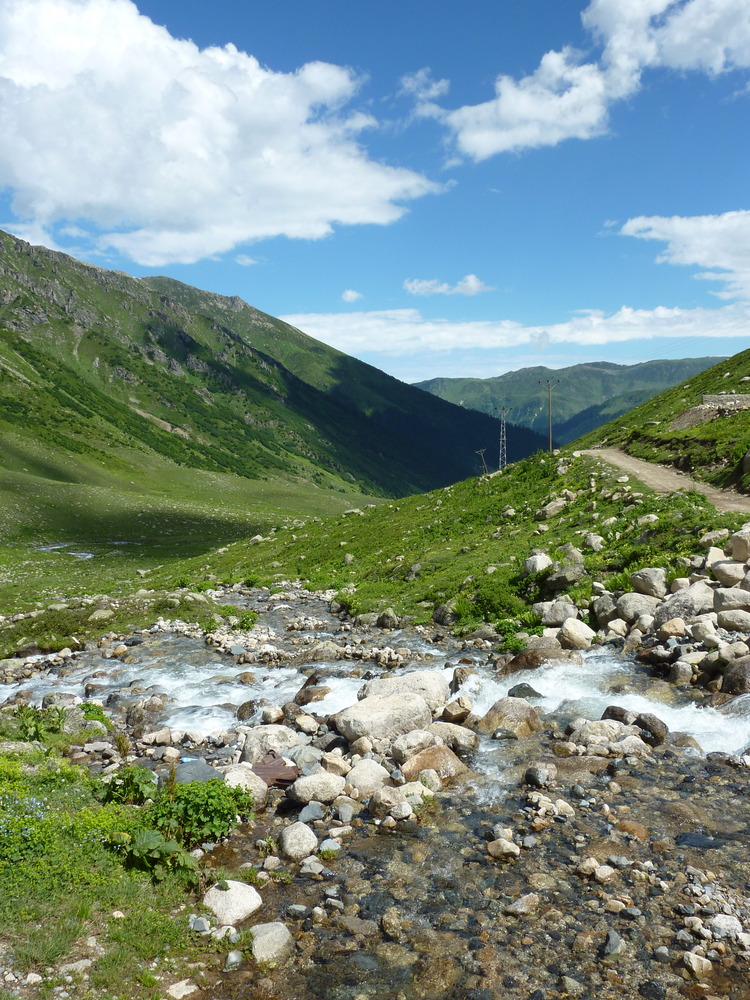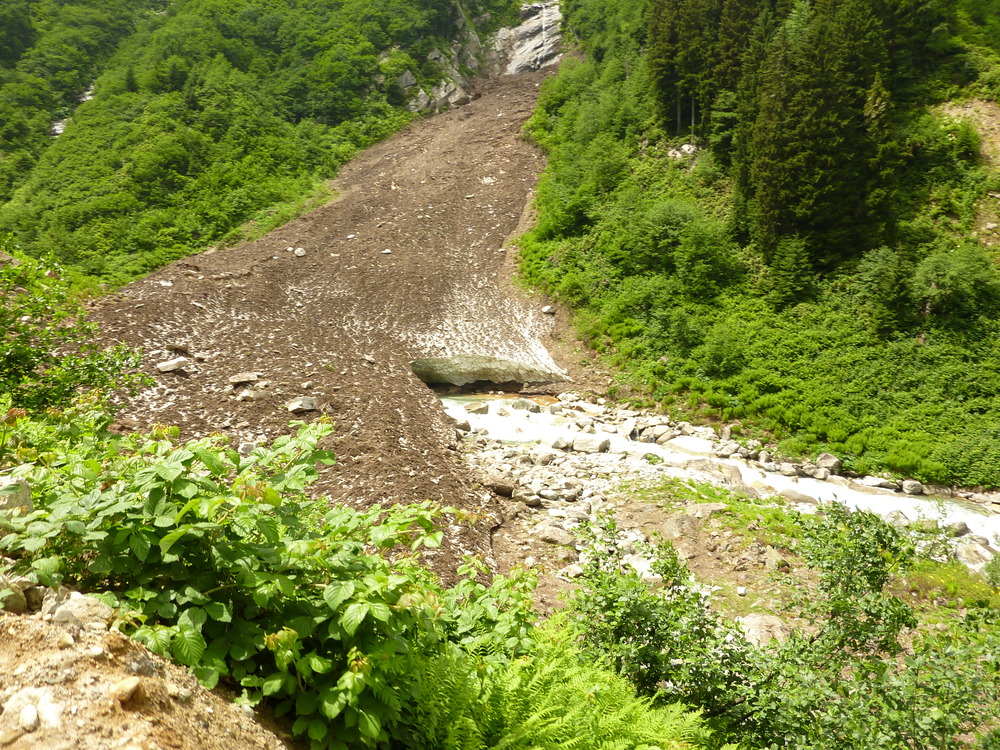 We were VERY thankful we didn't attempt the journey in our own car and were glad to be in the hands of an experienced driver, perfectly at ease with wheel-sqealingly thrashing his minibus up the hazardously steep potholed track, accompanied by the wailing yet funky music of local musician Sait Uçar. He was also acting, in some capacity, as the local postman. At the bottom of the hill one villager gave him a letter for someone living up the hill, and later, as we passed through another village, the letter was passed to some children who ran off to give it to the recipient!
Well I never did!
During the drive, an unimaginable coincidence occurred. We began to chat with an English-speaking Turkish girl in the bus with us. It turned out she had lived in London for a while, and, when we asked where, one place had been West Drayton!! Our own old home! Incredible – Going up a mountain in the Kaçkars and we find a girl who's lived in 'The Drey'!
On Top of the World
At the top was Yukarı Kavron, another yayla settlement but far more barren in appearance and right at the foot of the mountains themselves. An absolutely awesome place to see and worth the bumpy ride up.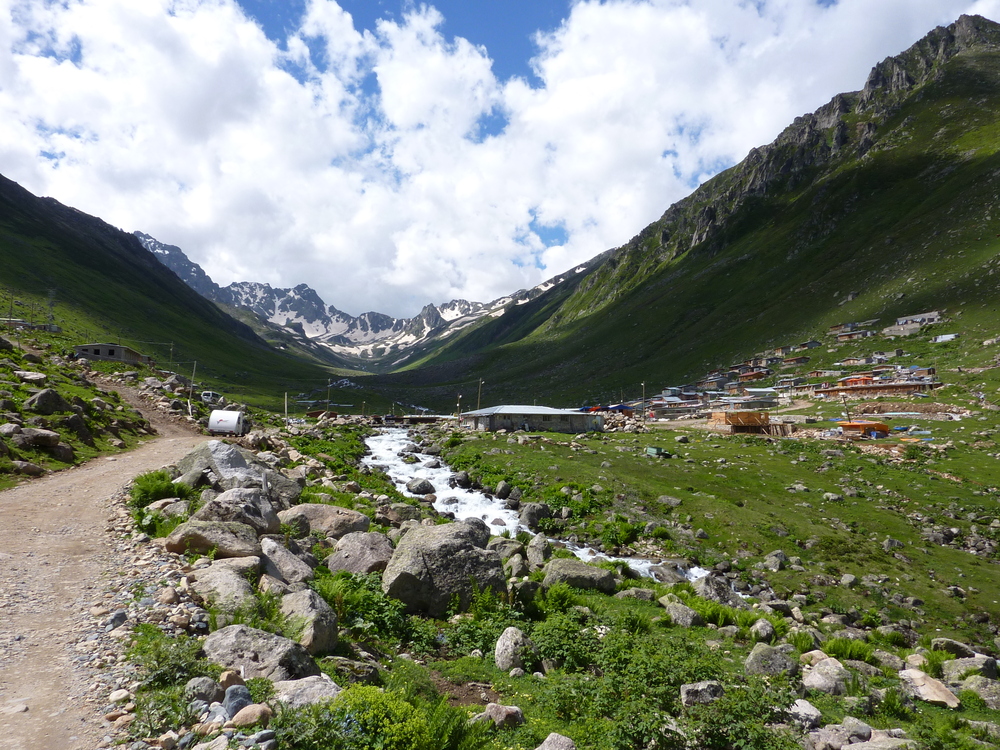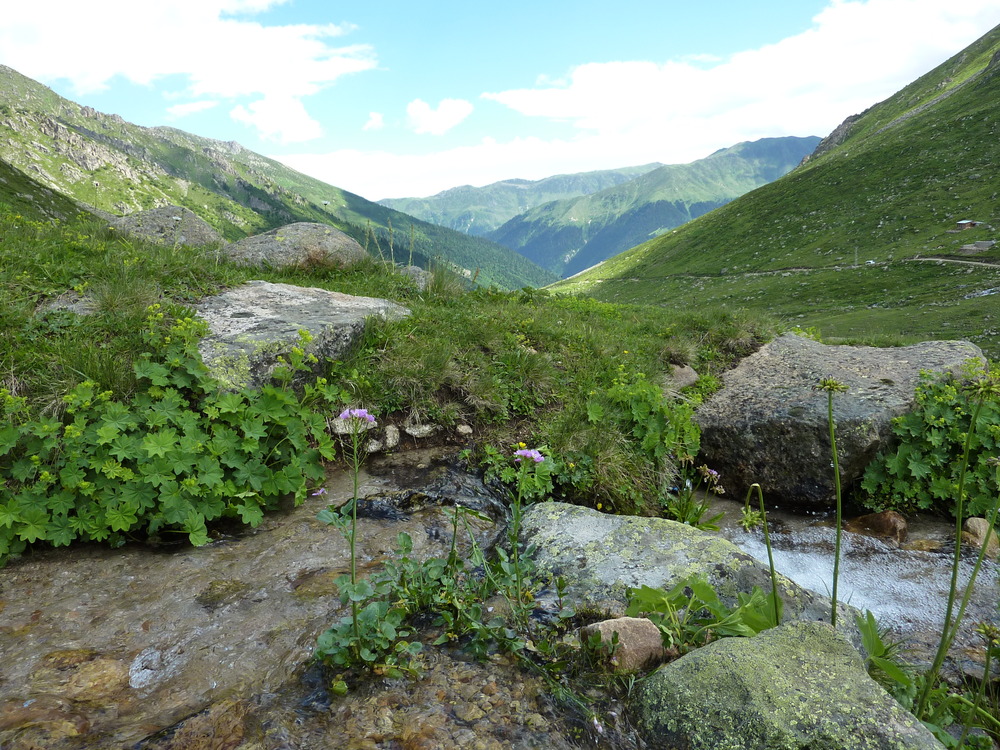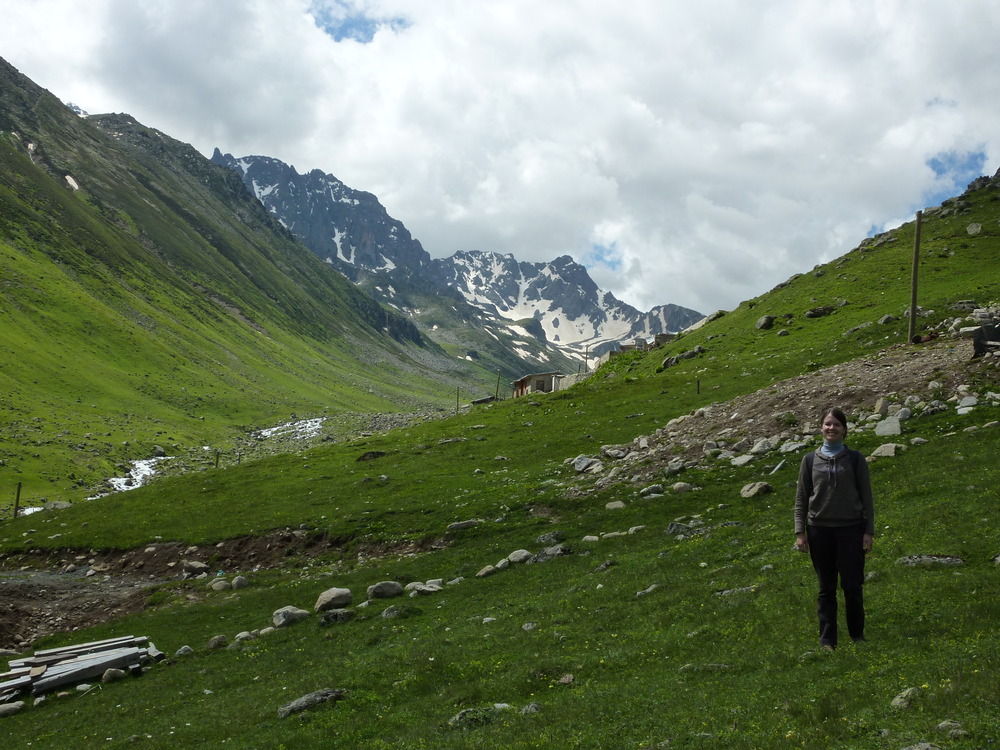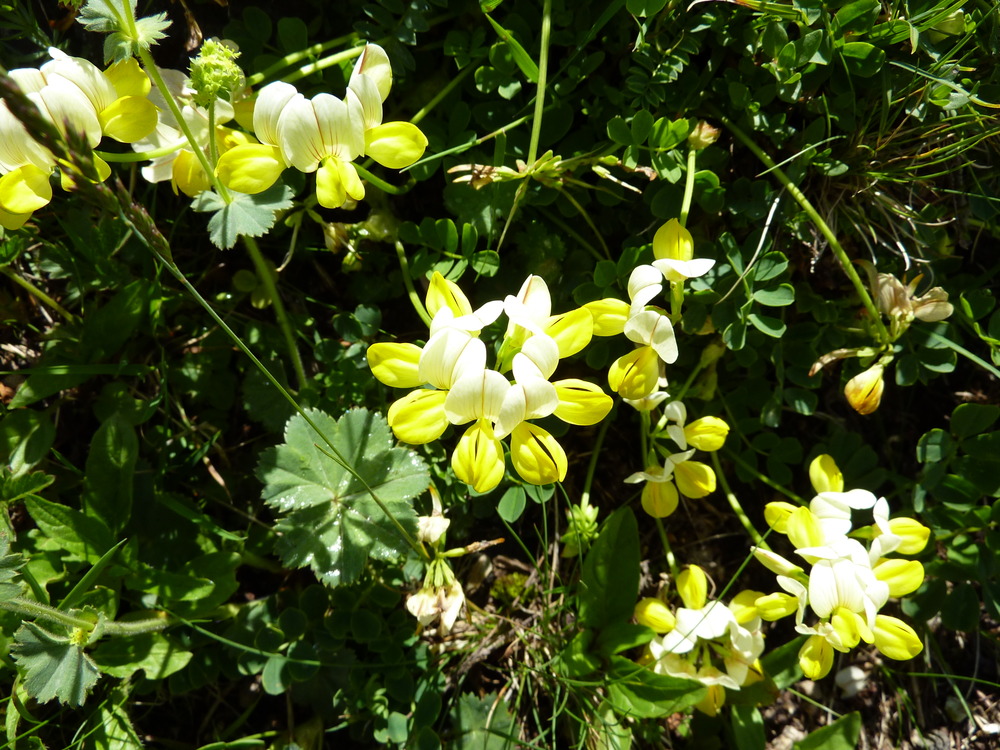 We tried to get a better view of the highest peaks by following a wide stream up a nearby hill. However, after getting stuck on scree and realising that there was no real place to cross the stream higher up, we returned just in time to catch the minibus that had begun the return journey earlier than anticipated. We picked up a villager on the way down and there were some chuckles amongst the other passengers as she bellowed down her mobile phone to her friend Ayşe, not seeming to realise that distance wasn't an issue on the phone.
Goodbye to Ayder
Our Pansiyon is shown on the hill here. In the foreground is one of the village woman carrying her crops home ("and anon, methought, The wood began to move"!)
Back in Ayder we waved goodbye to the pansiyon owner (who was hanging out of a window and waving enthusiastically down the hill to us in a lovely grandmotherly fashion) and set off to Konaklar. This was not far from Ayder and was supposedly home to some old Ottoman houses. However, apart from seeing one of our Danish friends again, there wasn't much to be found there without climbing up the steep hillsides which we hadn't planned to do. So we turned round and headed back to the coast. We wanted to try and find Çiftköpru and another castle on our journey but it turned out that the road was closed and so we got back onto the main track and headed towards Artvin.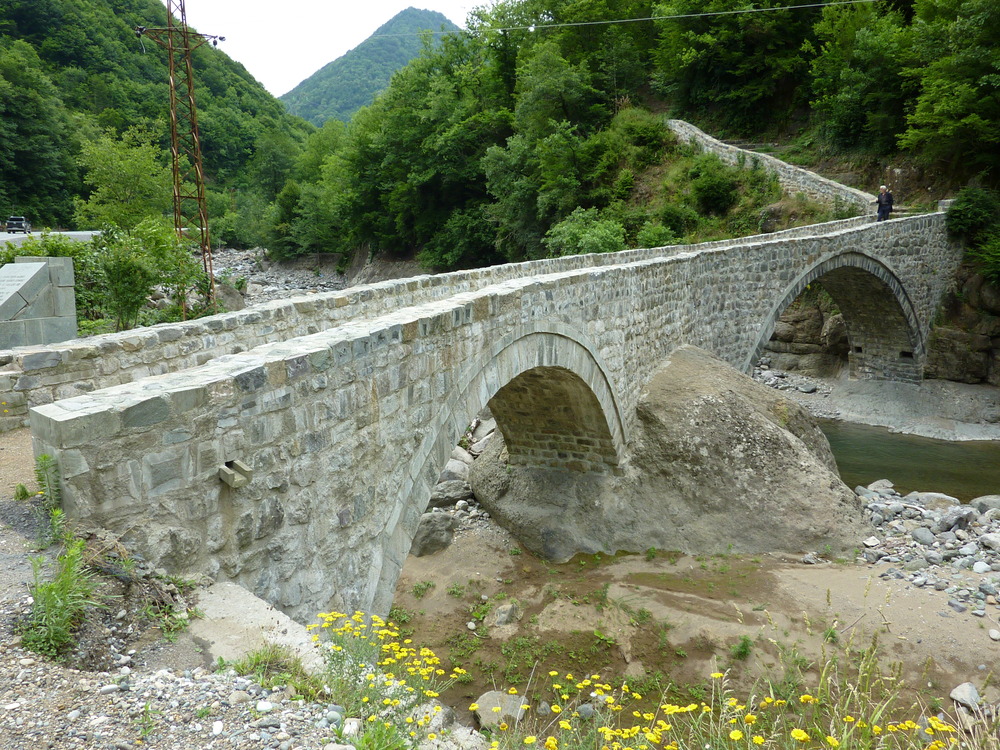 At Arhavi we stopped for a lovely lentil soup with soft, delicious bread. We noticed here that the people were fairer and even ginger looking, compared to people further west, and we realised that we were now only around 20 miles from the Georgian border. After food we continued east before turning inland towards Artvin via Borçka. After climbing over another vertiginous mountain pass with incredible views across the hills leading down to the sea, we came down the other side via a beautiful old stone bridge (above) and into the beginning of Turkey's dam building region. Dams are everywhere in Turkey, but this was the first time for us to see one: certainly, it was colossal, and led us to quite eerie thoughts of the villages and centuries of history that are now submerged under the water.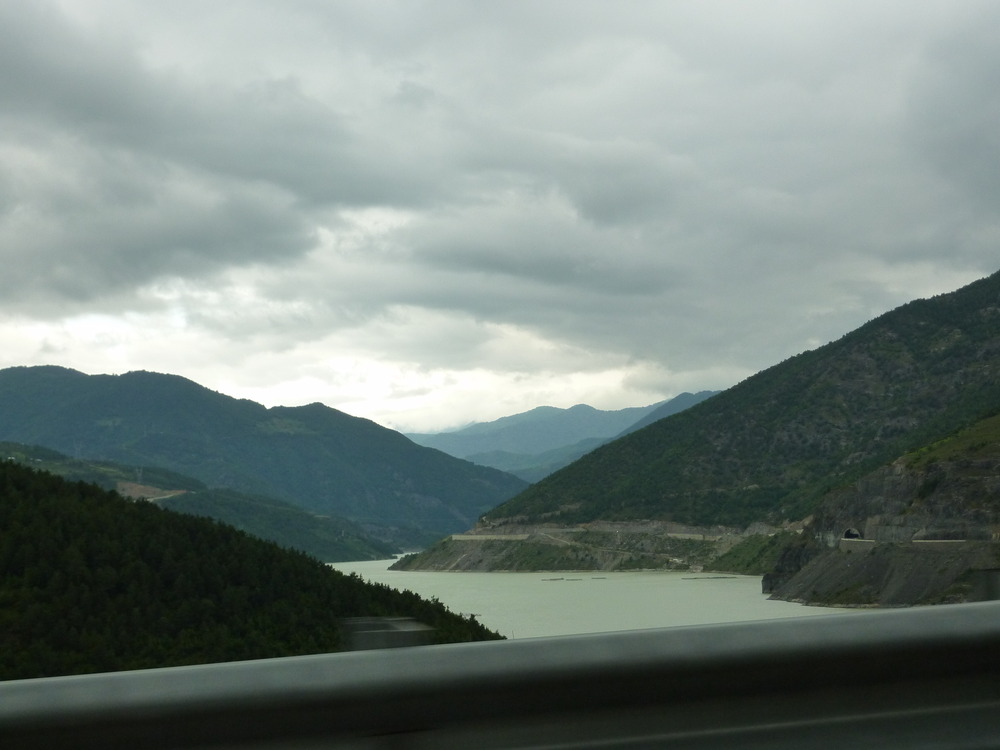 After a series of tunnels and viaducts we arrived at the bridge leading into Artvin, which we crossed before zigzagging up the worryingly steep road leading to the town centre. We stopped outside our hotel, but could only enter it through a very seedy shopping passage, and up some cranky old lifts. Ruth went in and asked about the car park, discovering in the process that the back entrance by the car park was actually the 'main' one (and the one that didn't leave you feeling as though you would be mugged on the way in). We brought the car round here and then were showed to our room.
It must have been renovation time and the room smelt strongly of bleach, cleaning women were busy smoking in the corridors, and the shower sealant had been recently re-done, but never cleaned after the work (so all of the peeled old sealant, dust, mank and even old feathers made a disgusting mess in the bath – eugh). After complaining to the management, we were eventually given another room that was better, although still carrying a general grime that had come from years of use with no re-decoration. Pretty good view though, as we were on the top floor.
We had a wander around the town that didn't seem to have much to win our hearts except for a friendly pastane where we stopped for ice cream, baklava and tea. We seemed to really stand out here as tourists, so felt a little uncomfortable. Back to the hotel to do some clothes washing in a bucket. Mark strung washing lines around the bathroom and we hung the dripping clothes up to dry. Watched a bit of football and batted around ideas for the next days before heading out in torrential rain to the pristine Bekiroğlu's (probably not related to the Rize version) for a lovely meal of beyti sarma, yoğurtlu iskender (definitely favourites of ours) and a simple çoban salatası (shepherd's salad – finely chopped lettuce, tomato and cucumber). Back to hotel, more football, arranging washing, and sorting some of our photos. Shattered!