Got an early start and were at the car (via bread shop) at 8am prompt to avoid getting a parking ticket (a good job as the ticket inspector was waiting to 'label' our car!). Loaded the car and drove up, up, up the hill rising in the centre of town to see the castle on top. Wow! A VERY steep climb to the top but absolutely incredible views from the top.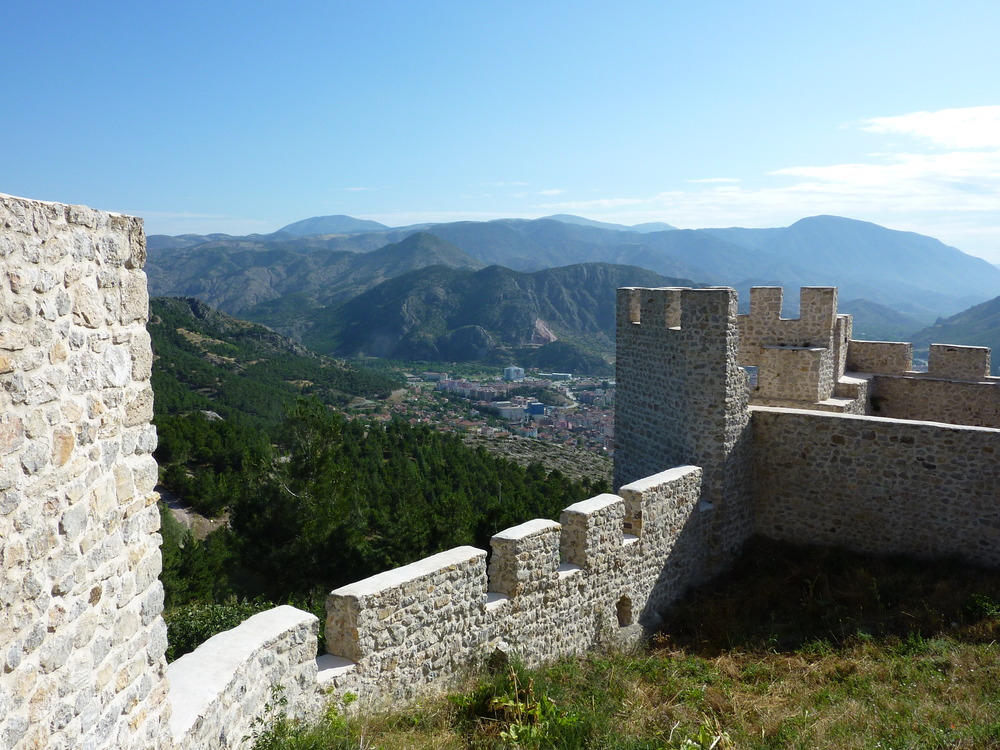 We wandered around the hilltop ruins and felt rather vertiginous as the cliffs fell away on every side without any kind of barrier at all! This seems to be a typically Turkish approach to sites like this. It's brilliant for keeping the site as 'natural' as possible, but would be a nightmare if you had children running around.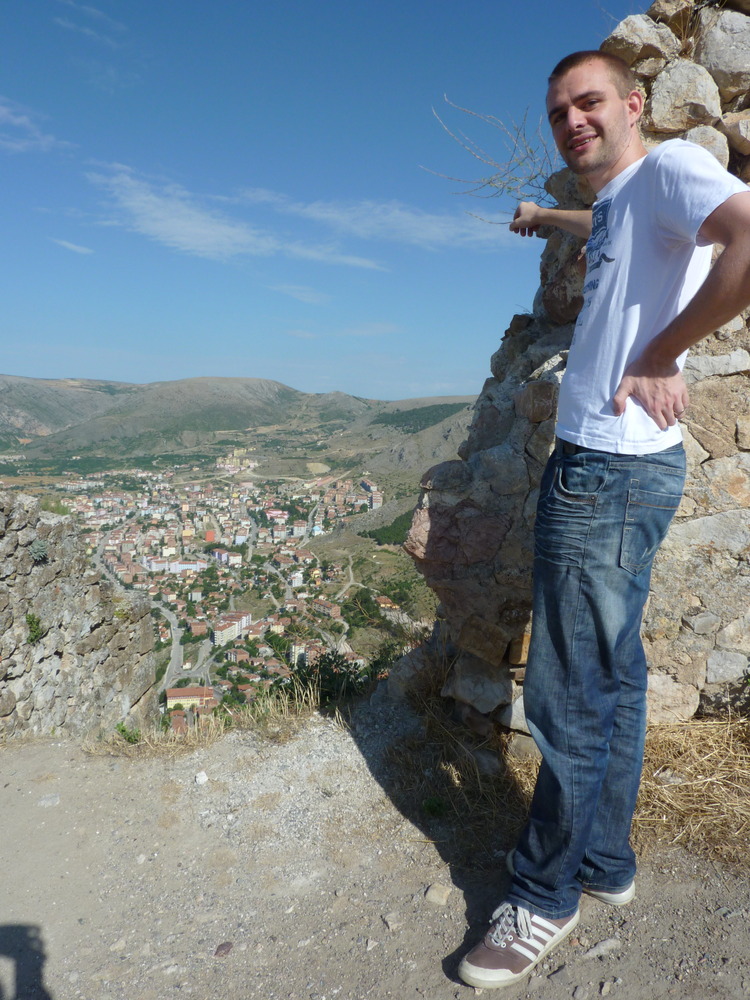 We ate brekkie ayaküstü (with haste whilst standing up) wıth HUGE ants (some even had a fiery red colour on them) busying curiously around our feet. Our köy tereyağı (village butter) had completely melted in its pot in the baking morning heat so we dipped our bread in a fondue-esque manner!
As we returned to the car we remembered that we still had our room key (again!!). Oh dear! After some debate about what to do, we drove back and gave the key to the bemused owner (who blatently hadn't even noticed). Then we headed off to the Aynalı Mağara (Mirror Cave), another ancient Byzantine tomb so called because of the startling white colour of its stone façade. The place was apparently also used as a chapel, although all but a couple of the frescos have long since faded from sight.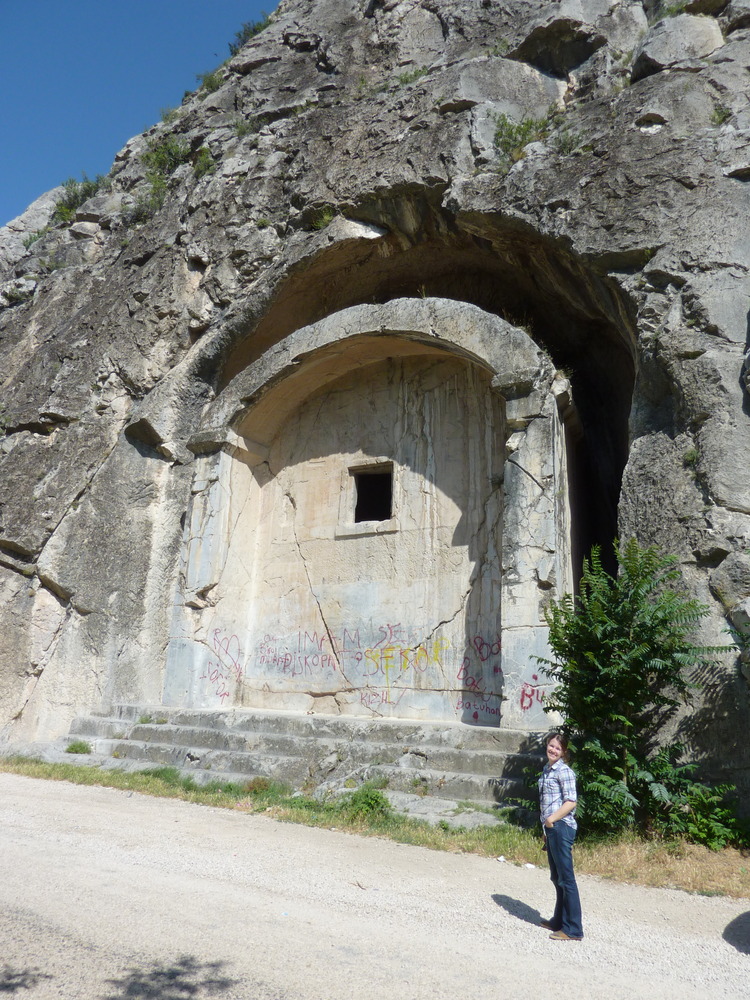 The tomb entrance apparently would have been entered with the help of a ladder, which does raise a number of questions, like: How could they get the dead body in there in a reverent manner? and, How did the attendant get back out again considering the drop on the other side? (A second ladder?) Anyway. The tomb was carved with a corridor around it, so it looks to be completely separate from the stone around it, rather than having been made from the existing rock. An interesting design idea.
Onwards, in sunny weather (hurrah), to Samsun which was a little disappointing. We didn't stop, but the town seemed very industrial and the front rather bare, although with all the signs of normal life on display.
We carried on along the coastal road past fındık fabrikası (hazelnut factory) paradise to Ünye, a little town surrounded by rich greenery and mountains, and once the home of St Nicholas (later to become Father Christmas!). Although the town appeared friendly, we had come to see the rocky remains of Ünye Kalesi (Ünye castle), approx 7km from the coast on a prominent hill with a commanding view.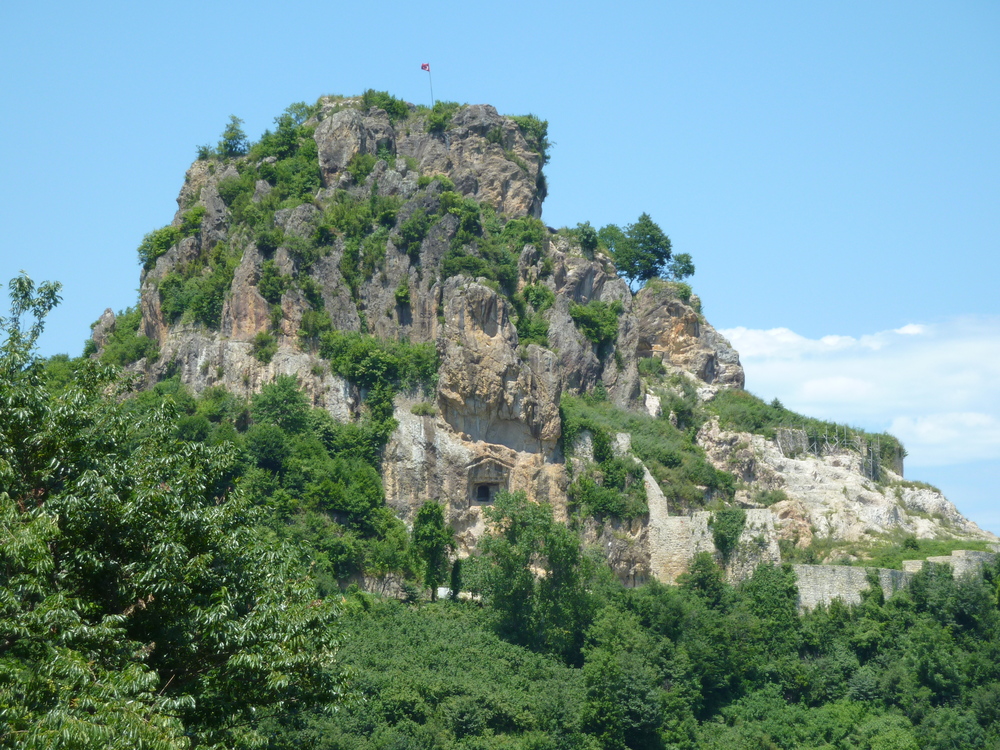 On the road Mark saw a snake, hurriedly weaving out of our way. We then stopped at the Kaledibi (Foot of the Castle) restaurant, a BBQ place with little wooden booths overlooking a stream where families can sit to eat the barbequed meat prepared inside. Mark chose trout (which we saw being fished out of their pool before being barbequed! Talk about fresh!) and Ruth had delicious grilled lamb and homemade ayran (salted yoghurt drink, a bit like the Indian drink lassi). A little lizard played around our booth as we waited for the food to come (good job it didn't go near the BBQ…!).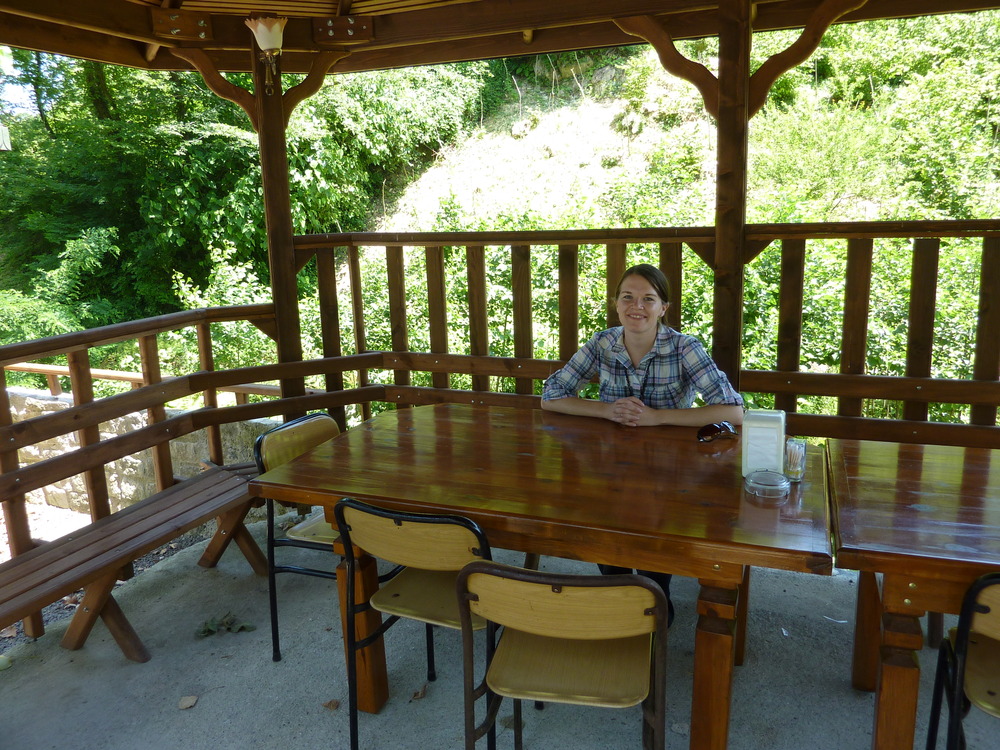 Then we continued along the coastal road which became truly magical between Bolaman and Yasun Burnu. The main coastal highway branches away from the coast here, so you instead follow the original and more hilly route, winding from cove to cove, and through hamlets that shelter in the rocks and enjoy the waves lapping on their little fishing boats. Many locals were heading out to swim in the blue sea which looked most inviting!
We stopped at Yasun Burnu (Cape Jason), a tiny peninsular with some miniature beaches and a small Greek orthodox chapel which replaced a temple where sailors used to pray to Yasun (Jason, of Argonaut fame) to protect them on their voyages.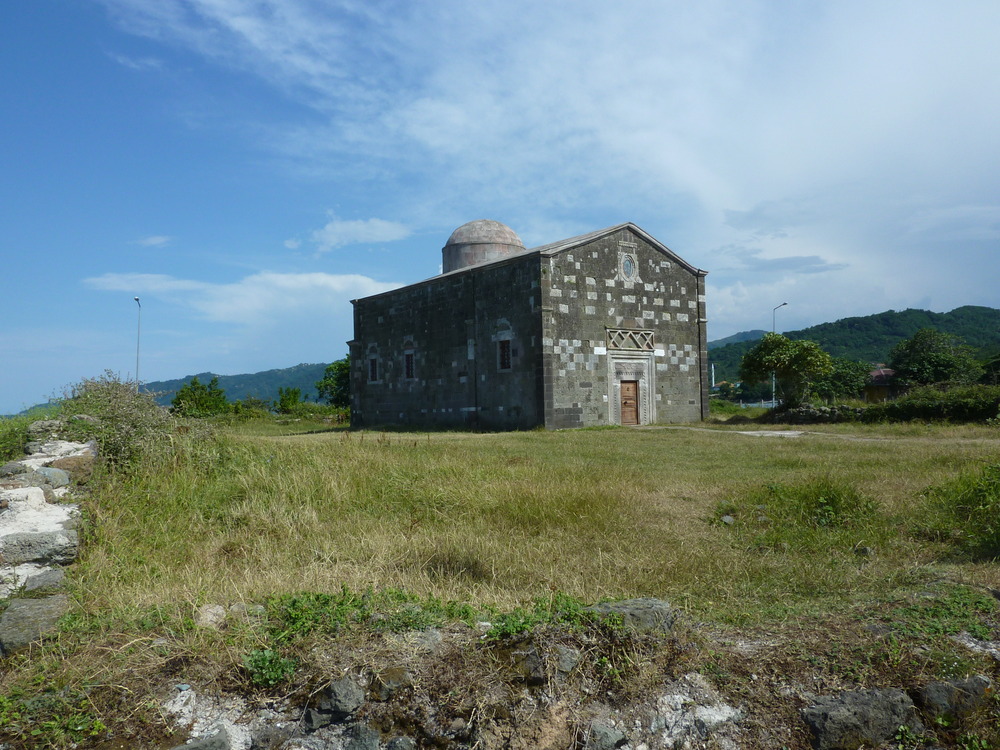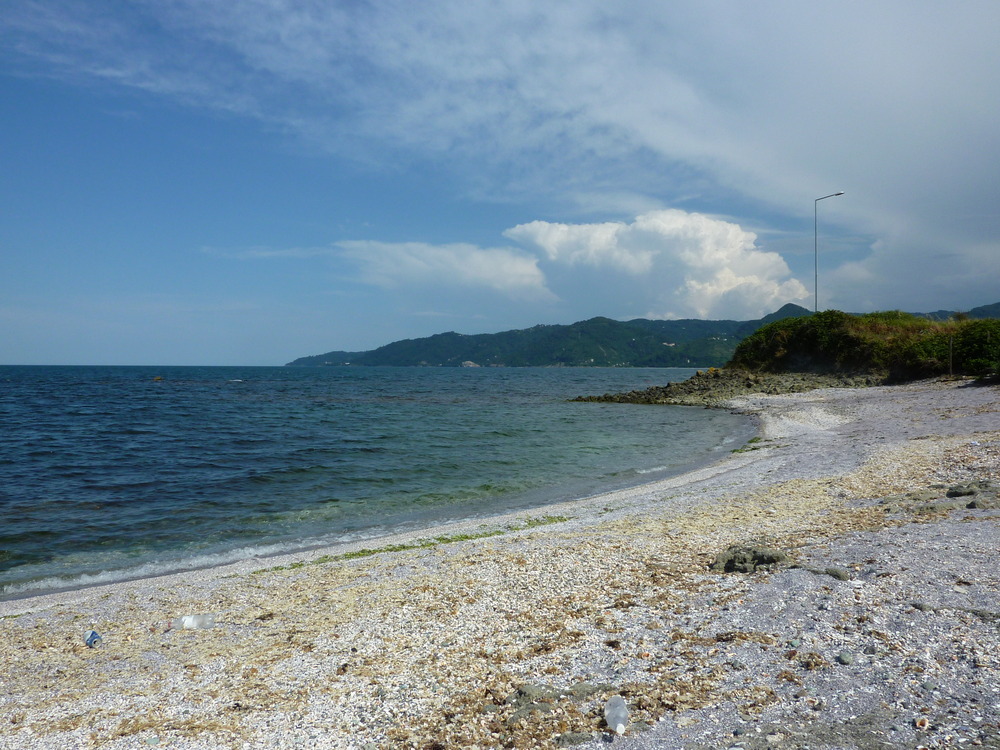 [The beaches didn't have sand yet, but were instead covered in tiny, slowly eroding shells!]
We saw big rain clouds coming over the hills, so set off to Perşembe (glancing at a lovely looking Çaka beach on the way). We found Dede Evi, our hotel, on the sea front and had a nap before heading out to wander and find food. As we walked along the small pier, we looked out to sea and saw 7 or so dolphins, swimming across the bay! Beautiful. Then we went to a seafront restaurant (Ceren) and sat outside next to the sea. While waiting for food, the waiter brought some hot, fresh, balloon-like bread (he called it tophane, we think?), with local butter, a bean in tomato sauce dish, and acılı ezme, a spicy red paste used as a dip. We snacked merrily until our meal came; Ruth had spaghetti bolognese (shamefully foreign, but really hit the spot!) and Mark had battered barbunya, lovely little fish.
However, before Ruth even got her food, the menacing clouds poised above the mountains finally decided to burst, so we ran inside to the main restaurant just as monsoon-like rain fell from the sky and soaked the ant-like waiters who were scurrying round the garden trying to collect the tablecloths! A ginger haired, Annie of a girl was playing near us inside, and kept grinning cheekily at us. Very cute. A lovely place and good value too. After a complimentary tea, we wandered back to our hotel (the rain had finished) via a little shop to buy cherries and grapes from under a tarpaulin, before watching Spain and Honduras on TV. A real blessing day which could have been a total washout.