The Car
Day one nearly wasn't day one at all… We were supposed to receive our car on Friday night, but upon visiting the car rental place, they told us that it would come on Saturday "before 9am" instead. 10 o'clock came. No car. By 11 we had called the garage several times. "30 minutes" they said each time. Anyway, at 11.30 Mark came home with our white Fiat Albea (white being one of the key criteria according to the salesperson…).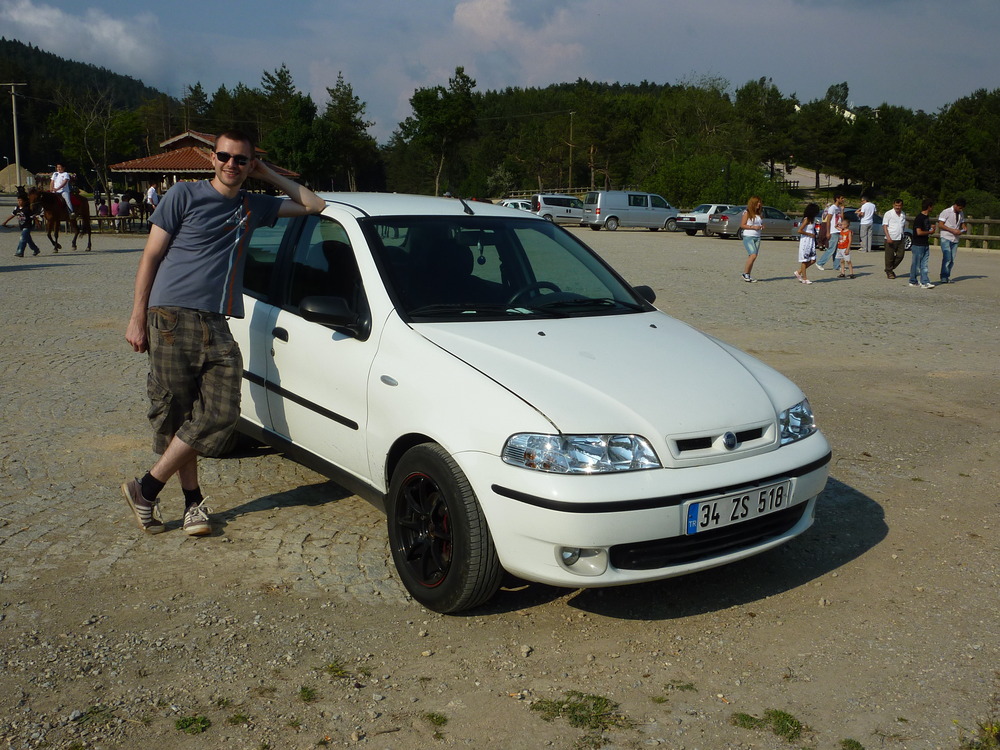 True, it looked a little the worse for wear, but it worked. We hurriedly started to pack the car.
Is there a King in the neighbourhood?
On the second load we realised that the boot was now jammed shut and wouldn't open… with half our stuff inside! After several yanks from us, the car gained a 'sword in the stone'-like mythic quality and curious onlookers (who probably thought we just didn't know how to open a boot – 'tsk, how stupid can these English people be!') came to take on the boot opening challenge! Shame we didn't charge for a go!
Anyway, after defeat all round, we dumped everything else onto the back seat and drove back to the rental place. There the competition continued (much to the amusement of the hire people, especially when they realised our stuff was trapped inside) until they managed to find that by pulling the boot release handle AND turning the key in the boot lock whilst yanking it up, we could open the boot… Much hilarity then ensued (for the rental people) as I exclaimed that this must be the only car that required two people to open the boot! At this point, one of the rental people decided the car needed a final test drive and examination (for the boot release cable to be tightened) and before we had chance to take our bags out, off he drove with everything! We just hoped he hadn't gone to the market with our stuff!
"Hire car, Officer? What hire car?"
20 minutes later he was back, the boot opened fine, and we were ready to go, although we did have questions about the insurance policy, not least when the boss had a word with Mark and said that if we had a accident, 'just tell the police you're borrowing the car from a friend, don't say it's rental…' Hmm. Interesting…
I must, however, add that this none-too-pleasant experience did afford one real treat. Our local friends, who we asked for advice about how pushy we should be with the rental people, when questioned by bystanders and the car people, commented that we weren't yabancı the usual word for foreigner (literally 'strangers') but that we were locals. What a privilege to be accepted in and have people ready to stand by us as friends here!
On the road at last
Anyway, we filled up with diesel and off we went. What a relief to leave Istanbul and to start out into greener landscapes and huge rolling hills that suggested mountains to follow. We were also introduced to Turkish driving and the contradictions on the roads: we were overtaken by an HGV and then cut up by an old dude on a mobility scooter crossing the main road!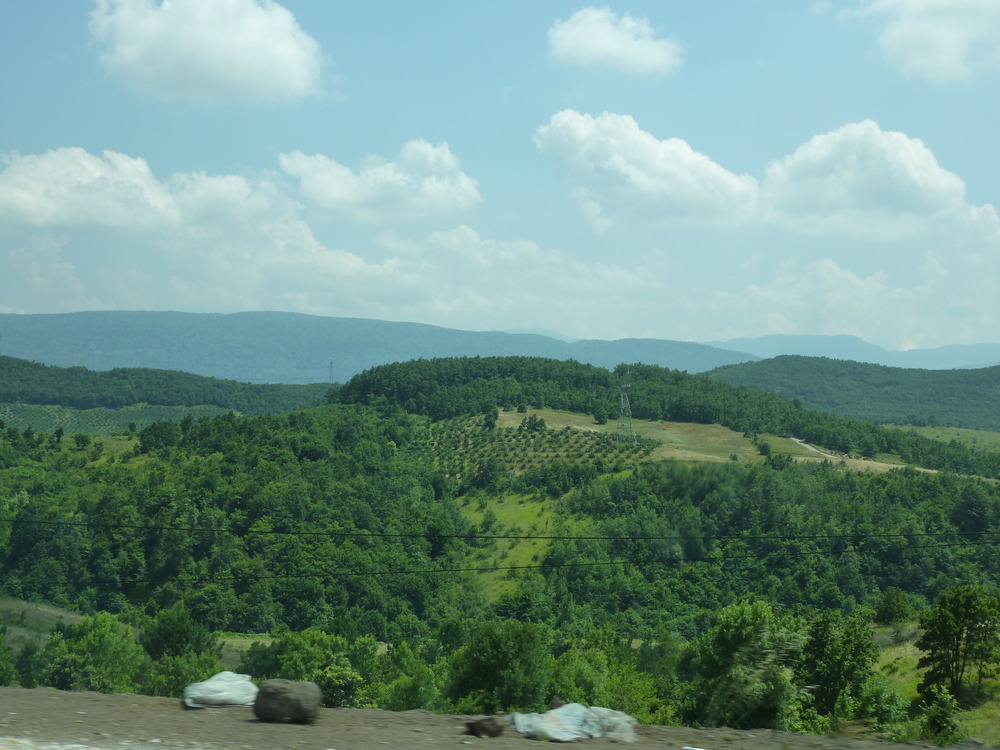 We lost 30 minutes following a slow road through towns, but did get to see the façade like shop-fronts lining the road and making use of the passing traffic. The main towns are set back from the road, so the parts you can see appear quite artificial and fake. Through towns we entered back into a landscape reminiscent of China: green, lush mountainous areas, covered in trees, that loomed on both sides of the road, and, at some points provided a barrier to the road itself. We wound through our first mountain pass road that zigzagged and climbed up and around the mountainside and, at times, seemed perilously close to the edge!
Abant Gölü (Lake Abant)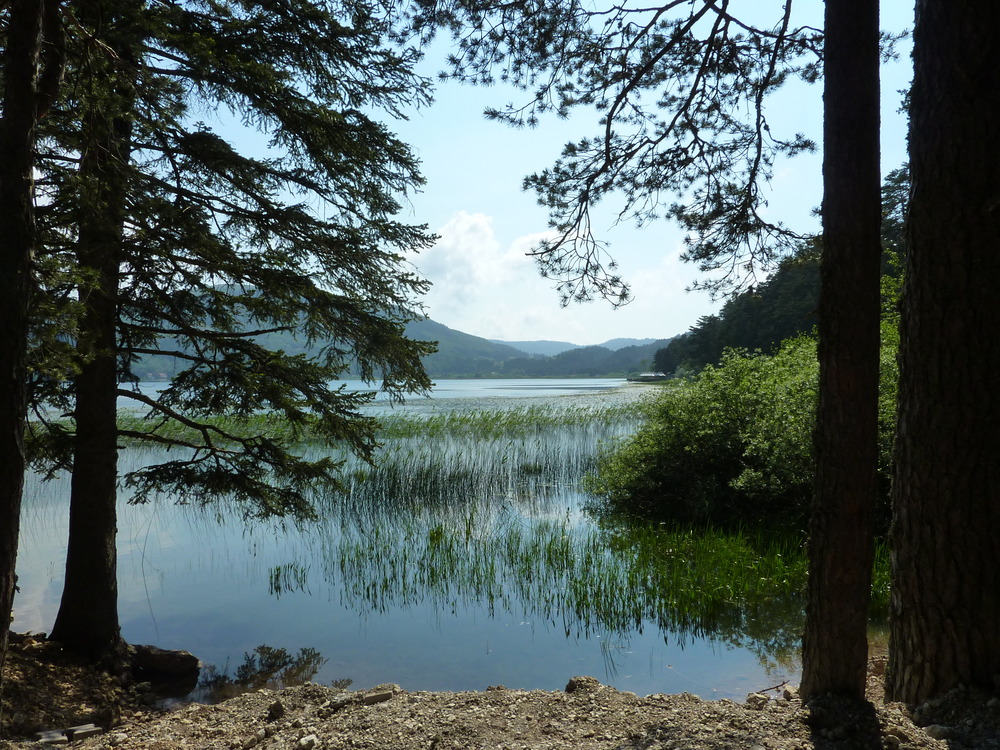 This was our first stop and the official beginning of our holiday. As such, it felt like a real treat. The road wound along a steep sided valley and finally opened out to reveal a beautiful lake, 6km around, that was resting in a nestlike space that had opened between the mountains. Getting out of the car, we were struck by the cleanliness of the air, the beauty of nature, and the fun of wildlife. Before walking too far we had seen fish, a frog, and hundreds of tadpoles. We had forgotten these existed after living in a concrete world for so long! We walked around the lake enjoying the breeze and sense of space. Horses and carts gave trips around the lake, and all along the wayside, villagers were selling flower headdresses. There were no other foreigners around, but it seemed a real favourite with Turkish tourists – a good find.
Onwards to Mudurnu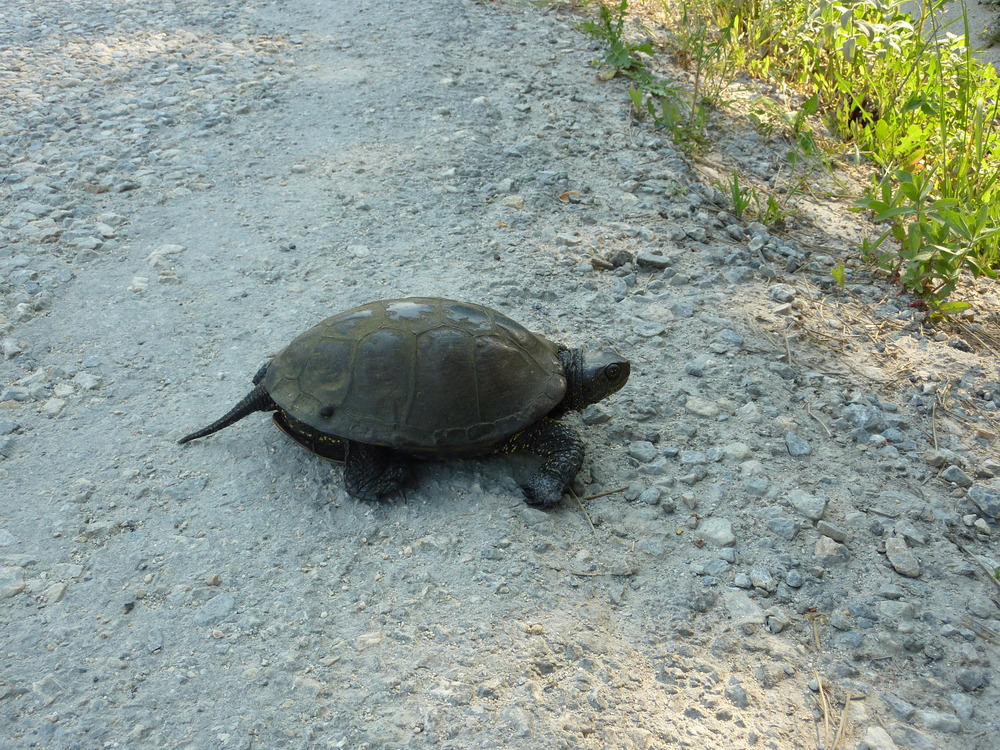 As we were leaving the lake, we were treated to see a plodding tortoise crossing the road right in front of us! He seemed most surprised to suddenly find me looming over him with a camera, but soon continued on his plodding way, bemused at my interest, but with a self-absorbed sense of importance in his own little journey – Lovely. As the car climbed out of the valley, rounding a corner we suddenly found ourselves on top of the world, with a seemingly endless view of mountains and valleys stretching out for miles before us. We had to stop and take some photos, but we had a suspicion this would be the beginning of many fine sights ahead.
Mudurnu
After winding through villages and past wayside stalls selling local produce, we finally reached Mudurnu. Our entrance was heralded by a ginormous statue of a chicken, standing outside Mudurnu's chicken factory. Indeed, Mudurnu seems to be chicken capital of Turkey, and later we were to drive past many factories and farms that boasted brands of chicken meat we find in Istanbul.
Mudurnu market was winding down as we drove through the town, and townsfolk were drifting back home with packages and bags laden with vegetables and local produce. In fact, we were lucky to find a parking space (as someone else left) down a tight little road by a lokanta (buffet style restaurant), right next to our pansiyon (guest house).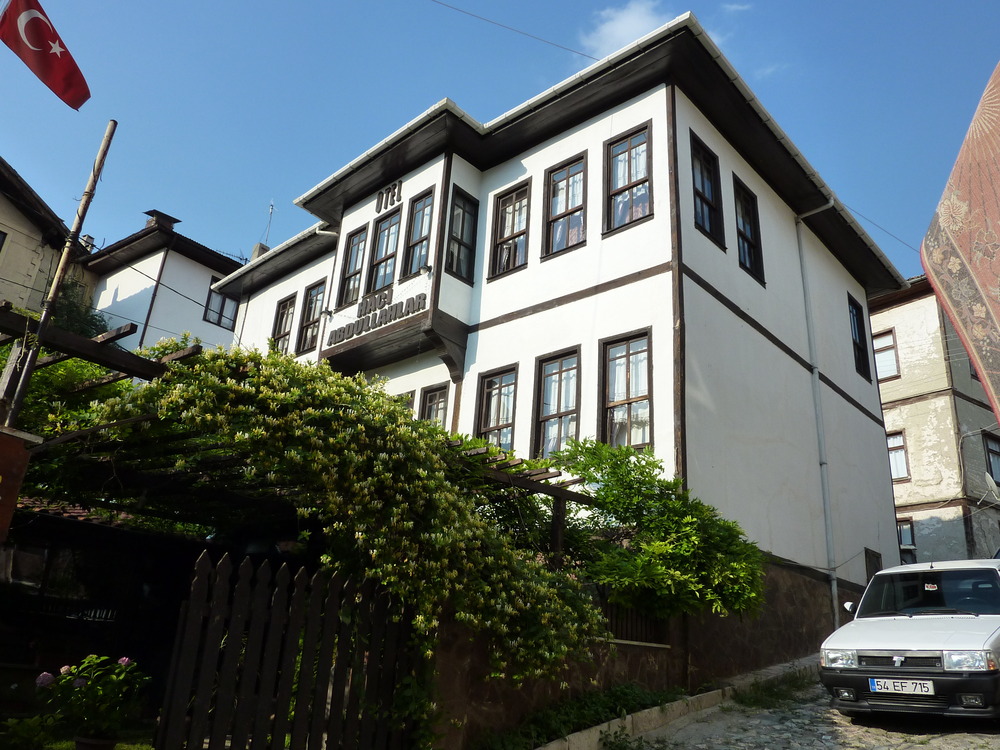 Our home for that night was a lovely old Ottoman style house, swathed in fragrant honeysuckle at the entrance, and crammed full of artefacts inside. The rooms were simply furnished, and the 'en suite' was the size of an under-stairs-cupboard, but, in some ways, this added to the charm.
Before food we had a wander around the town, and were genuinely won over by its charm (if a little surprised that some of the more ramshackle places were still inhabited). Old wooden houses lined a little stream that provided a natural walkway through the valley and little bridges along the waterway acted as vantage points along the villlage.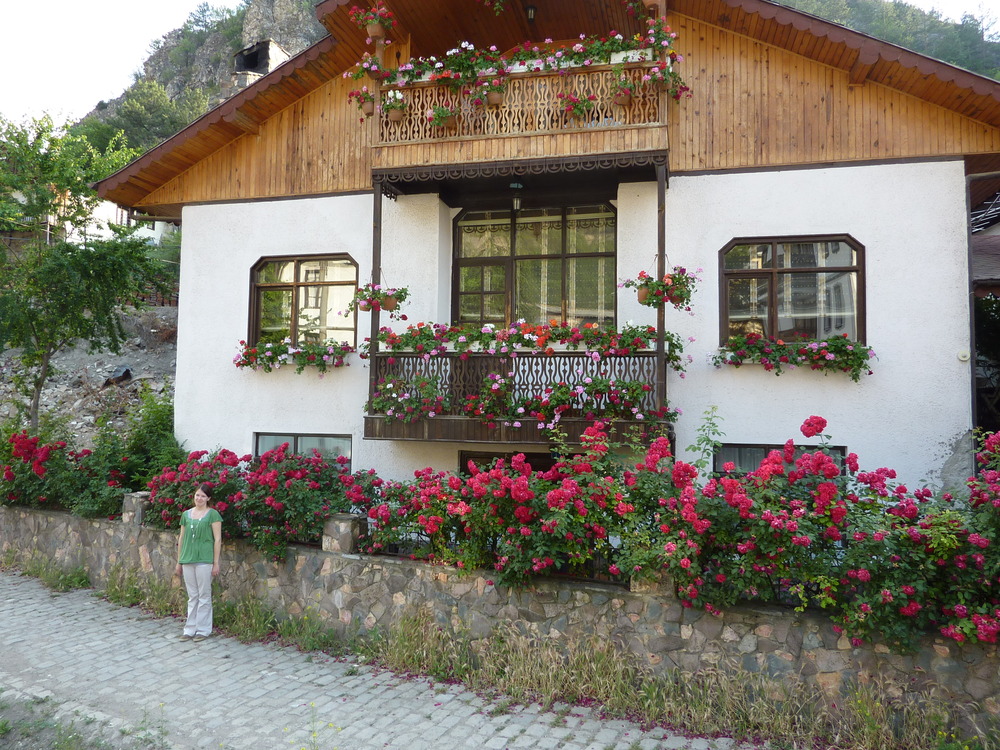 We meandered back into town via the market, and found the Mudurnu piliç (chicken) restaurant. Ironically, looking at the great menu, neither of us had chicken dıshes in the end. Mark had a yoğurtlu Yayla kebabı (a variation on the İskender kebab – meat and chicken pieces with yoghurt on a bread base – better than it sounds… promise!) and and I had kiremitte alabalık (trout baked in a red earthenware pot with a tomato based vegetable sauce – yum!).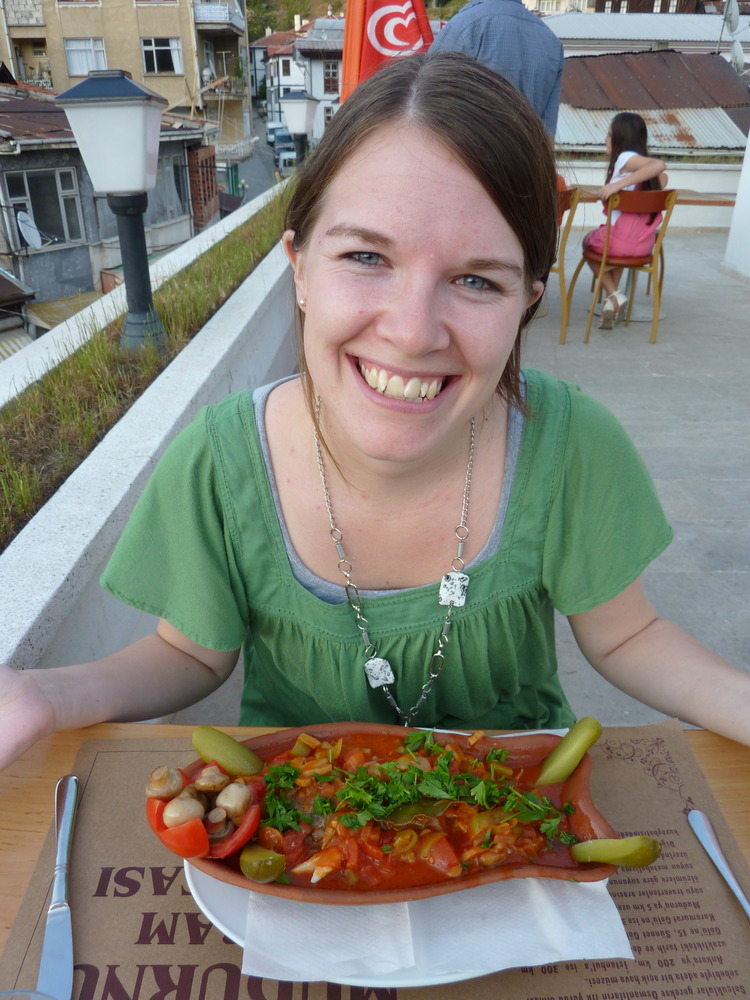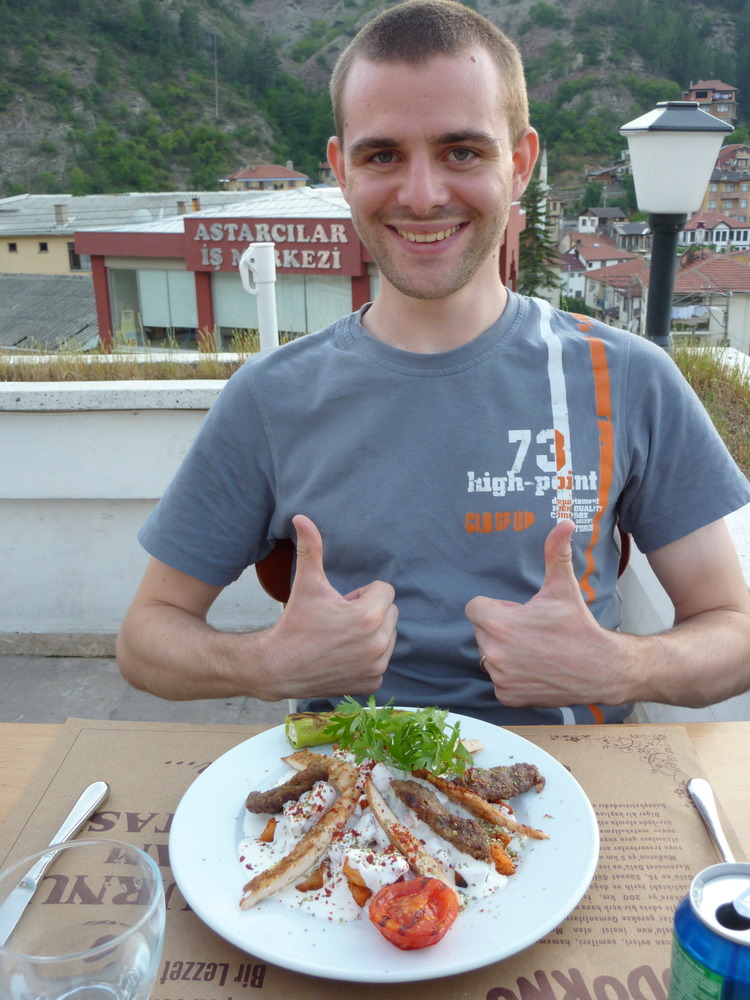 As an aside, did you know that ants have stretchy bottoms? When we had finished our meal on the roof terrace of the restaurant, some ants came and started sipping up some spilt sprite on our table. As they drank, we could see their back segment swelling up and becoming see-through where the sprite was showing inside! Amazing! (Although a bit disgusting too…)
As we were eating a wedding party drove by, honking horns and playing music. The lead car carries the bride and groom and has ribbons and flowers on it. The family and guests then follow the couple to the reception venue through town, with ribbons tied to their wing mirrors, and honking their horns loudly! Great fun! It turned out that their reception venue was next to our hotel, so we had a Turkish music to drift to sleep to…